Having a small box room or spare bedroom can be a great excuse to transform an unused space into something that brings joy to your life. For a lot of people, an area with extra storage or a place to get ready in the morning can be a wonderful, practical addition to the home.
A walk-in wardrobe not only keeps your bedroom free from clutter (say hello to a better night's sleep), but it can increase property value and saleability while creating a real sense of luxury that will have your friends dying of envy. A dedicated dressing area also means you have endless customisation opportunities, so you'll be able to design a space that slots in perfectly with the rest of your home, your personality, and your way of life.
If you've always dreamed of creating a perfect walk-in closet or a personal dressing room, here are some lavish dressing room ideas to get you started…
Black, white and gold
Image source: homestolove.com.au via Pinterest
Is there a colour combo more chic than black, white and gold? This is a high-end trio that looks best with modern properties where clean lines and simplicity rule. An elegant way of bringing more light into a small box room, this is the colour palette to covet if you want a minimalist space to get dressed each day. If you're worried about an all-white aesthetic looking too one-dimensional, add a glam millennial touch with some marble wallpaper, or explore monochromatic geos and create a stylish feature wall.
You can also play around with simple black and white designs, such as black and white florals, or even black and white photography. Cityscapes can be particularly inspiring, with a great fit for urban, open-plan style apartments.
Cute gingham walls
Mural in image: Lilac Gingham
From trés chic to super cute, there are so many ways you can turn lavish dressing room ideas into something more personal to you. To inject a little bit of fun, we love the different check, tartan and gingham wallpapers you can install – a quick way to add a playful twist to an otherwise grown-up alcove of the home.
You can still enjoy a feeling of luxury by being eclectic with your prints. Mix, match and clash – and combine elements of country twee with urban opulence to really make things interesting. Or for a pop of colour, why not experiment with brightly coloured plaid murals?
Navy and art deco
Mural in image: En Mode Navy
If you didn't know already, navy wallpaper is luxury personified. Using dark, grounding colours like navy is one of the best lavish dressing room ideas for high-end homes. To bring this colour scheme to life, you'll need some gold or brass finishes, with some art deco elements thrown in.
Our 'En Mode Navy' wallpaper is a quick and easy way to add those expensive gold touches to your room without going over budget. Complete the concept with a gold floor lamp and some warm mustard tones, and your art deco nook is ready to go.
A celebration of wildlife
Mural in image: Chinese Chinoiserie Pattern
Just like our bedrooms, our dressing rooms should offer a calm, relaxing and soothing environment. The purpose of creating an open closet space is to make the 'getting ready' process more enjoyable. This means the room has to be organised (ample storage is a must) and the décor has to make your heart sing.
One way to really connect with the design scheme is to enlist the help of nature. Choose design elements that mimic, celebrate or mirror the world outside. We particularly love references to wildlife because flora and fauna have the power to improve mood.
Bird and botanical-themed murals by Andrea Haase are a great collection to explore if you love this style of wallpaper too.
Fancy floral romance
Mural in image: Linen Wildflower
There's something very romantic about florals, but don't let this association make you feel pigeonholed. Floral fractals are embraced across a variety of trends and styles, and they are extremely versatile.
When it comes to choosing floral wallpapers for your luxury walk-in closet space, there are plenty of narratives to dip your toes into. Try contrasting colours for a modern finish, gothic florals that juxtapose masculine and feminine, or fresh florals that make your room feel light and airy.
Dark furnishings + leather
When it comes to using dark wall colours and wallpaper, we know it can be tricky getting the right balance with light and dark. But dark wallpaper is easier than you think! Some of our tips include:
• Adopting dark, moody botanicals to ease your way into the dark colour scheme
• Choosing powerful florals to lift the mood and bring a sense of calm into the space
• Opting for soothing shapes that make your dark design inviting and comforting
Or if you really want to make the dark colour scheme appear expensive, make sure you add a touch of leather. You don't have to go overboard either. Just a simple, elegant leather chair can instantly transform and elevate.
Alternative lavish dressing room ideas…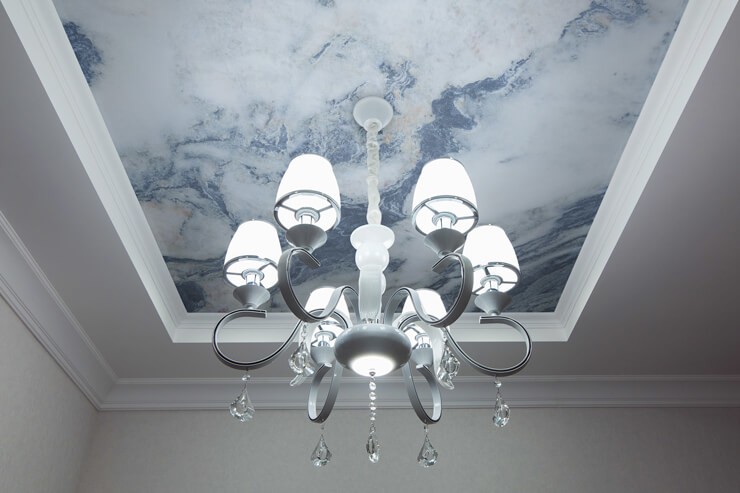 Mural in image: Blue Marble Effect
If you love the idea of unique and interesting wallpaper but need to maximise your wall space with storage solutions, why not try ceiling murals instead? While this works especially well in homes with high ceilings, our ceiling wallpaper collection can actually accentuate any size or type of property. Our range of ceiling murals includes everything from premium marble effect, leafy jungle, geometric patterns, fabulous florals and stylish antique maps to cloud and sky murals, as well as space and solar system themed designs.
Don't be afraid to make the room meaningful to you and your personal style preferences. And when it comes to decorating your 'fifth wall', make sure you repair any cracks prior to applying to ensure a smooth finish. If you think your taste will change in a few years or so, it may be worth investing in easy peel wallpaper so you can remove it without hassle once it's time to redecorate again.
Do you dream of having a walk-in closet or a spacious dressing room? Tell us your ideas in the comments below…