Let us assure you - bathroom ideas 2022 couldn't be any fresher! This year will bring an array of crisp, new looks that will make you feel refreshed as soon as you step in them - never mind after having had a wash!
Feel joy wash over you when you see beautiful green bathrooms decorated with emerald green tiles. Be revitalized by refreshing shades of blue and jaw-dropping wall art! Or be grounded with an organic textured bathroom adorned in natural stone and wooden surfaces.
Bathroom trends 2022 is about creating your own little sanctuary in one space: a spot where you can sit back, relax and soak in the bubbles. Not forgetting having a glass of fizz in hand whilst appreciating your gorgeous surroundings! It's almost like having a mini-vacation every time you chill in the tub!
The moody blue bathroom for the daring
Mural in photo: Moon Glow
The blue bathroom trend is a huge hit when it comes to bathroom ideas 2022. We are seeing blue tile bathrooms and navy bathrooms for a dark and dramatic look.
When choosing a dark blue colour scheme, pair your choice of dark navy or inky black blue tones with contrasting white. For instance, a white sink, bath, skirting boards and wall panelling. It's a timeless look that never ages. If you love a pattern or a scene, opt for a blue wallpaper instead of painting the walls navy. We can't get over how fabulous this SpaceFrog Designs Moon Glow mural looks in this gold and navy bathroom.
The terrazzo bathroom for sleek Italian style
Image source: Dykeanddean.com via Pinterest
From flooring to walls or both, the terrazzo bathroom is big in 2022. This speckled pattern has been big for over 500 years! It's even been traced back to the ancient Egyptians but is most recently known for its Italian origins. We think that terrazzo is big because of its rustic effect. Traditionally created by mixing marble chippings and stone with concrete, there is an imperfect, nonlinear beauty to this ancient look that will add so much texture and pattern to your bathroom.
Luckily for us, terrazzo is so much more accessible today and doesn't have to be made the old-fashioned way! From faux terrazzo tiles for both the floor and walls, to trinket boxes, shower curtains and even terrazzo wallpaper, there are so many ways you can embrace this timeless look.
The classic white bathroom with colourful accessories
Image source: Chsblonde.com via Pinterest
The classic white bathroom trend is a style that never dies. And when we say white, it doesn't mean that the entire room needs to be in the same white tone. By choosing colourful accessories, you can easily modernise your bathroom (even from year to year) by opting for decor in the most popular shades! Green is big this year, so choose sage green towels and a bathmat! Next year, it might be yellow, so then choose the same items in yellow! It's as simple as that.
Also, white vintage tiles paired with warm brass metal accents such as a brass handheld shower and taps are a gorgeous look. Not forgetting brass legged clawfoot baths where the tub is kept white or painted black. For even more of a contrast, choose a black crittal shower screen to make a statement in your white bathroom. After all, black and white is a classic look too.
The bathroom wallpaper trick (it adds so much more to the room)!
Mural in photo: Chinoiserie Garden
If you love to create show-stopping interior design, then bathroom wallpaper is the answer. A provider of pattern, colour and style, it is the easiest way to give your bathroom a makeover! When choosing wall coverings for bathrooms, use a print to suit your current colour scheme or theme. For instance, a dark green tropical wallpaper would look luscious with an emerald green tiled bathroom.
But do be wary of bathroom wallpapers out there. Make sure that they can survive in more damp environments. We highly recommend our Premium Paste the Wall wallpaper in the bathroom as it has anti-microbial and anti-mould properties.
The earthy toned bathroom (say yes to terracotta)!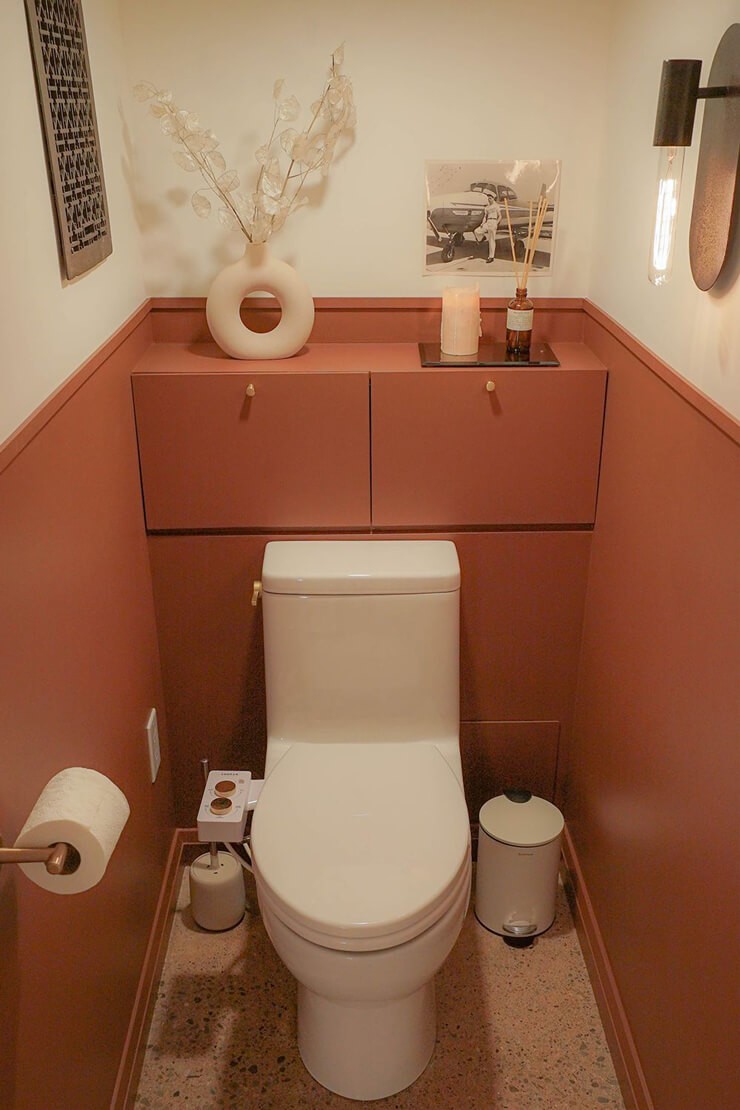 Image source: Thesorrygirls.com via Pinterest
We are so pleased that earthy tones are one of the biggest bathroom ideas 2022! Not only are these warm tones a reflection of our need for nature, but they create a sense of escape, making us think of distant Spanish or Moroccan shores…
These colours for bathrooms 2022 consist of rich terracotta, apricot, clay, burnt orange and deep brick tones. Either paint the walls or units in a warm shade or opt for an orange toned wallpaper and keep the rest of the room neutral by opting for off-white shades and accessories. Alternatively, if embracing these colours on a big scale makes you feel a little wary, do it in touches instead. Keep your white bathroom the same but add in terracotta accessories: clay floor tiles, a bathmat or simply your towels.
Organic textures to merge the outdoors and indoors
Mural in photo: Stacked Stone
Bathroom ideas 2022 will provide a blurred line between interiors and exteriors, where nature will become part of our indoors. This is why organic textures are key.
Firstly, wood. Choose natural wooden decor such as a wooden vanity, wooden stool/table for displaying items and even wood-look tiles to add warmth.
Secondly, stone. Adorn your floors and walls with stone slabs, stone tiles or pebble effect tiles for an even more natural look. If you want to go one step further (and don't fancy having to retile), choose a stone effect wallpaper instead like the Stacked Stone mural above.
Next, marble. As well as marble effect wallpaper, why not go classic by opting for large marble tiles. And the beauty with marble is that you can experiment with a range of natural looking shades - browns, whites and near blues will add a touch more colour but still achieve a rustic look.
Lastly, embrace textures with decor made from hemp, rattan and wicker. A braided hemp bathroom rug will keep your toes warm from a cold floor as well as add a touch of colour to the room. Not to be disregarded, leafy green plants are also a biggy in adding a touch of the outdoors and also help to purify the air. Why not make your own detoxifying eucalyptus shower?
Bathroom wall art (show your sense of style)!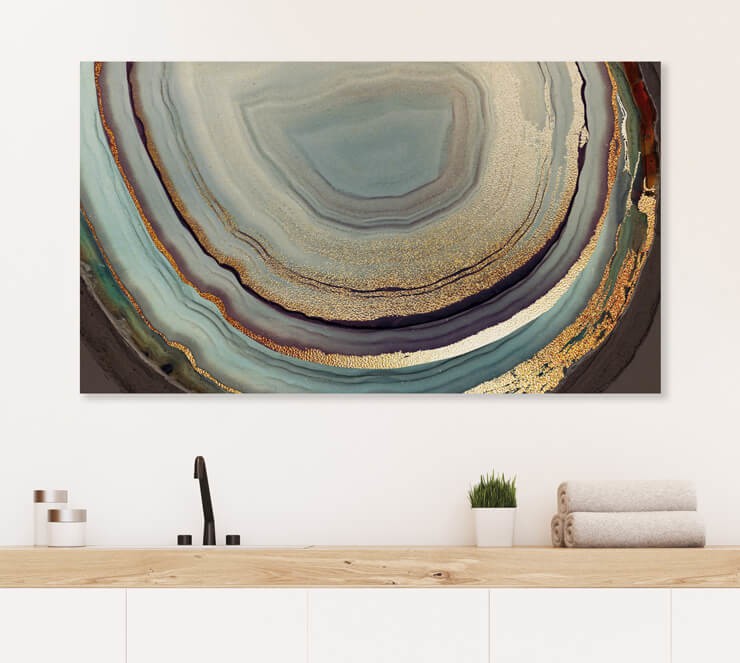 Metal print in photo: Gold Dust Grey Marble
Many people think that bathrooms have to be minimal and to keep the walls as clear as possible. But why does the bathroom have to be any different to any other room in the house? Instead embrace bathroom wall art such as oh-so-on-trend bohemian macrame hangings plaited into dream catchers and plant pot hangers.
Or if you want long-lasting and durable wall art, choose a fashionable metal print such as the Gold Dust grey Marble poster on metal in the room above. Simply use the colours in the design and use them to inspire the rest of your room's decor! What's more, they look fabulous above a sink as a statement!
The green bathroom (one of the most popular bathroom ideas 2022)
Mural in photo: Monkey Sanctuary
A green bathroom is one of the most popular bathroom trends for 2022. Green's growth in popularity is a reflection of our times. In response to many of us living in built-up areas, we are craving green spaces and funnily enough, just the colour green ignites something in our brains that makes us feel amongst nature. So simply a green paint or green wallpaper can make you feel like you're in the natural world. Clever stuff, huh?
There will be a huge influx of emerald green bathrooms adorned in shiny emerald green tiles transporting you to The Wizard of Oz's Emerald City. Pair your green tile bathroom with crisp white walls and fixtures to lift some of those dark tones and create a clean, crisp contrast of colours.
As well as emerald, mossy green and sage green bathrooms are all the rage. Even more subtle tones, such as grey-green are a winner when it comes to bathroom ideas 2022. Basically, green bathrooms are a big-must. And what's more, you can make everyone GREEN with envy!
Excited about these bathroom ideas 2022? So are we! Want more inspo? Visit our bathroom wallpaper collection, or leave a comment below with any interiors questions!