If you are an avid follower of home décor trends, you will have most likely heard of the hottest new interior design trend to hit the scene. Maximalist vintage style is hot right now, but what exactly is it, and how can you experiment with it in your home? Simply put, combining bold patterns and bright colours is at the core of this trend, plus vibrant accessories and greenery. Join us as we take a deep dive into this trend.
So what exactly is the maximalist vintage style trend?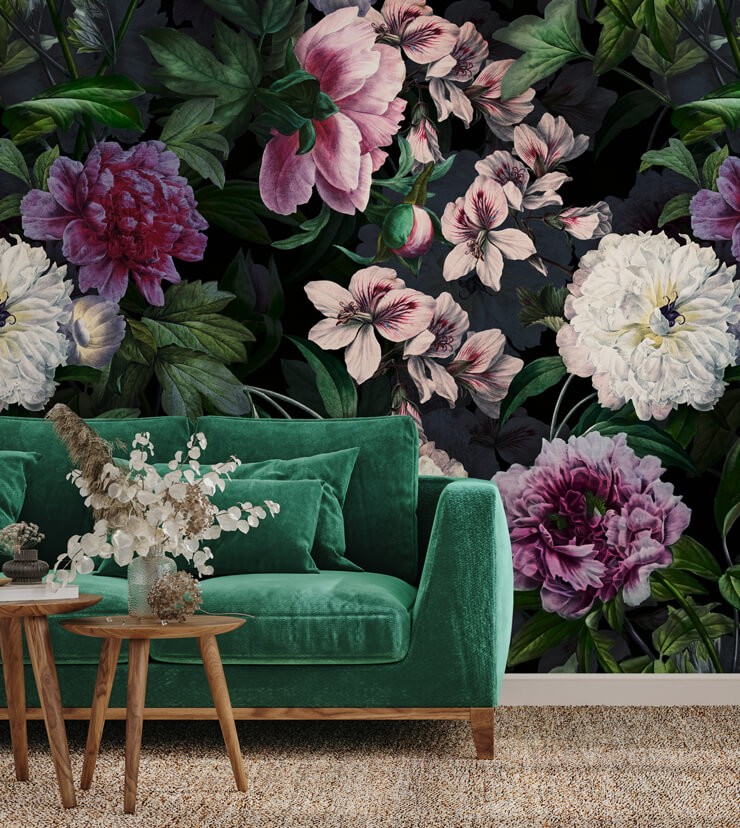 Mural in image: Moonlight Peonies Garden
To incorporate this trend into your décor scheme, you have to embrace the very essence of what this trend is all about. Maximalist décor is the exact opposite of minimalist décor, so instead of honing in on a clean and uncluttered aesthetic, you are aiming for a room bursting with style.
This trend is about making bold and daring décor choices (our Flaming Flamingos mural is a striking example of this), leaning away from plain neutrals and moving towards eccentric patterns and prints. The Vintage element is what makes this trend so alluring. It is excess personified, bringing the past into the present with a bang. Bold wallpapers, for example, don't have to be saved for a feature wall. You can have a bold print on every wall when it comes to this trend.
Bold colours plus bright accents
Mural in image: Flowers in a vase on a ledge
So what does a maximalist vintage style colour scheme look like? Well, it packs quite the punch. This trend is based on bold colours and involves dark blues and greens. Dramatic floral prints are perfect for those wanting to try this trend, and the walls are the perfect place to start.
When it comes to wallpaper designs, the possibilities are endless. Our Flowers in a Vase on a Ledge wall mural creates the ultimate backdrop to a maximalist vintage living area. It is a feast for the eyes. If you have ever fantasised about adorning your home with a fancy wallpaper design but have never had the courage, this is the perfect time to try this trend. Richly designed wallpaper is a key aspect of this trend.
A wall mural is a super simple way to add drama to your décor in a flash. But don't stop there. Maximalist vintage style is about loud colours, so continue the theme when picking out your furniture and accessories. Jewel-toned sofas, bold rugs and cushions are a popular way to express your take on this trend.
Display treasured trinkets
Image source: @doertyss via Pinterest
Our favourite thing about this trend is that it gives home dwellers the perfect opportunity to add personality to every room. No longer does a trend dictate that a space must be clutter-free to be aesthetically pleasing.
The maximalist vintage trend invites you to display your most treasured possessions. We're talking bookcases overflowing with well-thumbed reads; ornaments picked up when visiting far-flung destinations, and souvenirs from loved ones.
An easy display idea is a gallery wall. Instead of just populating it with frames, you can use vintage mirrors and ornaments to create an on-trend look. Forget carefully styled coffee tables. Every surface is a place to showcase your own unique sense of style. This trend tells a story and allows you to express your personality through your space.
Mix the old with the new
Part of the charm of the maximalist vintage trend comes with mixing contemporary items with treasured trinkets from the past. This can be anything from vintage family heirlooms passed down through the generations to excellent finds in the local thrift store. Again, spending a fortune is unnecessary to achieve this look. You can find bargains in your city's second-hand stores and vintage shops.
This trend isn't about overwhelming clutter. It's about creating a meaningful story with your belongings. Each item in your home should mean something to you, whether that is its history or backstory. It could be that your Grandmother made it, or perhaps it is a sentimental locket from your childhood.
Finish the look with gorgeous greenery
Photo from Donna Shenton. Mural: Garden Sage
Greenery plays a massive role in the maximalist vintage trend, and the good news is adding a sprawling plant to a corner of any room adds instant character without breaking your budget. You can use plants to frame a mantel, spruce up a coffee table or breathe fresh life into a boring bedroom. Once you have mastered the staple elements of this trend by transforming each room with bold hues and bright accents, plants and shrubbery can add the perfect finishing touch. Remember that this trend is over the top when choosing plants, so the bigger, the better.
A work in progress
Image source: Laurel Bern Interiors via Pinterest
Maximalist vintage style isn't about perfection or well-curated spaces. It has a lived-in feel that can be reimagined and reworked at leisure. Half the fun of this trend is watching it grow and change with you. You can mix and match exuberant patterns and eclectic textures until your heart's content with no pressure to create a perfectly styled aesthetic. Rather than choosing the colours and styles that you think are on trend, opt for décor that you love, and that inspires you. It couldn't be easier.
We hope you enjoyed our musings on the much-loved maximalist vintage style trend. Do you agree that more is more? Will you be trying it in your own home? Let us know in the comments.