Mint green wallpaper is the answer if you want to freshen up your home's interior design. With so many tones, mint green is a colour that can be energising and bold, or calming and subtle, making it a firm favourite in a range of settings. And because of this, mint colour wallpaper can easily withstand the test of time.
A mix between turquoise and seafoam green, this frosted cyan shade looks best paired with one other shade such as minimal greys, uplifting pinks or on-trend peachy tones. But a room that is entirely in this shade is a no-go. Remember, mint green is an accent colour, not a base colour. That's why it works so well as a wallpaper mural.
So, are you ready to see some refreshing mint green wallpaper ideas? We are sure you won't need much encourage-mint!
Feel hot weather vibes with this pink and green wallpaper!
Mural in photo: Neon Coral
When you see this vibrant Neon Coral wall mural by Twisted Pixels Illustration, all you can imagine is lying by a pool, soaking up the rays with an ice-lolly (or cocktail) in hand... Bliss! This colourful abstract wallpaper is simply fun, playful and fills you with those carefree vacation vibes!
Because of the fun factor of this mint green and pink wallpaper, it would work perfectly in a wide range of rooms: a cool bar by the beach, an energizing home office or an on-trend tween's bedroom! But how do you decorate with this bigger-than-life shape wallpaper? Just three words – keep it simple. Paint the surrounding walls in a grey/white shade of paint and choose a range of white or light wooden décor throughout. After all, who would want to draw any attention away from this stylish green wallpaper?
Mint green wallpaper with a tropical twist!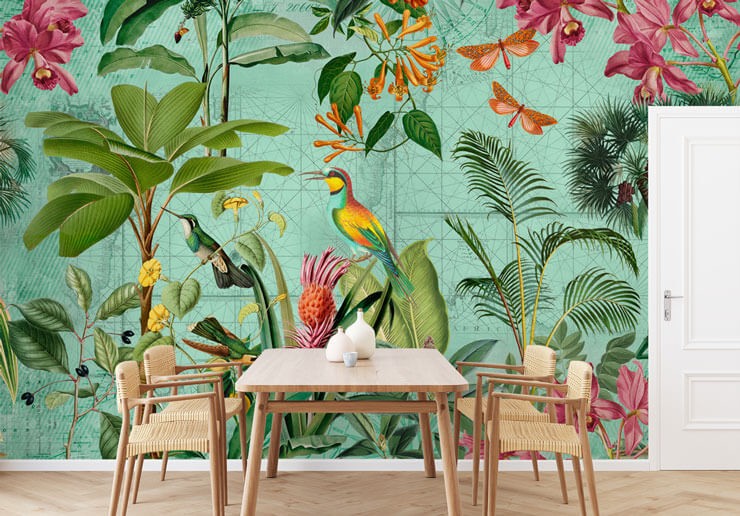 Mural in photo: Tropical Paradise
If you are going for exotic mint green and pink wallpaper, then we couldn't think of a more apt design than this Tropical Paradise mural. Designed by the fabulous Andrea Haase, this tropical wallpaper will create a sense of awe and enchant-mint in any room in any space.
We can imagine this gorgeous green design in a high-end restaurant paired with a range of organic furniture such as wicker woven seating, a handcrafted wooden bar and hanging woven lamps made from hemp. And of course, lots of leafy green plants to mirror the rainforest feel in this tropical wallpaper. Monsteras, spider plants, pink orchids and more…
Pastel green wallpaper for the avid explorer
Mural in photo: Blue Floral World Map
If bright pinks and tropical scenes are all a bit too much for you, then this beyond pretty Blue Floral World Map mural is the perfect alternative. And if you love to travel as well, this green map wallpaper is really mint to be! Plot your next adventure to the Maldives, see where you can stop off on the way to Australia or work out a route for your North American adventure!
We can't help but think that this pastel green wallpaper would look amazing in a master bedroom so that you can dream of all the places you will go to as you drift off to sleep… A mint green/sage green wallpaper mural, choose a range of white and pastel blue room accessories to go with this gorgeous design by Rosana Laiz Garcia.
Mint green wallpaper to shake your feathers for!
Mural in photo: Flamingo Pink Green
When we see this artistic Flamingo Pink Green wallpaper by Studio Arterie, we feel utterly captivated. The contrast of bright green against the warm red tones really stand out, invigorating the room it is installed in. Yet at the same time, there is an undeniable sense of calm which is so often associated with mint green tones.
The mix of energy and relaxation makes us think that this pastel-toned wallpaper is the perfect feature wall for a living room: a space where you both want to relax and socialise in when hosting. Place this green mural behind your couch to draw the eye to the seating area which is always the main focus of a living room. A place where you want to lounge and read, chat with friends or watch your favourite movie.
Sea foam green wallpaper for beach glamour
Mural in photo: Peach Foam
Feel like you're leisurely strolling on the beach, gold bangles tinkling at your wrists and the wind whipping through your hot-pink maxi dress. You ooze beach glamour and now you need a glam mint green and pink wallpaper to match! That's what we can imagine when we see this on-trend Peach Foam wallpaper mural by Graphic Artist Lara Skinner.
We adore the turquoise shades of the crashing waves in this abstract sea foam green wallpaper. It's the perfect choice for any room that is lacking colour. And the room that most often gets settled for a boring white shade is the bathroom. So why not treat yours to this geode design?
Palm leaf designs for your funky home office
Mural in photo: Totally Tropical
Although many more of us enjoy working from home, sometimes you need a little inspiration and an energy boost! That's why we think this Totally Tropical wallpaper is the perfect choice. Another Twisted Pixels Illustration design, this abstract palm leaf wallpaper is full of vibrant mint colours and peachy tones, perfect for pumping you up on those dreary, grey days!
Because of the bursts of colour, keep the rest of the room simple with white and wooden décor. A wooden topped white desk, wooden chairs and white cabinets will make sure this mint green wallpaper is always the main focus of the room.
Mint green wallpaper is a firm favourite with us. But what about you? What do you think? Let us know by leaving a comment below.