A child's bedroom is a space that has many purposes. First and foremost, it's a place of rest. It's also a place of play, exploration, interaction and self-reflection. This is the room where your child's imagination grows and next year's decorating trends are all about feeding the brain in a healthy way.
From genderless design to calming interiors for mindfulness, things are really shifting in the world of children's bedroom interiors. Not only do these kids room trends for 2022 bring a new wave of creativity, but when applied in the right way, they can promote individuality.
We're excited for what's coming next…..here are our predictions!
Neutral tones lifted by bright accents
Mural in photo: Winter Bay
Murals, murals and more murals! There's never been a better time to adorn the walls with beautiful imagery. Kids love to get lost in fiction and intricately illustrated murals allow their minds to wander into a whole other world or existence, if only for a moment.
In 2022, there will be lots of neutral tones with wallpapers that have muted designs but colourful accents to bring the visuals to life. By choosing two of three main colours, you can create flow in the room, while also adding depth and dimension.
This look can be easily pulled off with minimalist art, with gentle lines and shapes that offer a canvas for your child's own interpretation. Choose furniture and soft furnishings in your core colours to match the backdrop and allow a few bright pieces to stand out.
If your little one loves escapism, this Winter Bay wallpaper by SpaceFrog Designs offers an uplifting landscape for them to transport themselves to.
Wild love for eucalyptus green
Mural in photo: Easter Eucalyptus
We're seeing eucalyptus everywhere in the home. Fresh eucalyptus has been a major trend in bathrooms, dried eucalyptus has been a favourite in floral arrangements in living spaces, and the colour itself – a muted, sage-y green – has been popular with paints, wallpapers and fabrics.
As a kids room trend for 2022, it works a treat because biophilic design promotes relaxation, helping little ones switch off at the end of the day. We all know nature in interiors can make us happier, doing wonders for the mental health of the whole family. But there's added benefits to choosing the eucalyptus leaf, because of its rounded shape.
Round edges – compared to square edges – actually reduce stress, making them great for kids who tend to get a little hyper. And even just adopting the colours of nature, such as herbaceous greens can improve their overall mood.
Magical scenes for bedtime
Mural in photo: Hidden Treasure
Big landscape narratives with fantastic tales and awe-inspiring colours are also set to be popular next year. Think magical mountainscapes and designer graphics that create real ambience – but in a magical, child-friendly form. This trend is perfect for nighttime storytelling!
Our designer children's wallpaper collection features work from artists such as Dubravka Kolanovic, Mimi Jobe and Patrick Brooks. We particularly love wallpaper designs by Philip Straub. His creations involve mythical animals, fairy villages, castles and dragons, Christmas towns and beautiful angels. So there's plenty to get stuck into when storytime comes around.
What we're also seeing is the rise of non-gendered rooms. Parents are shying away from the prescribed colours of blue and pink, and are more interested in themes that engage their child, no matter their gender.
Geometrics used from floor to ceiling
Mural in photo: Polygon Pastel
One of the biggest kids room trends for 2022 is geos and we're talking large-scale application. This paves the way for geometric wallpapers, where shapes are there to intrigue. The pattern will serve as a point of interest to develop children's imaginations, but remember that calming colours are important too.
Opt for pastel perfection to create the right balance of stimulation and serenity. Because children's bedrooms are multi-functional after all and a good night's sleep is essential for healthy growth and development.
Learning shapes not only helps children identify and organise visual information, but it prepares them for skills in reading, maths and other school subjects. Done right and you can inspire your little genius to reach their potential, while also maintaining a serene bedroom environment.
Moody metamorphosis
Mural in photo: Bond II
Children's bedrooms are characteristically colourful, but rarely ever dark. But this is about to change and we can't get enough of the upcoming craze for a moodier melange of colours. The metamorphosis trend depicts fragile nature, hybrid and mythical creatures, beautiful biomimicry and the darkness before the bloom.
This Bond II mural by SpaceFrog Designs is great for creating a quiet, cosy space, which is perfect for self-reflection. As well as featuring incredible sea creatures to inspire your little one, it also has a warming colour palette that makes them feel safe.
Remember that children spend a lot of time playing on the floor too, so soft, high quality rugs are worth the investment and can add to the cosy atmosphere.
Murals that fuel the imagination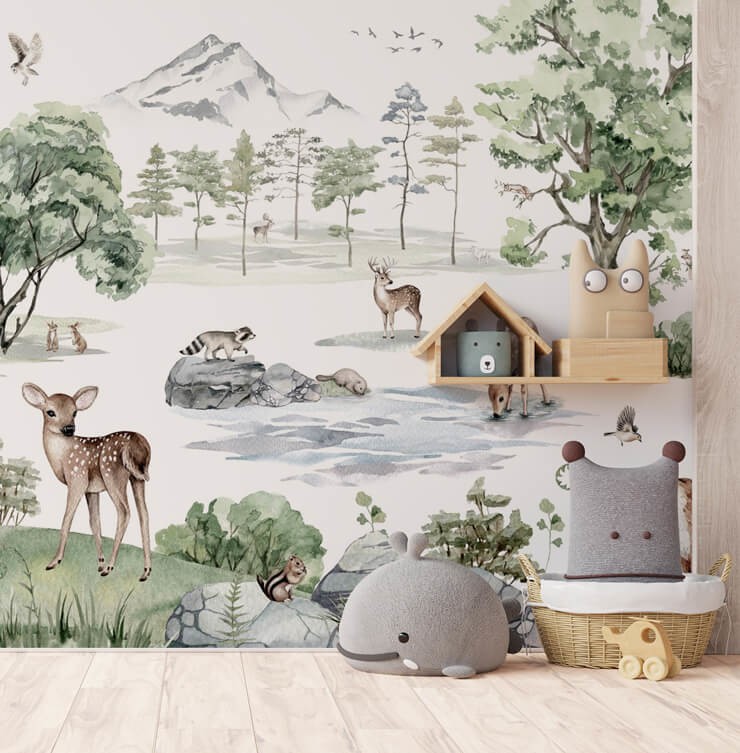 Mural in photo: Deep Forest
When it comes to the style of mural to choose, 2022 is all about being thematic in a toned down way. Fun doesn't have to = primary colours. While chromatic colours like red, yellow and blue are extremely appealing to children, these can be used to accessorise instead. With a neutral backdrop, you can encourage feelings of calm and contentment in their environment.
There are too many themes to name, but anything to do with nature can be hugely beneficial to early brain development, making it a fantastic choice for a nursery or a toddler's room.
This Deep Forest mural by the talented Kikki Belle team is both cute and elegantly stylish. With its tonal hues – a great mix of neutrals and soothing woodland greens – this work of art will feed their imagination while letting their own individual personalities come out.
3D kids room trends for 2022
Mural in photo: The Polar Bear
Kids love things that look and feel three dimensional because it challenges the divide between real and fantasy. Images that surprise or amuse them can bring so much joy while helping them develop their own creativity and individuality.
This Polar Bear Christmas wallpaper by Ryan Fowler is a great seasonal wall covering, but can also be enjoyed all year round. It looks as though the polar bear is popping out of the mural – the perfect cure for loneliness when they need a friend.
And did you know that animals feature in 60% of children's dreams? Dreams help kids of all ages sort out complex problems in real life, and animals and nature are the bridge that connects their ability to learn.
What are your favourite children's bedroom trends for 2022? Let us know in the comments below!