This highly decorative genre of art, which was prominent in Europe and the USA from around 1890 until the First World War, is making a comeback. Inspired by international art and architecture (particularly the linear patterns of Japanese ukiyo-e prints), art nouveau is a celebration of visual culture across the globe.
It's often characterised by its use of long, flowing lines and organic shapes, and some of the most well-known artists who adopted this style at the time were Gustav Klimt, Alphonse Mucha, Paul Gauguin and Henri de Toulouse-Lautrec.
Today, it's garnering fresh interest and home design is shifting away from clean minimalism to the 'more is more' narrative – where no amount of colour, pattern or floral fractal configuration is too much to handle.
Perhaps catapulted by the other defining art movement of the 20th Century – art deco – this forgotten style has been having a few moments in the spotlight again. If you love the idea of bringing some added flair into your home, here are the art nouveau wallpapers to covet right now.
Art nouveau wallpaper panels for the perfect happy-medium
Mural in photo: Times of the Day, 1899
Ever heard of happy-medium design? If not, it's a style that's definitely worth getting to know. It's a 'sweet spot' concept that sits in the middle of minimalism and maximalism, essentially giving you the best of both worlds. Often with bold juxtapositions, happy-medium design takes a little bit from both concepts for style contrasts that intrigue the eye.
This pastel-toned Times of the Day, 1899 mural is the perfect way to add elements of art nouveau into your home without over-committing. The clean lines and uniform panels create order around the elaborate designs, while also turning an otherwise minimalist canvas into something that's just that bit more interesting to look at.
Romantic nature-inspired art nouveau silhouettes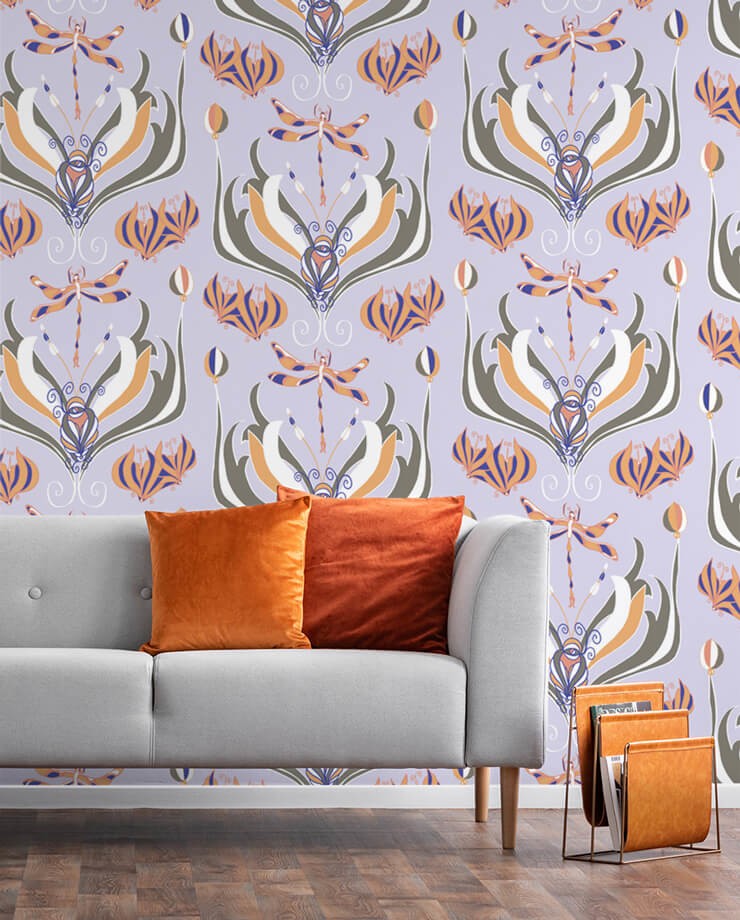 Mural in photo: Dance of the Dragonflies
Also known as Dainty Dora, Rebecca Johnstone is an artist who draws influences from bygone eras. Her surface pattern, print and illustrative designs are inspired by vintage styles, as well as her love for the art nouveau movement.
Combining linear patterns and silhouettes taken from nature with nostalgic colours seen in the 20th Century, she creates unique designs that are elegant and romantic. Many of her murals capture florals, butterflies and dragonflies, like this Dance of the Dragonflies wallpaper.
Maximalist patterns that prove more is more
Mural in photo: Snakeshead mural
Maximalism and art nouveau go hand in hand. While art nouveau schemes can be muted and sombre in terms of colour, the shapes are intricate. For instance, a lot of art nouveau paintings and artworks have the Greenery-Yallery aesthetic – which showcased a painter's preference for subtle, secondary colours.
But with patterns, more is definitely more. And the general rule is – nothing is too utilitarian to be beautified. This was certainly the case for William Morris, who was a major part of the art nouveau movement and much of his work depicted the typical styles of the Victorian era.
This Snakeshead mural is the perfect example of how art nouveau can be applied in a maximalist way, creating the main focal point in any room.
Art nouveau wallpaper with female symbolism
Mural in photo: Amants, 1895
Alphonse Mucha was a Bohemian and Czech painter living in Paris during the Art Nouveau movement and he was best known for creating stylised and highly decorative posters. His posters were often for theatre and advertising and many of them featured his favourite subject, the French actress Sarah Bernhardt.
This vintage Amants, 1895 wallpaper mural captures Mucha's female symbolism, which was reflected across much of his art, turning him into an international star. Interspersed with floral patterns and curved lines, Mucha's theatrical posters combined feminism with the type of art that was in vogue at the time.
Art nouveau wallpaper meets Victoriana
Mural in photo: Nouveau Country
In recent years, botanical wallpaper designs have grown in popularity, with plants (live or otherwise) being a major trend in home interiors. So it makes sense that we're tracking back to the late 19th and early 20th Century to revisit this highly decorative trend.
Art nouveau wallpaper almost always features nature in some way. The fractals that are used and the shapes that form the structured patterns of art nouveau artworks are easily recognizable and this is what provides a sense of comfort.
This Nouveau Country mural combines country florals and calming colours with elements of the Victorian and post-Victorian era for something that's easy on the eye. At the same time it's utterly unique, making it perfect for a stand-out botanical feature wall.
Alphonse Mucha's calendar illustrations
Mural in photo: Calendar Illustration, 1896
Calendar illustrations were another specialism of Czech artist Alphonse Mucha. This mural celebrates female symbolism and is characterised by the delicate, swirling lines and floral flourishes.
Known for supporting the rise of emancipated women in Paris (often by depicting them in unrestrained expression and doing controversial things such as smoking), Alphonse Mucha made women the centre of his work.
Many of his calendar illustration murals work well for small sections of wall that need an injection of life and colour. For instance, if you need something for a tight hallway, a small office corner, or a feature wall for your living space, this mural forms a special talking point that is both eye-catching and beautiful.
Pretty in pink art nouveau wallpaper patterns
Mural in photo: Mermaid Blush
This pink Mermaid Blush mural by Rebecca Johnstone features butterflies, flowers and mermaids for an old-meets-new concoction – bringing art nouveau into the 21st Century and adding even more femininity into the mix.
One of the reasons to consider pink in interior design is because calming hues have a huge impact on mental health and wellbeing in the home. Applying a bit of colour psychology to your wall colour can instantly lift the mood and help to create the right ambience in your room.
For bedrooms, soft pinks or pastels can help to calm the mind, making it easy to wind down at the end of the day. This type of wallpaper also works well in communal spaces such as the living room, providing a relaxing environment at any time of day.
What do you think about our selection of art nouveau wallpaper? Let us know in the comments below what you love about this trend…
Looking for inspiration? Find your perfect image