Bold rainbows, cute pastels and endless glitter and fairy lights. The unicorn bedroom trend is unapologetically girly and it's one of the few bedroom trends that appeal to children of all ages. From babies and toddlers who are mesmerised by the explosion of colour, all the way up to teens who dream of having a cool nest that's Instagram-worthy. Unicorns are universally loved.
This home trend also defies time. Much like 'Millennial pink' or Scandinavian design, unicorn décor will always have a place in the world of interiors. Even when it's out, it's in. So you won't have to worry about redecorating after the year is over. And we'll let you into a secret too…unicorn interiors aren't just for kids…
There are so many grown-up ways to incorporate the unicorn trend into your home. Our unicorn wallpaper murals are an enchanting way to transform a dull spare room. Or, for those who are fantasists at heart, they make the perfect feature in a magical master bedroom.
Want to sprinkle some rainbow dust onto your interior project? Here are 9 unicorn bedroom ideas that will blow your mind!
1. Bring your child's room to life with realistic wall art
Mural in photo: Fairyland mural
If your child is obsessed with pink and unicorns, then find a magical mural with both combined. This gorgeous Fairyland wall mural is perfect for you. The gorgeous unicorn in this unicorn wallpaper is so beautiful and is a fantastic example of artistry. Your child will be telling their friends that they have 'real unicorns' in their bedroom! 
Why not install this designer Mimi Jobe unicorn wallpaper in your child's bedroom and surprise them? Imagine the look of utter joy on their face! Pair with all things pink and fluffy and you'll have created a unicorn dreamland for your child!
2. Unicorn minimalist design
Not all unicorn décor needs to be overwhelmingly pink. If you want your child's bedroom to be more gender-neutral, or you just prefer the minimalist approach, tone it down with a few nearly-white pastel hues.
This bedroom design will slot right into a Scandinavian home. A place where off-white walls rule and 'clutter' has been carefully selected to match the rest of the room. Minimalism is an enduring trend. Simple wall colours (like our dreamy Polygon Pastel mural) are the perfect canvas for all things mythical. Yet, they still keep the look uniformly clean.
3. Unicorn gallery wall
Talking of minimalism, this beautiful bedroom brings us the exact opposite. It's unashamedly busy – yet it doesn't feel muddled or chaotic in any way (maximalist design at its best). The coordination of colours and thoughtfully selected toys bring a surprising sense of calm. For kids who adore the colour pink and dream about fairy tale creatures in their sleep, this is the ultimate hangout.
If you've got a large space to fill, a gallery wall can make a stunning feature. It's also a fun way for kids or teens to personalise their corner of the world. Photos, posters, unicorn artwork, cute keepsakes or Instagrammable quotes are just a few ideas to get you started on your display.
4. Unicorn bedroom ideas to make you run for joy!
Mural in photo: Unicorn Solo Dream
Make your child run around with glee with this inspirational Unicorn Solo Dream wall mural. With stunning tones of purple, blue and pink, this unicorn wallpaper from our talented Adrian Chesterman range would look fantastic surrounded by pink, lilac or blue walls.
This mythical mural will certainly stand the test of time. Ideal for children and young teenagers, you'll be able to enjoy this unicorn mural for years to come.
5. Unicorn princess style
Princesses and unicorns go hand in hand and bed canopies are a great way of making a girl feel like royalty in her own room.
Traditionally, bed canopies are made of chintz, silk, velvet or tapestry. But for the rainbow-coloured variety (and for affordable bedroom design), sheer fabrics like tulle work best. They're incredibly lightweight to work with. For rectangular canopies that cover the whole bed, you can hang the fabric from the ceiling. Or, for a round canopy, add a hula hoop to form the shape.
Decorate with pretty princess wallpaper or keep the design clean and simple with classic white walls.
6. Unicorn wall decor
Mural in photo: Unicorn Bridge
This spectacular Unicorn Bridge wallpaper is a show-stopper for all ages. Install in a child's bedroom or a grown-up bedroom with vast wall space and great natural lighting. Rooms with high ceilings will benefit from a larger surface area. This will make the magical unicorn mural (from our gorgeous Danny Flynn collection) more imposing and impressive when you walk in.
As seen in this fabulous unicorn bedroom, white walls create a bold contrast with the unicorn wall decor. Simple furniture styles create a light, airy and open space. It's all about clean lines and fuss-free décor, so install ample storage to keep the room free from personal clutter.
7. Unicorn and marble chic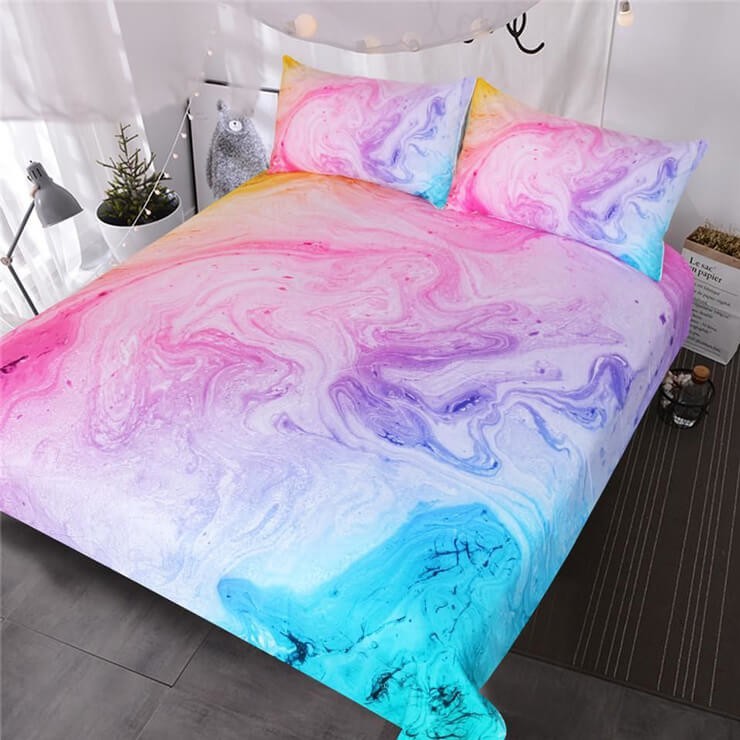 Marble is one of the major trends of 2019, and it manifests itself in many different forms. From expensive Carrera marble surfaces and marble wallpaper to small décor items, the scope is endless. When combined with the unicorn trend, colour is key.
Our gorgeous Pink and Purple Marble mural is a match made in heaven for this beautiful bedding. Or to create a crisp contrast, opt for all-white interiors. Walls, floors, furniture – white everything. Then cosy it up with a textured rug and some plush cushions and throws.
We think this bedroom is perfect for teenagers who are inspired by interior accounts seen on social media.
8. Rainbows, rainbows, rainbows!
Mural in photo: Rainbow and Pastel Glitter
If there's one thing that unicorns are always intrinsically linked to, it's the colours of the rainbow. Painting techniques are a unique way for unicorn fans to enjoy their favourite mythical creature in a more creative way. 
Or why not make life a little easy and go for something a bit more sparkly with our glitter-effect Rainbow and Pastel Glitter mural?
9. Novelty unicorn features
Image source: Southernstyledlife.com
Create some novelty features with a unicorn, pink fluffy stool, unicorn prints and a unicorn pot money box! These will really add a whole other dimension to your bedroom design. Artificial silk flowers and unicorn horns are great props to work with. With a little inspiration from Pinterest, you'll find plenty of DIY projects to keep you busy, such as this dreamy tween unicorn dresser!
If you want to go one step further and avoid white walls, why not opt for a watercolour effect wallpaper that adds drama without stealing the show?
Which is your favourite unicorn bedroom idea? Tell us the one you'd like to recreate in the comments below!