Neutral colors are a classic choice when it comes to interior design, whether in your home or workplace. Recently, strong colors such as navy-blue, forest-green and mustard-yellow have been strong choices in the home. But neutral room colors are also a popular choice in the world of interior design. Although magnolia walls were a biggy in the noughties, today's choices are far from this creamy yellow shade. Instead light gray paint, neutral green and greige colors are king.
In this article, find out how to transform your home into a minimalist haven with neutral room colors, from the living room and bedroom to the bathroom, nursery and even the kitchen!
Neutral colors for living room
When deciding on how to decorate your living room, you need to decide on what you want this room to be focused on. Is your living room where you want to relax after a hard day or is it where you like to host? Or is it both?
Whether you want a calm or sociable living room, paint the walls in subtle tones, such as a gray beige paint color. Popular neutral paint colors for living rooms like this are not only calming, but neutral tones provide a decorating foundation. This will allow you to layer and add small touches of color, such as burnt-orange or ochre-yellow.
Mural in photo: White Brick
If you're looking for a neutral wallpaper that looks fantastic in any living room, then choose a brick wallpaper in a subtle shade. This gorgeously understated White Brick wallpaper changes this light colored-lounge completely. Although the shade of white is ever-so simple, the 3D effect of the bricks adds a beautiful layer of interest into the room. As well as this, white brick walls will suit any room's current interior design. It's a classic: pure and simple.
Neutral bedroom colors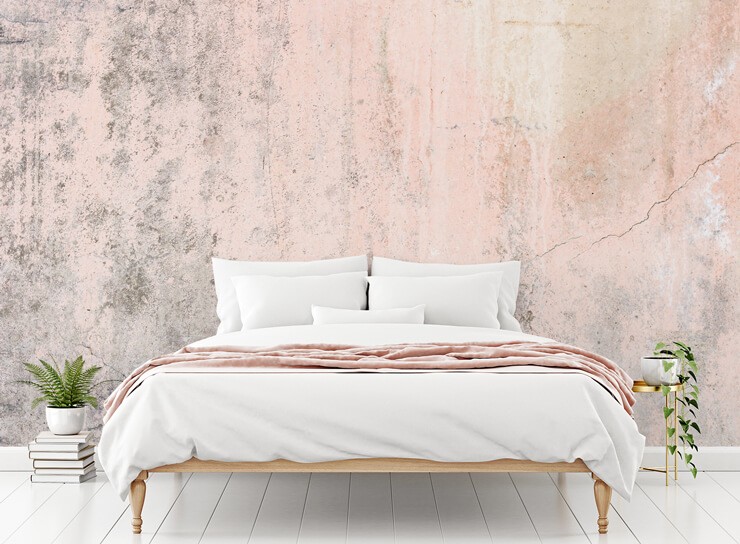 Mural in photo: Pale Pink Concrete
Now, when it comes to neutral bedroom colors, we don't just mean white, black and beige. The best subtle shades for a bedroom can be warm neutral paint colors such as earthy taupe, neutral pink or neutral green. We think that this gorgeous Pale Pink Concrete wallpaper is a gorgeous neutral wallpaper. Because of the subtle tinge of pink, the texture effect of the concrete is classy and stylish. If this concrete mural were to be in a brighter shade, it just wouldn't work.
But there also really isn't anything wrong with a beautiful shade of white when it comes to neutral bedroom colors. Don't you just love this gorgeous white bedroom? The combination of white décor, from the panelled walls, bed, rug and bedside tables, although not all in the same shade, work wonderfully together. And neutral room colors don't have to be all the same shade. We love the gold mirror and leopard print rug! They keep the room simple but add a decadent, regal feel to the space.
Do you love the panelling of this room but have no idea how to do it? We'll let you in on a secret… you can cheat with a panel wallpaper! Shh…
Neutral bathroom colors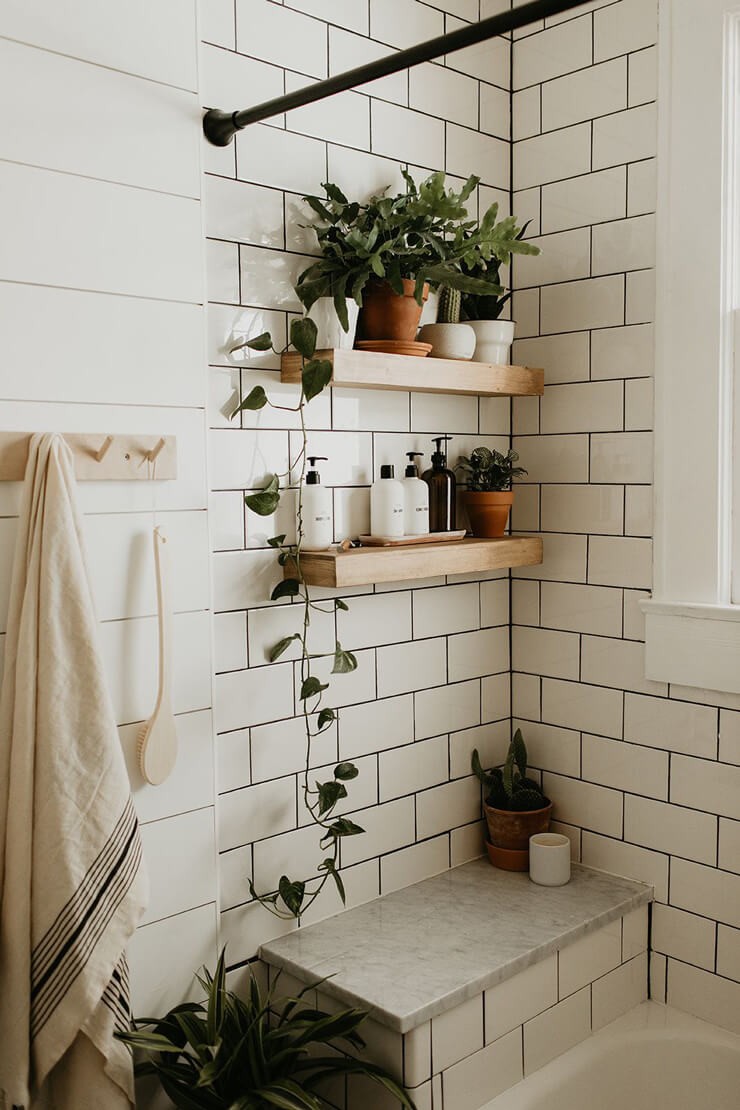 When it comes to neutral bathroom colors, white is the answer. Feng Shui rules insist that this is the color to go for: white is a metal Feng Shui color that cuts through unnecessary delays and confusion whilst also flattering for all skin types and refreshing. Paired with natural wood décor, such as floating shelves as well as leafy green plants, a white wallpaper is simply a classic.
Mural in photo: Avenues wallpaper
Alternatively, choose warm neutral colors to add color as well as warmth into the space: muchly needed on a cold morning! That's why we have fallen in love with this Avenues wallpaper designed by Nicola Evans. The gorgeous layering of the nutty-brown shapes are uniquely retro and paired with a clay vase and natural wicker mat and basket, we think that this earthy wallpaper is just gorgeous.
Neutral baby nursery
Mural in photo: White Wood Wall
Whether you won't know the sex of your baby until they are born, or are passionate about avoiding gender stereotypes, then choose gender-neutral nursery colors: greige, beige, gray or white are all perfect for a gender neutral nursery. We think that this White Wood Wall wallpaper is the perfect off-white/gray feature wall for your baby's room. Paired with gray, white and natural wood, it looks just the part for a calming yet trendy nursery.
Image source: Beaumonde
We adore this gray painted nursery, again paired with natural material furniture such as wood and wicker. This shade of gray is calming, modern and ideal for a neutral baby nursery. Pair the gray walls with white, hard flooring and skirting boards as well as gray rugs. If you want a carpet, choose a very simple, light gray carpet.
Neutral kitchen colors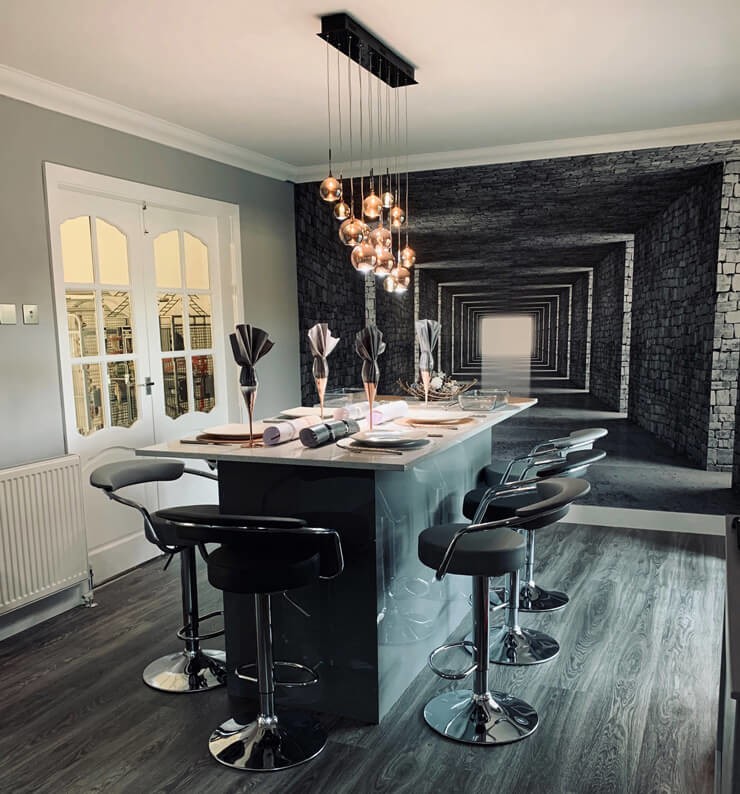 Mural in photo: Into the Distance
When creating a neutral kitchen, we recommend light grays and whites. Both of these neutral paint colors for kitchen are clean, crisp and stylish: perfect for a sanitary, yet trendy kitchen. We absolutely LOVE customer Kayleigh's gray and rose-gold kitchen. Our gray In the Distance mural paired with rose gold cutlery and lighting are a match made in heaven!
Mural in photo: Aged with Beauty
If gray is a little too much for you, then go delicate and floral with this stunning Aged with Beauty wallpaper. This beautiful natural wallpaper, is absolutely gorgeous in this kitchen. Paired with white and natural wooden accessories, you really can't get more neutral than this.
Have you loved our neutral colors article? Which room are you going to transform first? Let us know by leaving a comment below!