At Wallsauce.com, we are very proud of the number of talented designers who have exclusively chosen us to sell their work as custom-made wall murals!
Ao longo dos anos, temos tido a honra de reunir desenhos de papel de parede que você não vai encontrar em nenhum outro lugar! Desde florais de aguarela de Carol Robinson e geodes luxuosos de Lara Skinner até ilustrações infantis de Patrick Brook e os arrojados padrões geométricos de Twisted Pixels, a nossa gama exclusiva de papéis de parede de designer é tão ampla e variada que certamente encontrará um estilo adequado a si e à sua casa.
Want to take a peep at our exclusive wallpapers? Take a look below to see what treasures we have in store for you and how these designs look in different types of rooms: whether for your home office, bedroom or lounge!
1. Desfrute da beleza da natureza através da arte de Carol Robinson
Mural na foto Ouro Transparente
Começamos com uma das nossas designers mais populares, Carol Robinson. Nativa de Salt Lake City, Utah, Carol vive atualmente em Alberta, Canadá, e ama a vida da pequena cidade. Sua arte é criada com uma gama de diferentes mídias misturadas com arte digital.
Mural na foto Salva de Jardim
Baseada principalmente em flores de aquarela, a vasta gama de papel de parede floral de Carol Robinson é, sem surpresa, uma gama muito apreciada pelos nossos clientes. Estes delicados papéis de parede florais são apreciados em toda a casa, pois combinam o amor pela arte e pela natureza num só. Como toda esta colecção, estes desenhos de papel de parede não serão encontrados em mais lado nenhum. Para ver todos os seus desenhos, veja Carol's wallpaper collection.
2. Go wild with Jan Patrik Krasny: wallpaper designs you won't find anywhere else
Mural in photo: Leopardo na Selva
Full of colour and exquisite illustration, we are so proud to say that O papel de parede de Jan Patrik Krasny is exclusive to Wallsauce.com! Perfect for a child's bedroom, playroom, a baby's nursery or a school, his beautiful animal wallpapers are not only stunning but educational. Choose from magical unicorns, exotic jungles, realistic dinosaurs, beautiful horses and much more!
Mural na foto Hadrosaurus Sauropod
With one of Jan's dinosaur wallpapers on the wall, test your child to name every dinosaur they can see! Because of the wild theme of these children's wallpapers, bring the jungle into the rest of the room's décor: hang vines from the ceiling, have leaf-patterned curtains or even a blue rug that you can pretend is a lagoon!
3. Sinta a emoção da corrida com Darren Heath
Mural na foto Lewis Hamilton Australia 2015
Completamente diferente do que lhe mostramos até agora é a nossa extensa Darren Heath Fórmula 1 gama de fotografia. Os papéis de parede de F1 de Darren Heath trazem-te tão perto da pista que quase consegues sentir o cheiro da queimadura dos pneus! Conhecido fotógrafo de F1, Heath já teve clientes incríveis como McLaren, Ferrari, Ford, Jaguar, BMW e a FIA.
Mural na foto Ferrari F1
Ideal for all F1 fans, these Formula 1 wallpapers are great for a teen or a bachelor/bachelorette's bedroom, a cool city apartment or even a man cave. With high quality imagery full of colour, these race car wallpapers will bring the race track to you every single day. What more could a F1 fan ask for?
4. Desfrute da cor e do padrão com Twisted Pixels
Mural na foto Camping wallpaper
Twisted Pixels' range of geometric and abstract wallpapers are completely unique: wallpaper designs you won't find anywhere else! From retro shapes, abstract mountain views and 3D effect floating cubes, you won't be able to find a wallpaper more inimitable!
Mural na foto Cubos Mutilados
We have seen our customers install Twisted Pixels wallpaper designs in all types of spaces! From trendy office waiting rooms to a baby's nursery, the beauty of his designs is their versatility. Manchester, UK based digital artist Marc Bingham knows how to impress those who want unique, jaw-dropping designer wallpaper! Find all designs in the Twisted Pixels collection.
5. Step into Unicorn Land with Mimi Jobe
Mural na foto Eu e o Meu Unicórnio
If you have a child who adores all things unicorn-related, then our Mimi Jobe designer wallpapers are just what you need. Completely exclusive to Wallsauce.com, A colecção de papel de parede da Mimi Jobe will transform your child's bedroom or play room. The vintage feel of these beautiful unicorn wallpapers will also add an old-world charm into the space.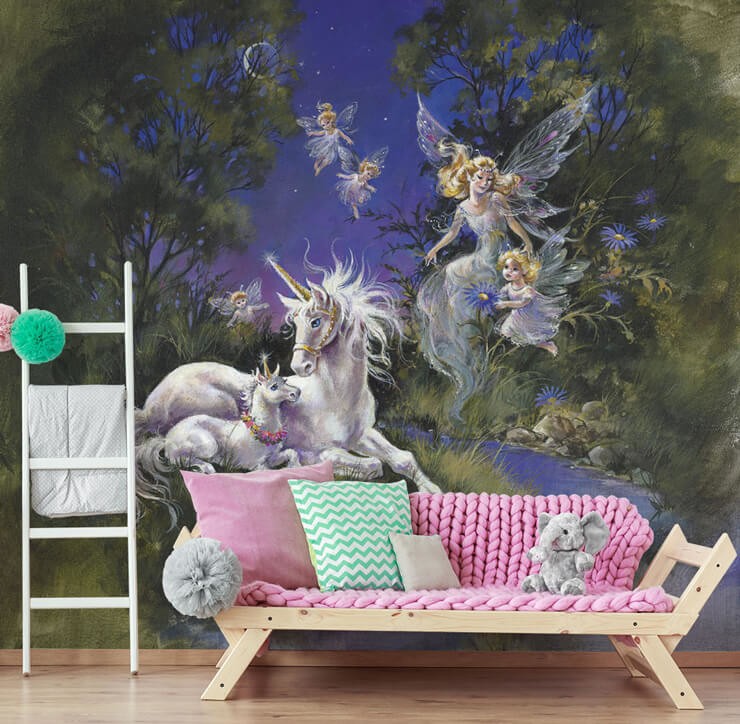 Mural na foto Fairyland
Rich in pastel tones of blue, pink and purple, these gorgeous princess wallpapers look beautiful with a range of décor in similar tones. Choose pink scatter cushions, pastel-blue painted walls and white duvet covers!
6. Explosões de cor com Anne Farrall Doyle
Mural na foto Red Earth
A beleza do nosso exclusivo Anne Farrall Doyle Wallpaper Range is the exciting array of colour and movement in her paintings. These multi-coloured abstract paintings can create any image in the mind. Can you see a cascading watercolour, a sun-drenched hillside or the splash of a wave?
Mural na foto Intangable wallpaper
Ideais para qualquer divisão, estes papéis de parede de pintura abstracta são ideais para combinar com móveis de cores subtis, como madeiras naturais ou brancos. Isto permite que os desenhos vibrantes de Anne Farrall Doyle sejam sempre a estrela do espectáculo e dêem aos olhos um ponto focal na sala.
7. Parta para uma aventura com Clare Wilson
Mural in photo: Papel de parede piratas
Another one of our favourite children's wallpaper designs you won't find anywhere else will be found in our Clare Wilson range! With vibrant colours, interesting texture effects and charming children's characters, it isn't surprising that Os papéis de parede dos filhos de Clare são as preferidas dos nossos clientes mais jovens!
Mural in photo: Arctic Puzzle
Durante 12 anos, Clare foi designer sênior de uma renomada empresa de cartões de felicitações e esta experiência mostra em seus desenhos intrigantes e amigos das crianças. Muitos optam por usar estes lindos papéis de parede de animais, fazendas e piratas nos quartos dos seus filhos para acrescentar um elemento de imaginação e aventura!
8. Criar uma casa retro com um papel de parede de Nicola Evans
Mural na foto Mural de parede embaçada
Sempre uma escolha popular entre os nossos clientes, os papéis de parede exclusivos de Nicola Evans para Wallsauce estão crescendo cada vez mais na tendência O uso de tons de terraComo o amarelo mostarda, tons neutros, teals e tons de terracota são todos quentes, quentes, quentes no mundo do design de interiores! E o estilo retro dos seus papéis de parede de designer são fabulosos quando emparelhados com mobiliário de meados do século: artigos com linhas rectas e angulares e trabalhados com madeira envernizada.
Mural na foto Avenues wallpaper
Ideal para todos os tipos de salas e espaços, estes designs têm sido uma escolha popular em salas, quartos, escritórios e muito mais! A abundância do efeito de textura em Os wallpapers abstractos de Nicola Evans par maravilhosamente com uma sala de estilo minimalista. Isto permite que o mural retro seja sempre o principal ponto focal da sala.
9. Viaje para terras exóticas com um desenho de papel de parede do Di Brookes
Mural in photo: Flamingo Tropical
Sinta o calor dos trópicos durante todo o ano com uma bela Papel de parede Di Brookes mural! Only to be found at Wallsauce.com, Di Brookes' tropical wallpapers are feminine, classic and decorative making them excellent feature walls for a range of rooms. Why not create an exotic feel in your home office and pair one of her jungle wallpapers with a range of leafy-green plants?
Mural na foto Pavão Tropical
As well as this gorgeous Tropical Peacock wallpaper, Di Brookes' designs consist of palm leaf, floral patterns and colourful toucans hiding amongst tropical foliage!
10. Entre num mundo de imaginação com Patrick Brooks
Mural in photo: Pequeno Saurus e Ladybird
Como todo o trabalho dos nossos designers, nós amamos, amamos, amamos, amamos Patrick Brooks' beautiful wallpapers! Perfect for a baby's nursery or a young child's bedroom, his gorgeous designs are full of utter wonder and imagination.
Mural na foto Banho de Dragões
Com sede em Yorkshire, no Reino Unido, a arte de Patrick Brooks é criada com uma mistura de mídia. Ele usa o Photoshop para digitalizar texturas de tinta, tela, pastel e outras mídias para criar estas obras de arte mágicas e oníricas. Patrick Brooks é também um escritor e gosta de criar uma narrativa para os personagens de seus desenhos. O que você acha que os dragões estão dizendo um para o outro enquanto tomam banho na lava escaldante?
11. Create an on-trend home with a Lara Skinner wallpaper design
Mural na foto Praia da Piscina de Rocha
Again, some of our most popular exclusive wallpapers are from our Gama Lara Skinner. Em seu trabalho, você encontrará camadas sobre camadas de textura com, às vezes, dicas de florais para criar papel de parede de mármore e geode efeito mandíbula!
Mural in photo: Mármore Gold Dust Grey
Extremely popular in the home, these marble wallpapers are commonly used in the bedroom or lounge, creating statement walls that make any home Ig-worthy! And the beauty of these exquisite geode wallpapers is that each holds a beautiful selection of colour to inspire the rest of your room's décor. Simply pick out the tones and find scatter cushions, a blanket or rug in the same shades.
Gostou da nossa linda selecção de desenhos de papel de parede que não vai encontrar em mais lado nenhum? Deixe um comentário abaixo e diga-nos qual é o seu favor!