If you're like me, Halloween decor takes me back to when stick-on witches' fingers, an itchy pointy hat and a make-shift cape using a black trash bag would suffice as a witch's costume! It reminds me of mine and my brother's home-carved pumpkins whose crooked smiles would glow proudly from our front window. And I remember the excitement of being out of the house portanto tarde da noite (provavelmente só às 19h) enquanto fomos enganar ou tratar!
But the most magical part of Halloween was the amazing decorations. The extra efforts made by our parents and neighbours made all the difference. Whether shop-bought or homemade, decorations always made this spooky season even more exciting (and terrifying)!
In this spook-alicious blog, we have provided you with some fa-BOO-lous Halloween decor ideas which are sure to make this creepy time of year even more spine-chilling for the kids (and big kids)!
Pumpkin Halloween decor ideas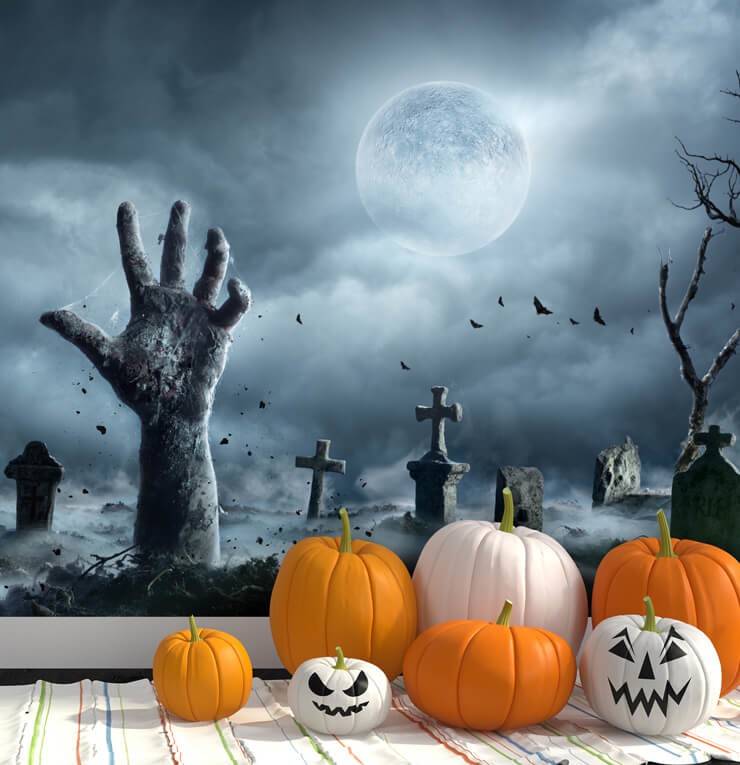 Mural in photo: Zombie Hand from Extended Search
Pumpkin decor has forever been the go-to option for Halloween. And we've all had a go at carving our own jack o' lantern. Just the sweet smell of a pumpkin's insides brings back those treasured childhood memories from All Hallows' Eve. Both traditional and new, we have some great pumpkin Halloween home decor ideas…
Pumpkin carvings and warty pumpkin displays
Carving your own pumpkin decor isn't just about creating great homemade Halloween decorations. It's about the experience of doing it as well. Halloween wouldn't be fulfilled without a friendly pumpkin carving competition! Who is the best carver in your family? Or for more laughs, who is the most useless at carving?
As well as pumpkin carving, others are getting really creative with stunning Halloween pumpkin displays. We're not just talking about orange pumpkins here. We're talking about warty and marbled pumpkins that come in green, red, yellow and even white shades!
Fonte da imagem: Lights4Fun.co.uk
Todas estas abóboras esquisitas e malucas foram perfeitamente arranjadas em degraus de alpendre e lareira. Algumas até já foram usadas para decorações de mesa de Halloween da moda! Há tantas abóboras lindas disponíveis na maioria das mercearias e supermercados locais. Além de agradáveis de se ver, elas fazem excelentes decorações baratas de Halloween.
Adoráveis luzes de abóbora para decorar a sua lareira ou corrimão de escada
Fonte da imagem Lights4Fun.co.uk
Se não tem paciência para criar o seu próprio ecrã de abóboras frescas, porque não pendurar estas lindas luzes de abóbora na sua lareira ou corrimão de escadas? Fáceis de colocar mas eficazes, estas carinhas adoráveis vão fazer você cacarejar com as travessuras do Halloween!
Pretty glass and ceramic jack o' lanterns
Fonte da imagem: Lights4Fun.co.uk
Beautiful ceramic pumpkins are a big hit. They are the new, stylish alternative to traditional carved pumpkins. Not only ceramic, you can buy pretty glass pumpkins which look fabulous with lights lit up inside. They aren't scary, but they are definitely chic. What's more, they don't have a 'use by' date and can be enjoyed every year.
(Truque ou) Trata-te de um mural de Halloween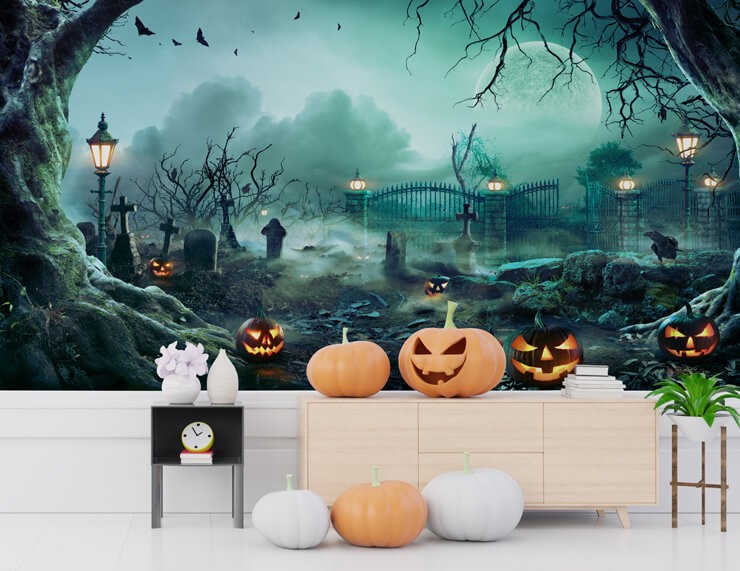 Mural in photo: Halloween Graveyard from Extended Search
Pumpkins are very nice (or shall we say spooky), but if you REALLY want to have your guests under your spell, choose a Wallpaper mural de Halloween. Dos sorrisos ardentes das lanternas de abóbora, dos cemitérios nebulosos com espíritos escondidos, dos lobisomens uivantes aos terríveis apocalipses de zombies, a nossa colecção assustadora de paredes de características esquisitas vai certamente assustar-te quando entrares na sala!
Mural na foto Floresta Fumegante
Did you know the smartest way to choose Halloween decor ideas is to make sure they last all year long! This Smokey Misted Forest wallpaper is a perfect example. It is a gorgeously calm nature wallpaper that will provide a zen ambiance throughout the year. But when the spooky season comes around and you pair it with pumpkins and other halloween decor, the misty trees turn from calming to eery... Spookily clever, huh?
Mural na foto Wolf Howling
Se você quiser manter o seu papel de parede de Halloween apenas para a estação assustadora, recomendamos que escolha o nosso casca e vara texturizada papel de parede. Este fabuloso papel de parede removível foi especificamente concebido para que não cause danos à sua parede quando removido suavemente.
Skeletons (Halloween decor ideas to rattle your bones)!
Don't be a lazy bones! A carved pumpkin isn't enough when it comes to Halloween home decor. Another classic spooky decoration that you need this Halloween is the skeleton! And you DON'T want to forget asking him to your Halloween party or else he will haunt you forever! Eek! From spooky outdoor ones to creep out the neighbours to life-sized ones to hide around the home, you can have so much fun with a skeleton halloween decor!
Esqueletos de Halloween em tamanho real (ótimo para brincadeiras)!
Image source: My-furniture.com
There's a lot of fun to be had when you own a life-size skeleton. Enjoy constantly pranking on those you live with. Stand him behind their bedroom door, hang him over the banister, stick him in your ottoman, or squash him into a kitchen cupboard. The opportunities are endless (muahahaha). But don't forget that you hid him somewhere and then accidentally give yourself a fright!  
Cute halloween decor ideas
If your home is too small for a life-size skeleton friend, there are many smaller alternatives which are great for scattering around the home. Dangling skeleton Halloween ornaments are perfect for an empty shelf or a feature fireplace!
Caveiras para você praticar suas falas de Hamlet!
Scattering skulls around the home is a great way to spook up any room! Available to purchase in all shapes, sizes, colours and designs, skulls have always been a great choice when it comes to Halloween decoration. Why not have a go at making your own sugar skulls inspired by The Day of the Dead? These Mexican festival skulls are simply made with sugar and icing!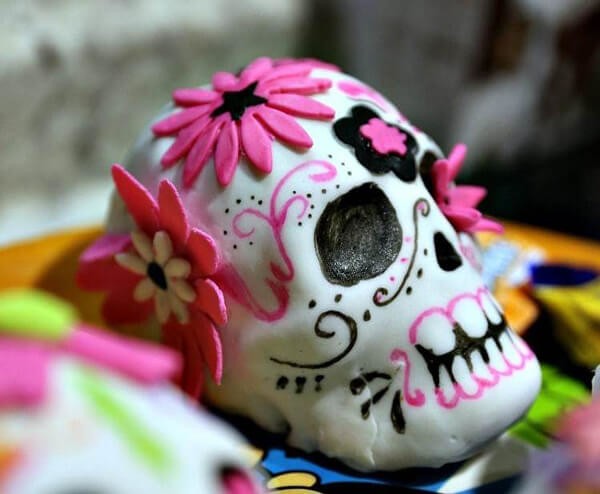 Image source: jennsblahblahblog.com via Pinterest
Festive tree Halloween decor ideas – yes, we're not tricking you
Christmas isn't the only time of year when you can get your tree out of storage! It's now a HUGE trend to decorate your own Halloween tree! Not only do they look great, but it's an excuse to keep it up until Christmas comes around! No need to haul it back into storage so quickly!
Image source: Countryliving.com via Pinterest
Buy your Halloween tree decorations, like these adorable glass ornaments. Not only a bit spooky, but these Halloween decorations look beautiful with natural light shining through them. Why not hang some of these on your windows as well for pretty halloween window decor?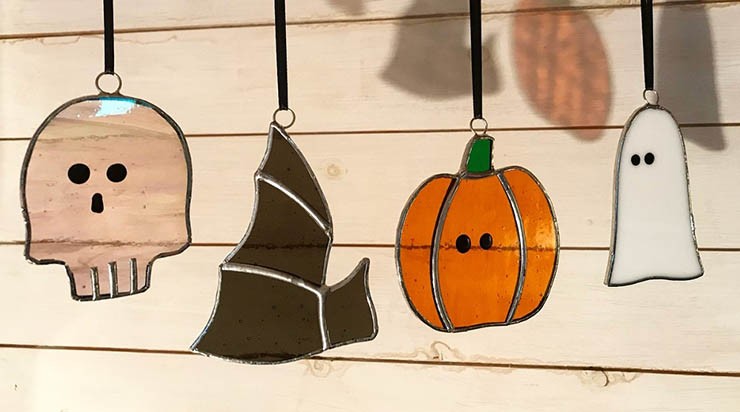 Fonte da imagem: Crafty Glass Londres
Tens muitos bolos de Natal antigos que ias dar? Não! Recicla-os cobrindo-os com papel mâché e decorando-os com caveiras e bruxas pintadas, para que se tornem uns bonitos bolinhos de Halloween. Ou use um cartão preto ou laranja para criar seu próprio bunting para embrulhar em torno da árvore! Adoramos decorações baratas para o Dia das Bruxas.
Uma grinalda de Halloween para receber truques ou guloseimas à sua porta
Image source: Etsy.com via Pinterest
Although they don't have to hang on your front door, these on-trend Halloween wreaths will certainly have the kids knocking for candy! Even though you can buy some fab scary wreaths, why not have a go at making your own Halloween or Fall wreath? Use fallen red leaves and conkers to make a quaint wreath to enjoy in your home! Homemade Halloween decorations are always so special! What were your favourite decorations at Halloween when you were growing up? Have you carried on any traditions in your own home?
Whatever Halloween decor gets you excited at this spook-tacular time of year, we'd love to hear about it. Simply leave a message below - IF YOU DARE!!!!!!!!!!!!!