Window murals in any room can open up space!
Create the ultimate feature wall as well as creating a room with a spectacular window view. Although perfect for rooms of any size, window wall murals are particularly flattering for small rooms to help them look bigger.
In this blog post, we've opted to show you how a variety of city wallpapers, including street scenes and facades, can help you achieve a window view as they can make you feel part of the atmosphere and give you the option to feature your favourite destination.  However, any outdoor murals can help you achieve a window view and bring the outdoors in. 
Choosing Your Window Mural
When choosing your wall mural window, consider if there will be any furniture obstructing the full mural. You wouldn't want a crucial part of the image getting covered up! This said, furnishing and accessorising around the window mural can bring the room together.
Living room wall mural: 'Stockholm wall mural'
For rooms without a window, there's lots of creative fun to be had! For example, this aerial view looking over Manhattan mural gives the impression that the room is high above the city, looking down over the buildings. 
Bedroom wall mural: 'Aerial view looking over Manhattan mural'
Popular Window Wall Murals
City wallpapers have always been a firm favourite of the Wallsauce.com customer. From stunning Manhattan reflections in the Hudson River to red buses touring London, there are so many city wallpapers to choose from!
Whilst browsing our city wallpapers, you may want to also compare them to our travel wallpapers. The difference between both categories? Travel wallpapers are more specific and feature popular tourist attractions as well as less known cities. This Santorini wall mural has been taken from our travel wallpapers and will not only give you that window view but inject vibrant colour into your room.
Living room wall mural: 'Caldera Santorini wall mural'
1x Photography murals from our designer collection also feature stunning window murals. One of our customer favourites from this collection is this Venice window mural. It displays a stunning image of Venice taken from the inside of a building so you get the full window view effect.
Living room wall mural: 'Venice Window Mural'
Another favourite from our 1x Photography collection is the 'Window to the sea' wall mural. There's something incredibly refreshing about this photo and it's sure to brighten up any space! They way the photograph is angled, invites the eye in which is a tip taken from our post on 5 murals that will make a room look bigger.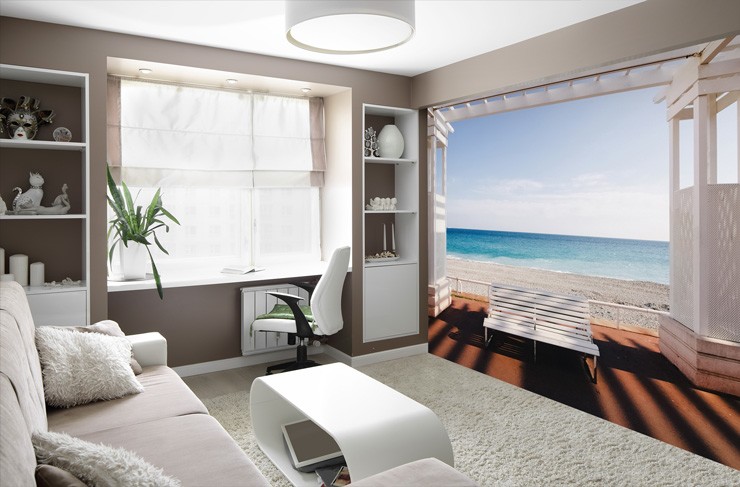 Living room wall mural: 'Window to the sea mural'
Want to see more window view murals? Search our extended range like Heidi did and see what amazing window murals you can find!