Atmospheric Dining
This look created by Surma Restaraunt uses low lighting and simple, elegant furniture to complement their bamboo wallpaper. The look creates a beautifully relaxing atmosphere that could be recreated in your home dining room. 
Get the look! Mural in picture: Bamboo Mural Wallpaper
Mediterranean Hues
This Venice city mural inspiration sent in by one of our creative customers uses a scenic wallpaper combined with warm colours to create the feel of an Italian theme. The image looks out into the distance, also creating the illusion of more space.
Get the look! Mural in picture: Grand Canal at Night Mural Wallpaper
Learning is Fun! Decorating for Children
Map wallpaper can find a perfect place in any home. From adding a touch of sophistication to dining rooms and lounges, to inspiring study in offices or children's bedrooms. This picture sent in by Jonny on Facebook shows us just how much map murals can add impact to a room.
He said: "Thank you so much for your help with our wall map. It was fitted yesterday and Charlie loves it! 10/10 for customer service and quality of product." See more comments from Wallsauce.com customers on our Facebook page. 
Get the look! Mural in picture: Political World Map Wall Mural Wallpaper
Feel the Heat! Tropical Bathroom Decor
Feelin' hot, hot, hot! Take inspiration from this look created by one of our customers and shared on our official Feefo review page. The mural has been applied to an alcove to create the look of a window that looks out on to a desert island.
Get the look! Mural in picture: Beach Wallpaper from Extended Range
Beautiful Colour Infusion
Are you looking to infuse your home with colour? This graffiti style tiger will add the life to a room that you are looking for, adding stylish impact. We love how Julie (submitted via Facebook) used this against all-white decor. 
Get the look! Mural in picture: Tiger Art
This look submitted via Instagram by Sophie has us in serious envy! Marble is one of the biggest trends of 2017 and will be even bigger throughout 2018. Combined with copper (another huge trend), greenery and mustard velvet; this look nails so many trends at once and has some undertones of the 1970's which is set to be a big trend in 2018. 
Join in! Share your look on Instagram and use the hashtag: #WallsauceMakeover
Get the look! Mural in picture: Marble Stone Mural Wallpaper
Making a Big Entrance
Creating an impactful hallway is a great way to welcome your guests into the home. Choose imagery that can easily be cropped to shape without losing important detail like this one below. 
Get the look! Mural in picture: London Bus on Lambeth Bridge
New Year, New Office?
When returning to work after a lovely Christmas break, most of us are in need of a little January uplift. These office makeovers below will give you some much needed redecorating inspiration, whether you work at home or are renovating a workspace elsewhere!
Upload your Own Quote or Company Logo
This year we created a mural for Calum Best to be put up in his new office, for his new company Best Me, Best Life. Creating a mural using your own company logo is a great way to inspire yourself or your staff every day!
Upload your Own Inspirational Image
Love an inspirational piece of art? C7 architects uploaded an image they love to create an inspirational workspace for a client.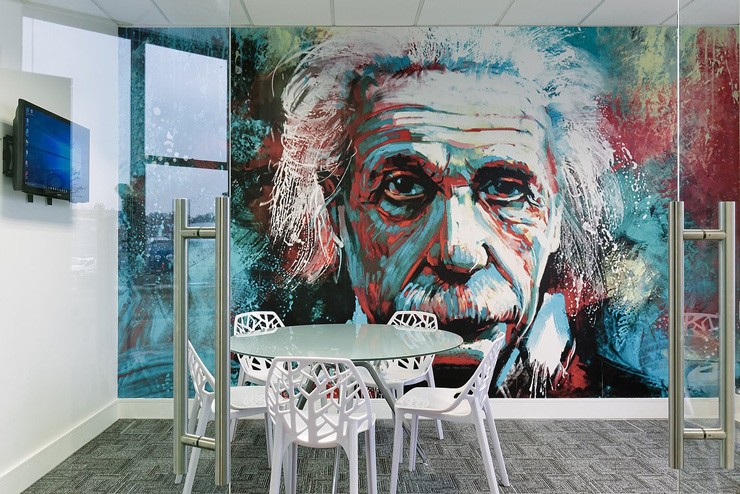 Get the look! Upload your own image
If you have created a decor look yourself, we'd love to see. Share on Instagram and use the hashtag #WallsauceMakeover.