Time spent together as a family is precious and often limited. The home decor tips below aim to help you create a home that your family will enjoy these special times in and that will satisfy your flare for lovely interiors!
How to create a family friendly living room
A home that is going to be truly enjoyed by everyone in the family should be practical and comfy. One simple way to do this is to make sure that your living room has a great seating arrangement - especially if you often have extended family members over. Extra seating is a must. It can be surprising how having their own space on the sofa will make aunts, uncles, cousins, and grandparents feel welcome in your home. A budget and space saving idea is to get bean bags that can be stored away and brought out for the children when you have extra guests. The children will love sitting on the fun seating!
Mural in picture: Bookcase and Candles
No family home is complete without photographs. Display special memories or imagery of far away loved ones on the walls or fireplace. This will give you the opportunity to invest in items to display these photos that will add to the look of your decor. This idea (shown below) of uploading your own photograph to create a wall mural is a fabulous way to display precious memories for everyone to see. You can do this at Wallsauce by uploading an image straight onto the website. You can even use several of your photos to create a collage - just email info@wallsauce.com and we will do this for you.
Mural in picture: Use your own image
A few extra family home essentials that don't cost a lot are blankets and throws, cushions, side tables and foot rests. Although they might seem like obvious choices, they are budget items that can make all the difference during family nights.
Lighting is also an easy yet impactful way to create a great family atmosphere and add to the quality of your decor without breaking the bank. Have lighting that can provide softer light for chilled out evenings. A simple lamp, sconce or dimmer switch will do this. The mural below from the Phil McMenemy collection creates a wonderful and calming atmosphere that can make a small family room feel a lot larger than it is, as it draws the eye outwards.
Mural in picture: Portpatrick Lighthouse at Sundown
How to create a family friendly kitchen or dining room
For many families, dinner time is tone of few times during the week to spend quality time together. Make the most out of this time with your children by encouraging discussion and learning through stimulating decor.
A map wall mural is an excellent way to incorporate learning and fuel imagination during dining. You can choose from colourful, traditional maps or ancient and old style maps, depending on your style of decor.
Mural in picture: Executive Political World Map
Children's bedroom ideas
Your child's bedroom is their own private space and how this space is used can play an important part in their happiness and development. Decorate their room with their favourite colours, objects and whatever it is they're crazy about. If there's room, a space where they can be creative (perhaps with a desk or small table) is also great.
A wall mural is a great way to incorporate what your child loves into their space. They can be changed after a few years if they outgrow the look (this even easier done if you choose our peel & stick material) and won't take up any space.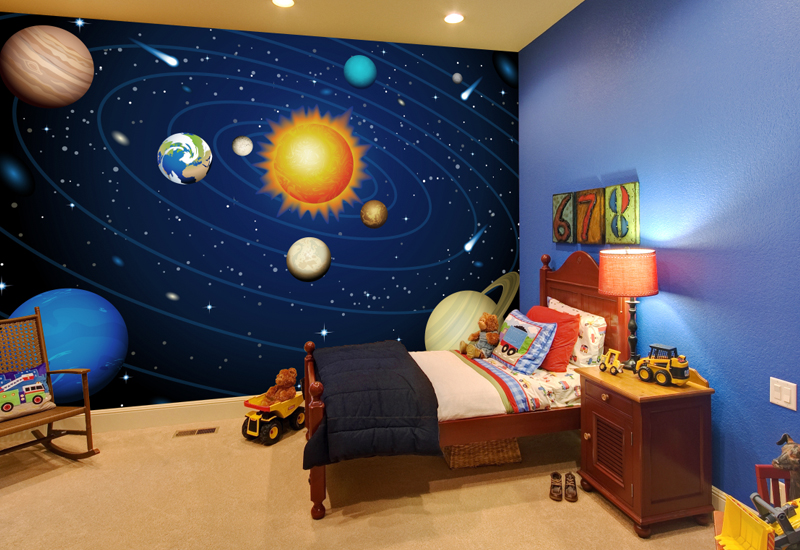 Mural in picture: Dinosaurs Pattern, Natural History Museum Collection
Tween bedroom ideas
It can be difficult to create a bedroom that matures with your child. Decorating with light and innocent patterns, like the mural below from the Gabriela Larios collection is a great way to do this. If your child wants something 'trend led', add a few decorative items such as cushions and throws too.
Mural in picture: Birdsong, Gabriela Larios Collection
If your child is a fan of football, these stadium paintings from Jamie Edwards are a great way to add a mature touch whilst still catering for your growing child's passion.
Mural in picture: King Power Stadium
What are some of your tips for creating a home that suits the entire family? Please share your experiences and tips in the comments section below.