Almost every home has a spot that is awkward to work with when decorating. Especially living rooms, dining rooms and bedrooms as these are places where you're often faced with the task of organising bulky furniture or working around switches and sockets. Check out our list of tips below for how to make some of the most commonly occurring awkward spaces work to your advantage!
Decorating a small wall or alcove
Small walls and alcoves often go to waste because we don't think there is anything we can do with them. They're awkward to work with and often aren't large enough to use for anything more than shelving units and picture frames. However, if you have a small wall in your home, you're actually quite lucky! It can be used to create a focal point that stands out from the norm, or even to create the illusion of more space.
Our favourite way to decorate a small wall is to use a mural that takes the eye outwards to create the illusion of more space. Imagery that does this includes tunnels, paths and walkways and any image that reaches into the distance.
Check out this image below for an example.
Mural in picture: Girl Photographing Brooklyn Bridge
A faux surface mural can also be a great way to achieve this look of an extra space by creating a separate area in the room. Try faux woods, bricks, metals and even bookcases! It won't take up any space in the room, but will create the illusion of more space.
How to decorate your ceilings
For the ceiling, the most important thing to remember is that your ceiling doesn't have to be boring! Using a mural on your ceiling will instantly transform any room and wow every person that walks in. You have plenty of options here; you can create a cloudy or starry sky or use a map or abstract pattern mural for a more artistic look.
Mural in Picture: Clouds
Sloping ceiling / Sloping wall
A sloping wall doesn't have to be a problem, and used wisely can be really fun to work with. Try using a pattern that features stripes or lines to decorate a wall with a slope as it will create a contrast between the sloping lines of the ceiling/ walls.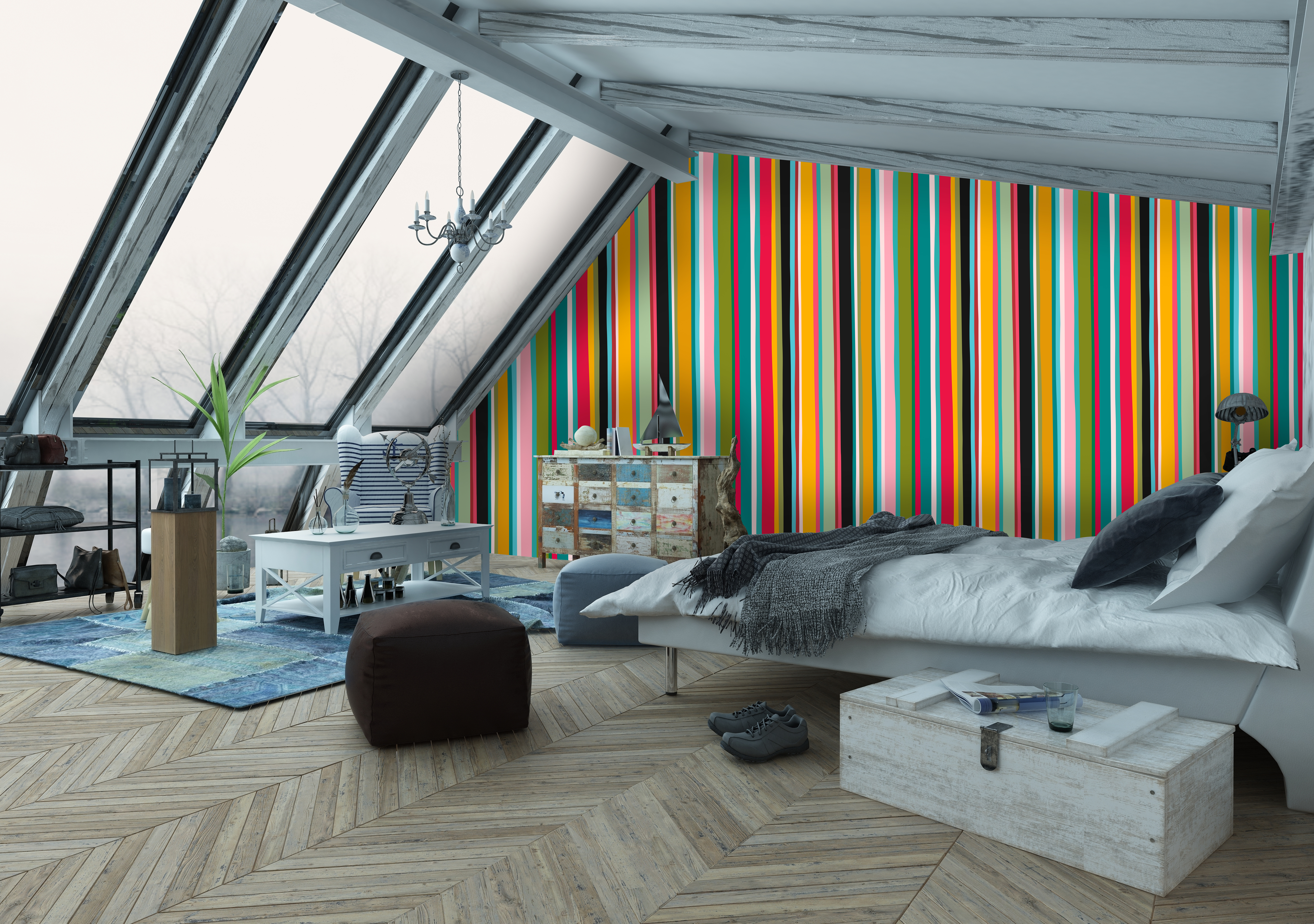 Mural in picture: Coloured Lines
**Wallpaper tip: When ordering a mural for a sloped wall, order the mural according to the longest and widest measurements of the wall and trim off the excess.
Decorate your loft/ attic rooms
If you're lucky enough to have a cool space in your home like a loft conversion or an attic bedroom, use this space to it's full potential by creating a bold decor theme. Some ideas for themes are urban art/ graffiti, a peaceful sanctuary at the top of the home or a creative breakout space themed with your favourite hobby.
Mural in Picture: Be What You Want To Be
**Wallpaper tip: Just like a wall with a slope, when ordering a mural for a loft room, simply order the mural according to the longest and widest measurements of the wall and trim off the excess.
Walls with obstacles
Walls with obstacles such as windows, doors and other functional home requirements can prove a challenge when decorating. The disruptions in the wall can cause the decor to feel slightly disjointed and ruin a near-perfect look! Try creating a feature wall from the wall with the obstacle and carry the pattern on, to another wall in the room. This will bring the space together, like in the picture below.
Mural in Picture: CGI Blue Tunnel
*When wallpapering a room with obstacles that are fixed to the wall (i.e. radiators and plug sockets) order your wallpaper for the entire area and trim around obstacles.
Have fun when decorating your home, and remember that spaces that differ from the norm are a blessing! Share your tips and experiences below in the comments section, we'd love to hear them.