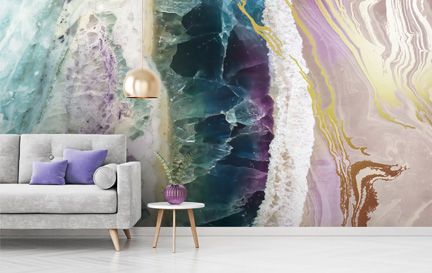 Lara Skinner
Wall Mural Wallpaper
Born and raised in Leicester UK, Lara Skinner has always loved art and being creative, there was never another career option for her. Having studied Graphic Design/Illustration at Camberwell College of Art, Lara began her career designing record sleeves. Her work has since been displayed at various exhibitions in London and small galleries.
In her artwork and this collection of wall murals, you'll find layers upon layers of mixed textures with a hint of florals to create beautiful, marble effect designs. Ideal for creating contemporary décor, these made-to-measure murals by Lara Skinner will look stunning in any neutral room.
All Designer Wallpaper Murals
1x Photography
Adrian Chesterman
Anne Farrall Doyle
Anthony Bryant
Antoana Oreski
Assaf Frank
Carol Robinson
Chad Powell
Chaz Newton-Smith
Clare Wilson Studio
Colin Thompson
Danny Flynn
Design Pics
Di Brookes
Dubravka Kolanovic
GCC Artworks
Gabriela Larios
Gina Lorena Maldonado
Guillem H. Pongiluppi
HR Vintage
Howard Robinson
Image Source
Jerry LoFaro
Kathy Shimmield
Kevin Walsh
Lara Skinner
Leonid Afremov
Lovell Johns
Manuela Vintilescu
Marc Pasternack
Marco Cavazzana
Mark Bird
Michael Mullan
Mike Labriola
Nadiya Kushnir
Natural History Museum
Nick Jackson
Nicola Evans
Nigel Chilvers
Ollie Taylor
Patrick Brooks
Paul Fuentes
Phil McMenemy
Philip Straub
Ryan Fowler
Severine Pineaux
Shandra Smith
Simon Fetscher
SpaceFrog Designs
Steve Read
Studio Arterie
Suzanne Singleton
The Tiny Garden
The Wallsauce Collection
Trevor Mitchell
Turine Tran
Twisted Pixels
Valentina Harper
6 Lara Skinner
Page: 1 of 1
Rock Pool Beach
Price from: $71/m2
Gold Dust Grey Marble
Price from: $71/m2
Blue Marble
Price from: $71/m2
Lilac Golden Ombre Seascape
Price from: $71/m2
Gold Dust Purple
Price from: $71/m2
Golden Blue Seascape
Price from: $71/m2
6 Lara Skinner Murals
Page: 1 of 1
Can't find the wallpaper
you're looking for?