Everyone's talking about it: sage green home décor! Instead of settling for neutrals, sage green is just as subtle and classic but adds a touch of colour to the room. Because of its neutrality, this timeless shade will age well. This means it will look great in a range of rooms with a selection of décor items.
In this sage green home décor article, we will show you how to incorporate this light green into your home, room by room. From sage green bedding, wallpaper murals, rugs and even towels! Use these ideas to update that room that needs a new lease of life. Or why not rebel against Mrs Hinch's entirely grey house look? And instead, enjoy an entirely sage green house instead? Just you wait and see... It's going to be all the rage!
Choose sage green kitchen cabinets and feature walls
Mural in photo: Pale Green Terrazzo
First of all, let's begin with the heart of the home – the kitchen! If you spend a lot of time cooking or baking, then you need to make sure it is a space you can't wait to go inside! And one way of doing this is incorporating sage green home decor. As well as a soothing and relaxing colour, green will bring the outdoors in.
We adore the natural pattern of this stunning Pale Green Terrazzo wallpaper. Place above white tiling and pair with potted herbs and white kitchen cabinets to open up your space. This sage green wallpaper is especially great if you have a smaller-than-average kitchenette!
Another way to incorporate this shade into your kitchen is by having sage green cabinets. If your kitchen units are dull or are looking a bit aged, you'll be surprised at what a lick of sage green paint will do! Pair with black matt metal handles, aged wooden shelving and cracked white porcelain ceramics, to create the perfect cottagecore themed interior design.
Bathe in a sage green bathroom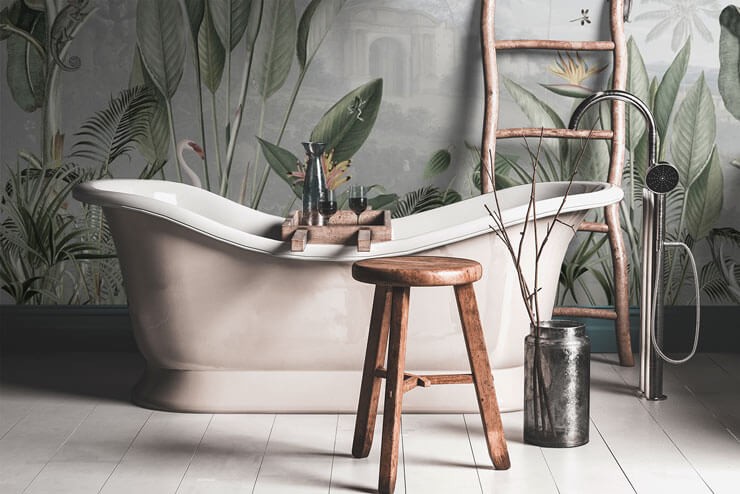 Mural in photo: Botanical Beauty
I myself am creating a sage green bathroom. I was bored of the all-white look and wanted to embrace more colour into my home. So I am aiming for a white and sage green bathroom. Having said this, I think sage green with natural wood and black metal accessories is also a great look to go for. I ADORE the tropical Botanical Beauty wall mural in this boho bedroom. The wooden bath caddy, ladder towel rail and stool all mirror the natural, rustic feel of this vintage jungle wallpaper design. Pair this gorgeous green bathroom with a round wooden mirror and sage green towels. Not forgetting rustic wooden shelves and a bamboo under toilet cabinet – utterly tropical.
Mural in photo: Tulip Pattern
Enjoy a pastel-toned sage green living room
Mural in photo: Leafy Paradise
Want to create the perfect sage green living room? You don't need to make sure EVERY room accessory is sage coloured. Remember – you don't want a sage overload! Sage green curtains or a sage green throw do look good. Yet, as mentioned earlier, sage green looks fabulous when used subtly with whites or greys. Have you thought about combining sage green wall paint with pale terracotta accessories? Pastel pink items like the butterfly art and cushion in the above living room, look wonderful with this pale shade of sage green paint.
Mural in photo: Garden Sage
Many are choosing a sage green and grey living room. And we have to say, these two tones look great together. The added touches of black bring a completely new dimension into the room as well. The shade of sage green in this gorgeous Garden Sage mural by the talented Carol Robinson would look great with colourful decor. A sage green rug or a sage green blanket would both be great accessories in this sage green and grey living room.
Enjoy sage green home décor in a bedroom
Mural in photo: Sage Green World Map
There are so many ways to incorporate this gorgeous colour into your bedroom. The first step to creating the perfect sage green bedroom is thinking about the walls. Whether you choose sage green paint or a wallpaper mural, both will set the tone for this colour trend. Either paint the entire walls or only the wall behind your bed to create a focal point. This is also a super spot to place a beautiful green mural. Creating a focus behind the headboard will draw the eye towards the bed when walking into the room. This will allow the mind to focus on the purpose of this particular room.
Mural in photo: Fresh Forest Green
The next important stage is to think about bedding. As shown in the beautiful room above, a sage green bedding set will set off this colour into the rest of the room. Sage green overload is a no-no, so try to balance out its lovely tone with whites or pale greys. We assure you, a sage green and grey bedroom is g-o-r-g-e-o-u-s as well! Very calm, very subtle, very now…
Which sage green home décor ideas will you use? Let us know in the comments below!