Do you want to add a hint of extravagance to your abode in 2023? The good news is that you can add opulent details to your home by experimenting with colour, textures and patterns, all while honouring your budget. Whether you want to give your home a floor-to-ceiling makeover or add some opulent finishing touches to every room, we can help you achieve the luxurious feel you crave.
If you don't have an interior designer, slowly introduce some opulent details to your current décor theme. Let's get started.
Choose harmonious hardware
Photo credit: roomfortuesday.com via Pinterest
If your home looks less than luxurious, it could be old-fashioned hardware that's the culprit. A luxury home is brimming with elegance, and everything seems to match effortlessly. One way to achieve this look is to update your handles and hardware to a more contemporary design and keep it consistent throughout your home. If you want to add visual interest, mix and match the sizes of the handles and knobs rather than experiment with different designs.
The options are endless when it comes to finishes; you can pick from brass, nickel, chrome, bronze, black, copper, polished, satin and antique. Nickel and brass are ideal for traditional homes, whereas chrome or black is better suited to a timeless yet modern interior. Try this hack, and you will be amazed at the décor transformation that happens before your very eyes.
Scent your Home with Fresh Floral Arrangements
Photo credit: Viktoria Dezhnyuk via Pinterest
Of course, there are many things to consider when decorating your home. A simple way to make your home feel more opulent is to add fresh flowers to your space. For example, placing low flower displays at the entrance to your home can give your interiors an instant lift, and a dense and full arrangement makes a statement. Rather than go for flowers in a hue the same shade as your décor, go for a darker shade to instantly catch the eye and add a punch of colour and personality.
Don't forget that the vessel you house your flowers in matters just as much when creating a spectacular room as the flowers you choose, so don't be afraid to experiment!
Adopt the 60-30-10 Colour Rule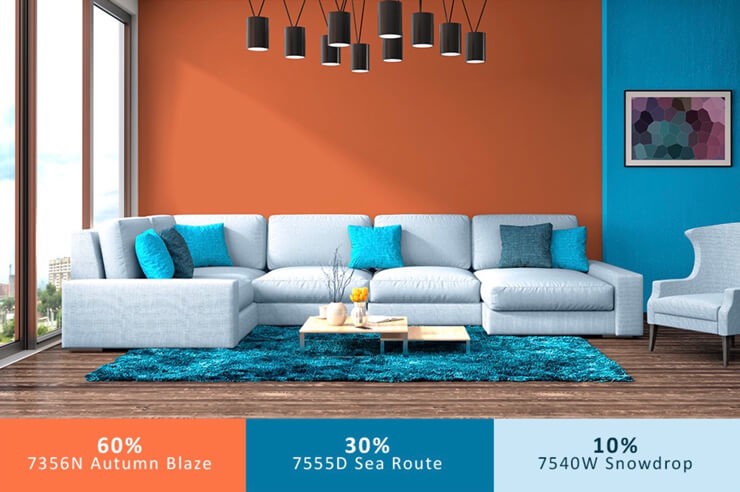 Photo credit: cherryjackson via Pinterest
If you desire a more opulent space, consider the simple 60-30-10 colour rule. If you see a home that looks professionally styled with a luxurious feel, the chances are the designer used the 60-30-10 colour rule to create that polished look. 60% of the room will be decorated with a dominant shade, and this will be complemented with a secondary shade that will take up 30% of the room. The last 10% will be decorated with an accent colour. You can use this colour theory to play it safe, but the 10% accent colour rule is where you can be a little more adventurous.
Unleash your artistic side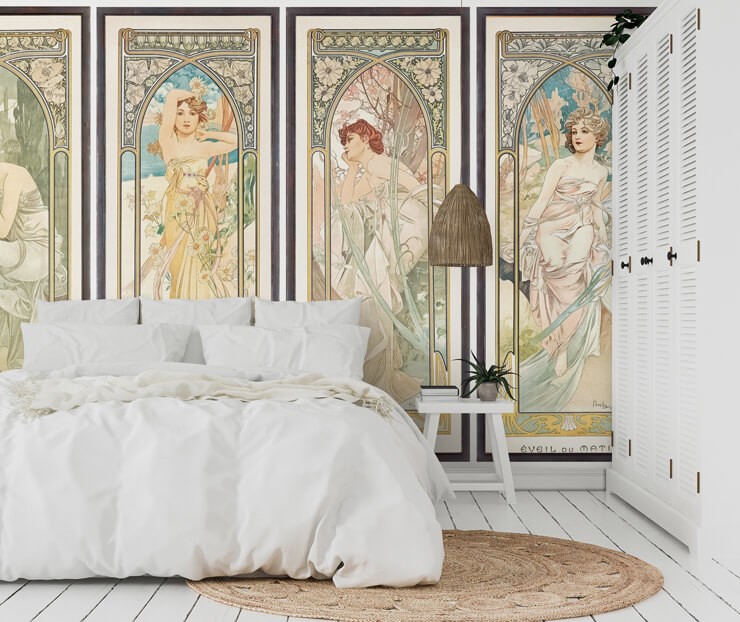 Wall mural used in the photo: The times of the Day 1899
A well-chosen piece of art or an art-inspired wall mural can transform a room and give an instant luxurious feel. If vintage artwork is out of your price range, an illustrious mural can give you a luxurious aesthetic without losing a chunk of your budget. This Art Nouveau design is dripping with luxury and can create a stunning backdrop to any bedroom. The print details transition from night to morning, making it very fitting for a luxurious boudoir.
Simplify your Space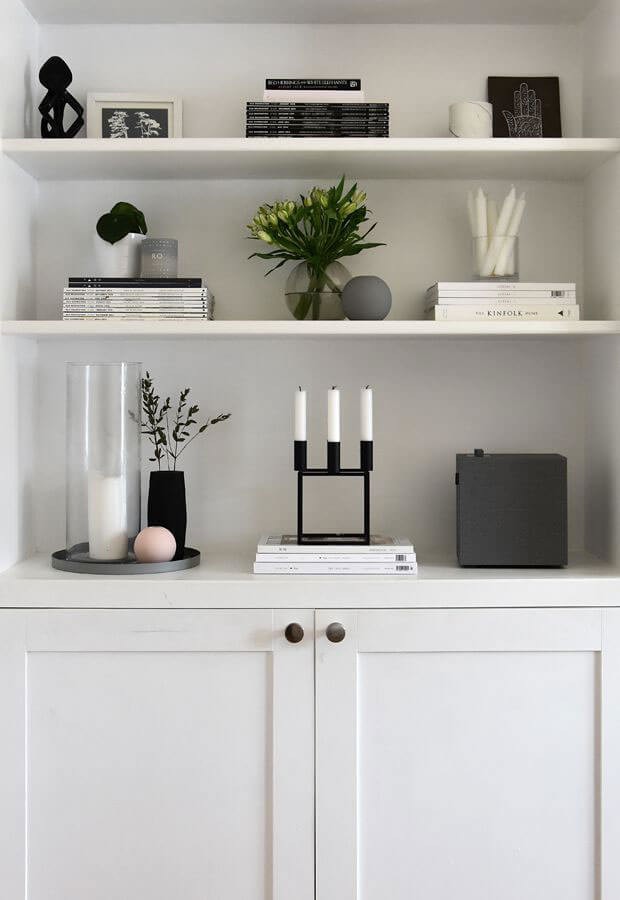 Photo Credit: nataliegisborne.com via Pinterest
Making your home appear opulent isn't always about adding elegant pieces. When introducing an ornament to your decor, you must make room for it by purging an item. Follow the one-in and one-out rule when decorating your home. It's a known fact that clutter is the enemy when it comes to room styling. Remember to focus on quality when giving your home a makeover. This way, your rooms won't appear cluttered or overwhelmed.
Embrace Ornate Gilded Details
Photo credit: rowanhomes.com via Pinterest
Opulence comes in many forms, and when it comes to furniture and home accessories, the more intricate the detail, the better. Ornate gilded bedframes, mirrors and lighting offer an easy way to introduce an element of luxury to a room. Striking pieces like this free-standing mirror capture your attention when you enter a room and create a talking point.
Embrace beautiful baroque prints
Wall mural in the photo: Baroque Light 
Opulent décor comes in various levels of subtlety, and the patterns and prints you choose to display in your home all play a role. For an opulent master bathroom, look no further than our timeless Baroque Light wallpaper mural. We adore this floral print's pretty colour palette and soft and feminine feel. While this wall mural design is chic and elegant, it's also bold with plenty of character.
Which of our interior tips and tricks do you feel most in tune with? Let us know in the comments.
Looking for inspiration? Find your perfect image