To print your own wallpaper isn't as daunting as it sounds! At Wallsauce.com, not only do we offer an extensive range of imagery ready for your dimensions to print, we also offer a bespoke wallpaper service. This unique service comprises of two helplines to get you the personalised photo wallpaper you've always wanted.
Ways to print your own wallpaper
There are a couple of ways to print your own wallpaper with Wallsauce.com. If you already have a photo or a piece of artwork that's ready to be turned into wallpaper, all you have to do is head to our 'use your own image' feature.
Here, you will see two options. If you're confident and ready to print your own wallpaper, continue with the 'upload and buy' option. If you're feeling a little hesitant and you aren't sure if your image reaches the criteria, you can click 'enquire' to upload it and send it to our studio team for advice. However, rest assured, both of these features have an indicator to inform you if your image has the suitable resolution for print.
Our studio team will take a look over every sale and enquiry to make sure that you will receive top-quality bespoke wallpaper. Should they have any doubts on print quality, they will be in touch to advise you on the next steps.
Common questions about custom photo wallpaper
"What format should I submit the file?"
If you'd like to upload your own artwork or photo, then your file will have to be saved as .jpg or .tiff. Alternatively, email info@wallsauce.com with your file saved in any format and we'll be able to help you.
"I've found an image on another website, can I turn it into wallpaper?"
It's important that we protect artists and image owners so we ask with all uploads that you own the copyright of the image. If you don't, ask the owner and they may give you written permission to use the image.
"I'd like more than one photo on my wallpaper to create a montage. Is this possible?"
Absolutely! This is a common question that our customer's ask. Our studio team are experts in graphic design and there's nothing they don't know how to create! They'll simply ask you to email them your photos and dimensions of your wall along with if you have any layout preferences. Please note, there may be a small charge for any design work, but you will be notified before the project commences.
"There's something on the photo/artwork that I don't like. Can you help me edit it?"
Sure! Drop an email to info@wallsauce.com with your details and the studio team will send you proof of their work to make sure you're happy before printing. As with any extra artwork that our studio team performs, there may be a small change. You will be notified of this before work commences.
"I'm an artist and I have a client who would like to turn one of my works into wallpaper. How will this work?"
There are a few answers to this question. You can either send the file to your client and they can upload it onto our website with written permission from you. Alternatively, you can send the file directly to us and we'll get in contact with your client.
Advice on taking photos for wallpaper
Printing your own wallpaper can be quite an investment. You'll more than likely see it on your wall daily, so we understand of any hesitation. To help you with taking the perfect photo to turn into wallpaper, we've asked one of our best selling designers their advice on capturing the perfect shot.
Nick Jackson has over 100 images on Wallsauce.com. He's an award-winning photographer who has captured some stunning images from around the world. Nick's speciality lies in landscape and nature photography. Many of these images can now be found on walls as murals around the world.
Customer photo. Mural: 'Be What You to Be' by Nick Jackson
Here's Nick's advice on taking photos for wallpaper:
"For me, the perfect photograph depends much less on the camera you use and more on the composition and content you create. Everywhere I go I'm looking up and around, trying to find interesting angles, unique shots and lines that lead the eye.
The classic "rule of thirds" is good to adhere to (for instance 1/3 sky, 1/3 ocean and 1/3 beach). Use roads, rivers and fences to create lines from the foreground to the back of your photo for the viewer's eye to follow. Revisit locations at sunset and sunrise to see how different they look and find inspiration for new places to shoot online.
The best tip I can give is to always keep your camera with you because sometimes you don't know when that perfect shot will appear. Good luck!"
Customers who printed their own wallpaper
To reassure you a little further, here are some #WallsauceMakeovers featuring some of our customers who have used their own artwork or photo to print their wallpaper. A huge thank you to all for sharing their bespoke Wallsauce wallpaper!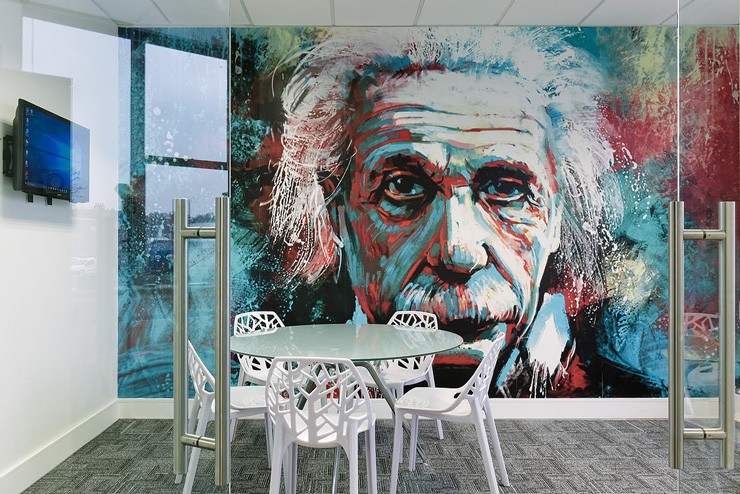 For more information on how to print your own wallpaper, head to our 'use your own image' feature.