If you want to treat yourself to a bit of luxury on a budget, then it's time to look at some affordable designer bedroom ideas. To me, creating a designer look in a bedroom is the ultimate reward for all the hard work you do. Coming back to your home after a difficult day and catching zzzs in a room that could have come straight from a luxurious hotel is many people's idea of luxury. And luckily for us, creating a designer bedroom isn't as difficult as it may seem.
In this article, you will discover 10 amazing ways to turn a bedroom from "ok" to deliciously designer. From making your own four-poster bed and upcycling a bedroom armchair to fitting your own fireplace or using wallpaper to add a feature wall, there are many different ways to create a designer look in your boudoir.
1. A DIY headboard or a four-poster bed
Image source: thesimplefarmhouse.com via Pinterest
If you want to make a statement in your designer bedroom, then you need a DIY headboard or four-poster bed. Much cheaper than buying one, making your own bed features means your designer bedroom will be one of a kind.
Firstly, making a four-poster of your own doesn't need to be as complicated as you think and you don't need to be a professional to make one. This minimalist luxury bed was created by The Simple Farmhouse. They used pine boards with pocket holes, screws and wood filler to hide the pocket holes once the structure had been built. We adore this stunning bed because the simple design oozes designer appeal.
Making your own designer headboard is even easier. Whether you want to update your current headboard or upcycle one from your local charity store, all you need is fabric and a staple gun. Wrap the old headboard with one piece of large fabric and staple it onto the back of the board. For extra detail, hammer in upholstery pins around the edges for a vintage-style trim. Both of these bed updates are way cheaper than buying brand-new options!
2. Add small accessories for extra luxury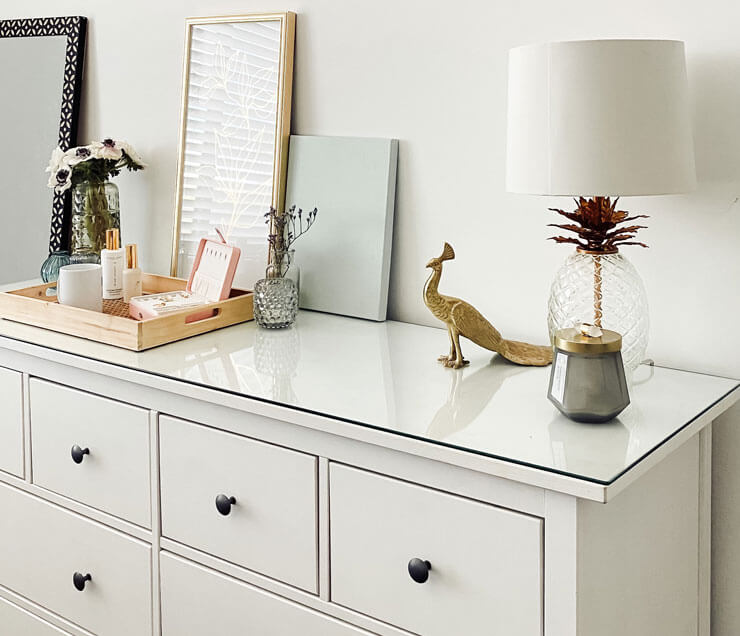 Sometimes small accessories can make all the difference in adding elements of luxury into your designer bedroom. And not only this but choosing these small touches of accessories doesn't need to cost a fortune either.
Gold effect ornaments such as this peacock and the pretty glass candle holder are elegant but could be found in any affordable home store. If you have doors or wardrobes that are looking a bit aged, swap their handles with new ones to give them a completely new lease of life! Remember, only the finest designer hotel bedrooms have beautiful accessories that make them stand out from the rest.
3. Simple bedding with texture and no patterns
Image source: realhomes.com via Pinterest
Often less is more and when it comes to bedding, the simpler the better if you want to create a designer bedroom. Instead of going for lots of patterns and colours, choose neutral bedding that embraces lots of different textures.
This beautiful designer bed embraces nutty beige and creamy white tones in different fabrics. The bedsheets are of a smooth material whereas the throw on top has a comforting, bumpy texture that must feel gorgeous to the touch. You could even add in suede scatter cushions as well. What a sensory sensation that would be!
Remember, these layers of texture don't need to cost the earth. Simply remember to pay for the highest thread count you can afford and shop around to see what bargains are available!
4. Statement oversized light over the bed
Image source: thatscandinavianfeeling.com via Pinterest
If you want a show-stopping designer bedroom, make a statement with an oversized light over the designer bed. From diamante drenched chandeliers to macrame woven boho lamps, there are so many bedroom light fixtures to choose from.
This eye-catching umbrella-style lampshade really brings this stylish bedroom together. Combined with the earthy colour scheme and the mini tree, this umbrella lamp shade adds to the outdoor theme of this stunning designer room. Want an umbrella lampshade on a budget? Get creative by making your own by upcycling an old umbrella!
5. An oversized rug for designer bedroom ideas
Image source: thelilypadcottage.com via Pinterest
One of the easiest ways to create a designer bedroom is to use an oversized rug underneath the bed. An oversized rug creates a small island for your bed to live on and draws the eye to the main purpose of the room – the sleeping area!
Choose a simple, textured rug layered on top of a beautiful hardwood flooring. Avoid choosing a rug that is too small – this will make the room appear smaller. Instead, make sure there is ample space on both sides of the bed as well as at the bottom. To cheat a little, place the rug slightly forward so that it is not underneath the bed legs at the top of the bed as seen in the room above. That way there will be even more rug exposed at the bottom of the bed. You can find many affordable rugs online or in stores. You could even have a preloved rug deep-cleaned to make a statement in your designer bedroom!
6. A preloved bedroom armchair
We think that every designer bedroom isn't complete without an armchair. The cheapest way to achieve this is by using a preloved bedroom armchair!
So many charity stores and thrift shops have a wide range of armchairs available. The trick is not to be put off by ripped seating or stained wood. Instead, see them as a challenge and prepare your crafty skills! For the ripped seating, choose beautiful fabric in your bedroom's colour scheme and use a staple gun to put it into place. For the stained wood, use stain remover and varnish to maintain the warm wooden effect. Or, use chalk paint directly onto the wood. If you want to have a really clean, professional finish, consider taking a quick upholstery course. Or why not ask someone you know to do it for you in exchange for a gift?
7. Reused stand-alone bathtub installed by a friend
Image source: trendir.com via Pinterest
Ok. So a stand-alone bathtub may not be the cheapest way to create a designer bedroom, but it certainly adds a WOW factor to the room.
Placed in the corner of a room that isn't being used or near to the bed, a stunning bathtub gives off 5-star honeymoon suite vibes. And if you want to save money, why not do your research and reuse a preloved bathtub and have it deep cleaned and installed? Or if you have a plumber friend or relative, they may be able to give you a used bathtub that they have replaced from a client's home? There are more ways than one to achieve the perfect bedroom bath area of your dreams.
8. Fitted wardrobes that take up no room
Image source: annelibush.com via Pinterest
Most of the time you can add a designer look to your bedroom by simply keeping it tidy and organised. One of the easiest ways to do this is by having fitted wardrobes planned into the space.
A wall of beautiful wardrobes can completely transform a normal-looking sleeping area into one that would look at home in a stunning show-home. Choose wardrobe doors that are painted in your room's colour scheme and make sure the handles are made from brass or faux gold for a really elegant touch.
9. Our favourite designer bedroom idea: a fireplace
Image source: ruemag.com via Pinterest
One of the most dramatic ways to create a designer bedroom is by incorporating a fireplace into the room. And guess what – you don't actually need a working fireplace to achieve this!
Easily build your own faux fireplace without spending a fortune! When beginning the building process, simply choose a wall that is central to the room because you want it to be seen. Make sure you have a power source nearby if you want to light up your fireplace. Then, by using planks of wood and a saw, you can create the perfect fireplace!
If you love vintage style, why not upcycle an old fireplace that has been removed from its previous wall? There are so many iron and tile fireplaces in antique stores that can easily be fitted into your designer bedroom. If you haven't chosen a colour scheme for the room yet, the colourful tiles on these fireplaces can be a great starting point and be the colour inspiration for the rest of the room.
10. A bedroom wallpaper feature wall
Mural in photo: Soothe Your Soul
Our final suggestion for creating a designer boudoir is to create a bedroom wallpaper feature wall. The easiest way to do this is by installing a custom-made bedroom wall mural. Choose a timeless design that is neutral and abstract such as this Soothe Your Soul design by Elisabeth Fredriksson. Simply place it on the wall behind your bed and choose room accessories that have been inspired by the colours in the design. For instance, white bedding, smoky-grey painted walls and natural wood or wicker accessories to bring out the gold tones. Choosing a made-to-measure wallpaper mural saves the pennies because you won't be paying for excess rolls of wallpaper that you will never use. This is why it is a good option when you want affordable designer bedroom ideas.
Have you enjoyed these designer bedroom ideas? Let us know by leaving a comment below.