All-black interiors are trending, and it's not what you think. Challenging, thought-provoking, and going against everything you've ever been told about interior design, it's an uncomfortable shift to the dark side... But contrary to your creative instincts, this shadowy storyline is all about light. You just have to know how to use it to your advantage. Because get it wrong, and you could have a nicely decorated dungeon to show for it. Get it right and you'll have the chicest home in the neighbourhood!
For those who are easily trapped by pigeonholes, we reject the idea that black interiors = gothic. In fact, there are Pinterest boards galore to prove that theory wrong. While there's a deep history rooted in gothic art and architecture, black house interior design in 2021 is cleaner, more uplifting and much more modern. Black wallpaper is a great way to create an instant contemporary look in your home and the trend is spreading like wildfire on social media.
Not sure how to make black décor work for you? Here's some advice for delving into this latest interior obsession.
Know that there are many shades of black…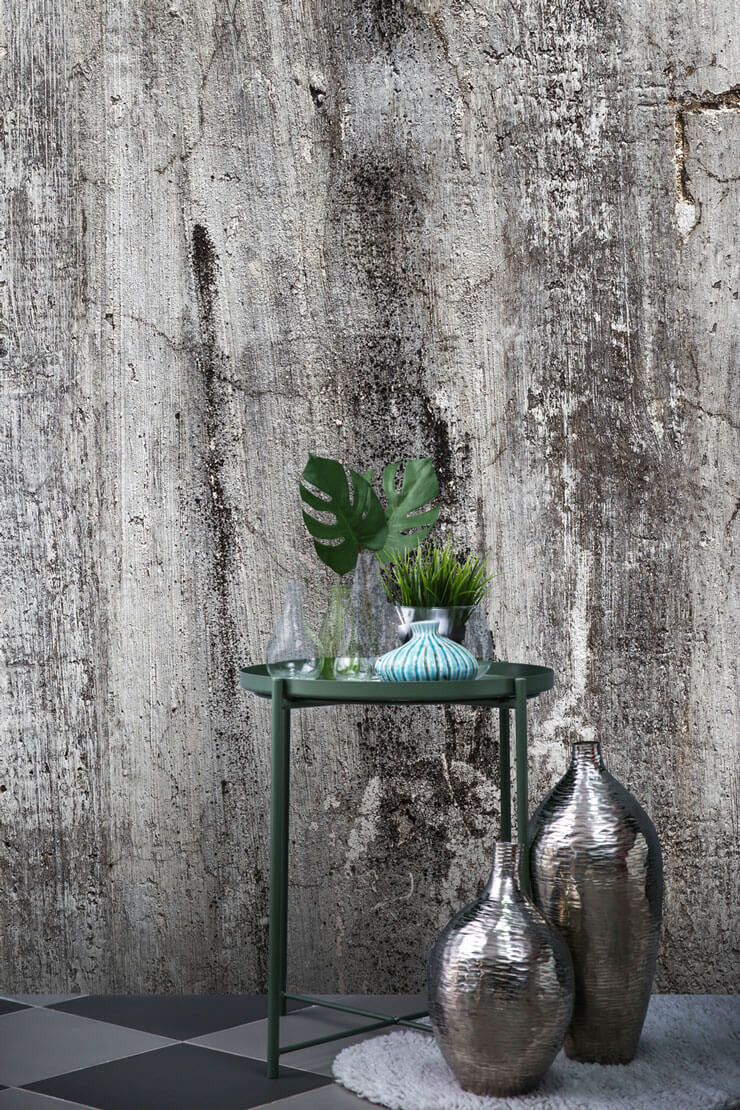 Mural in photo: Blackened by Time
There's no doubt about it – dipping your toes into black interiors for the first time can be daunting. But never fear, as dark wallpapers are available in varying intensities, across the entire spectrum from light to total blackout. Just like we have pure brilliant white and 'off white', there are many shades of black to explore.
While jet black remains the truest of its form, deviations like 'ink black' or 'onyx black' have more bluish tones. Then there's a whole catalogue of grey-black hues, such as charcoal, soot and gunmetal. So there's no need to throw yourself straight into the deep end.
Fearing black has been engrained in our minds because white is the Holy Grail when it comes to light and space. But something gradual like this Blackened by Time mural is a great way to test the waters. Test your confidence and test the natural light in the room. If in doubt, grey-black wallpapers are the way to go.
Use texture to make things interesting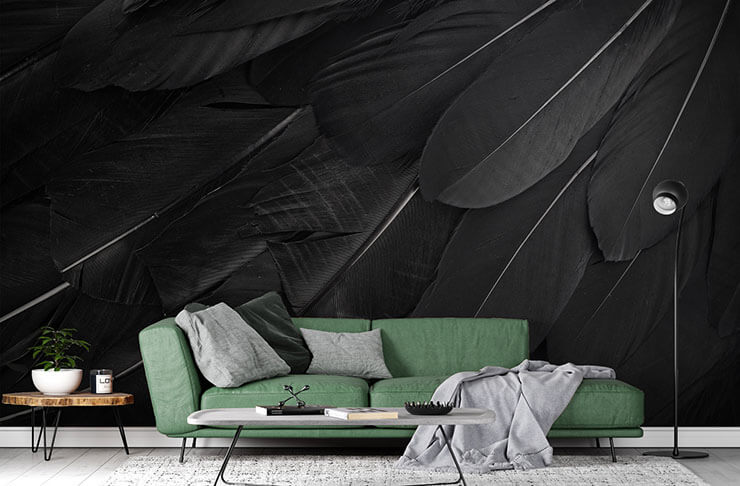 Mural in photo: Feather Print
Another risk factor with black house interior design is the lack of depth or dimension. An all-black living room can look a bit flat if you don't have enough to excite the eye. That's why surface texture wallpapers are such a useful tool when it comes to bringing a room to life.
This striking Feather Print wall mural is the perfect example of how black walls can look alive and full of animation and intrigue. Textured walls and texture-effect wallpapers are set to be everywhere in 2021, and they don't just add interest to your interior narrative. They can provide a multisensory experience, even if you're just looking at a pattern, print or façade. In fact, visual textures are known to give people the feeling of different sensations. This could be anything from softness, cosiness and warmth to roughness, hardness and cold.
Our animal print wallpaper collection is all about these tactile sensations. It combines stylish prints inspired by the natural world with tempting textures that pique our curiosity. These unique murals also provide an easy way to discover dark colour schemes by imitating lightness and darkness, and playing around with shadows.
Create a sense of grandeur with wall panels
Mural in photo: Almost Black Panel
If you're going to do black, make sure you do it with class. It's worth investing a bit of time and money into getting it right...although quality wallpaper doesn't have to break the bank! But effortless elegance is something that, despite its name, requires a lot of consideration and effort. So to make sure black isn't just a dull paint colour gone wrong, opt for a style that offers three-dimensional charm. Like this Almost Black Panel wall mural, which works well with wall sconces and spotlighting for dramatic effect.
Adding a serious sense of luxury and creating a clear sense of space, this wallpaper is an affordable way to achieve one of the most timeless interior styles dating back as early as the 15th Century. Wall panelling has remained a grand and luxurious design feature to this day and it's on everyone's radar right now. Get the lighting right and dark panels can really make your interior concept thrive.
Explore black house interior design with pretty prints
Mural in photo: Vintage Bouquet
When you consider the symbolism of the colour black, femininity doesn't spring to mind. But black can be one of the most important tools in a woman's arsenal, providing both context and contrast with prints such as florals. It's even been said that "women who wear black lead colourful lives", so it's still very much possible to make black a soft, sweet and feminine choice, whether for fashion or interiors.
This Vintage Bouquet wallpaper oozes a dark kind of charm, edging on gothic romance while keeping things chic and modern. If you're decorating your home with black for the first time, romantic dark florals and botanicals can be a comfortable way to ease yourself in because they still have that 'pretty' appeal.
Flowers are universally pleasing too, transcending gender boundaries, making it the perfect print to go in any type of home, from country cottages and family abodes to bachelor(ette) pads and slick city apartments.
Do follow the trends on Pinterest and Instagram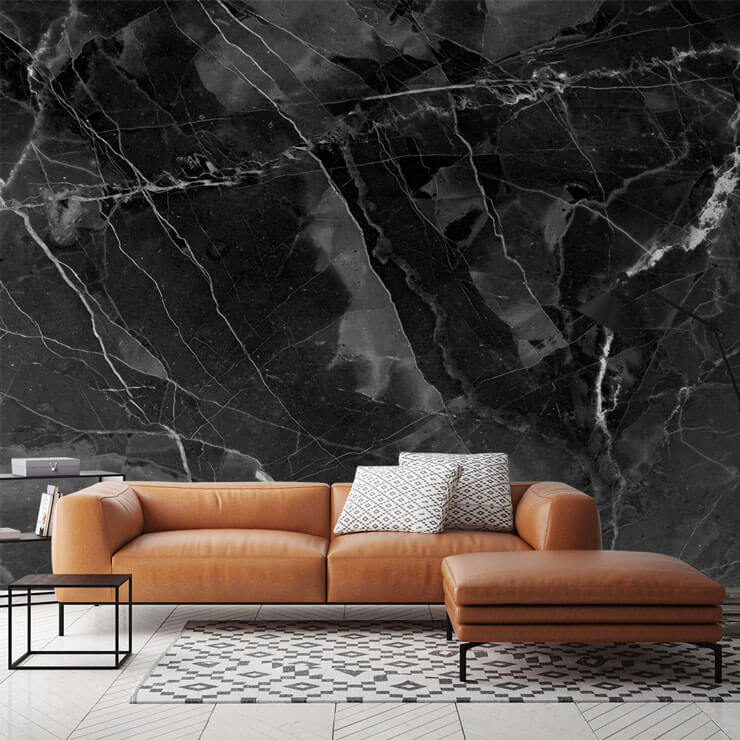 Mural in photo: Marble - Charcoal
Decorating with black certainly comes with its risks if you don't have a plan. But you don't have to be the guinea pig in this experiment when others have treaded on unbeaten paths already. Instagram and Pinterest are great sources of inspiration for trends that have been fully tried-and-tested, such as the marble wallpaper trend.
So if you're clueless about how to create an all-black interior concept, adopt a trend that is already known to work. Marble walls are a fantastic idea if you want texture and a sensory feel that helps to increase sense of space. Remember, stone is cold to the touch and visual texture can help to conjure up this feeling, which can really open up a closed, stuffy room.
Use natural light to highlight the beautiful veins and patterns inside the marble and don't forget to add a few mirrors to make sure light is evenly distributed in every corner.
Are you loving or hating the black house interior design trend? Tell us in the comments below whether this trend gets a thumbs up or thumbs down for 2021.