They say less is more when it comes to minimalist luxe. Well, for this interior design trend, that really is the case. Bare walls are a thing in 2023 – and plaster effect wallpaper is the epitome of high-end simplicity, without the need to strip your walls down and create the plaster effect yourself, saving you time and money.
While the finished appearance is unadorned, rather austere and unfinished, to achieve the plaster trend actually requires a lot of effort, according to interior design experts. The most sought-after walls are made by hand and are uniquely textured to the touch. For the ultimate cheat, here are some of the best plaster effect murals and other similar 'bare wall' designs that can give you the same result for less.
Vintage plaster effect wallpaper
Mural in image: Vintage Plaster
For a timeless backdrop that doesn't disrupt your classic design scheme, we recommend choosing something elegant and effortless, like vintage plaster. This soft plaster effect wallpaper from our collection adds a comforting quality to any space.
Plus, one of the best things about vintage look wallpaper is that it suits every room in the home. Give traditional furniture a revival by adding this type of wall to create an urbanistic finish, or match it with Scandinavian style décor to add something extra to a minimalist space.
Or, for instagrammable gold, opt for mid-century modern sofas and chairs that bring gentle curves to the room. This will transform an otherwise cold, stark and plain plaster setting into something cosy and inviting, making it ideal for bedrooms or your main living area.
Industrial plaster wallpaper
Mural in image: Industrial Art
The love of faux textures has been growing for a while now, with plenty of faux texture wallpapers providing access to materials such as marble, terrazzo and other types of stone or concrete finishes. And there's no shame in faking it if you want to cut costs and create a flexible room that can be changed quickly.
Our 'Industrial Art' wallpaper brings a raw, inner-city edge to your interior storyline, helping you achieve an interesting juxtaposition with warm woods and luxury fabrics. It's perfect as a feature wall if you have high ceilings to play around with, or you can rejuvenate an open-plan space with something more exciting than one-dimensional paint colours.
Peeling plaster wallpaper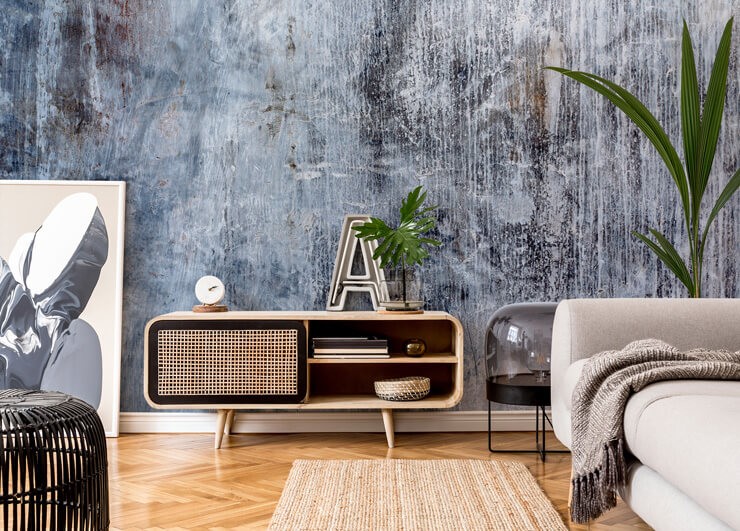 Mural in image: Concrete Blues
This 'Concrete Blues' wallpaper goes all out, creating a fantastic centrepiece or talking point with your guests. Wallpaper doesn't just have to serve as a background colour or texture – it can be the main focal point of any room, and can be mixed with a variety of décor styles.
If minimalism isn't your bag and your heart lies with eclectic interiors instead, this style of plaster effect wallpaper will give your home the maximalist boost it needs! From clashing colours and mixing a range of shapes, textures and patterns, there are so many ways you can make the 'more is more' look work for your space. We especially admire the way that eclectic homes transport you back to different decades through time…
Combine art déco with mid-century mod, elevate 1970s hues with ultra-cotemporary metallics, and take elements of 60s pattern work while channelling industrial elegance from 1990s New York apartments.
Clay plaster wallpaper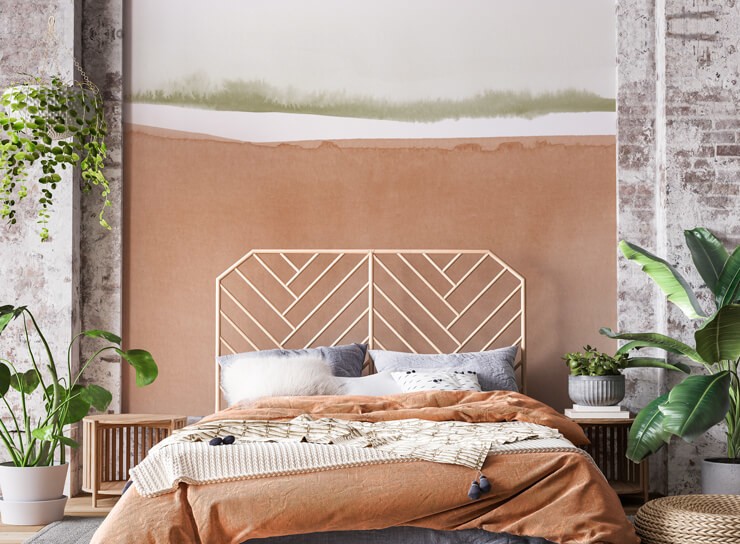 Mural in image: Clay Sands
Another way to embrace the plaster trend is to explore the different hues in clay. Real clay plaster is naturally pigmented and doesn't need painting. It also normally comes in a range of textures to elevate your home, including highly polished plasters that are smooth to the touch and extremely coarse plasters that look and feel rustic.
This can be a great option for countryside abodes, period properties such as cottages, or luxury townhouses that have raw, unfinished walls at every level. When it comes to the spectrum of colours, earthy hues are proving to be a big hit in 2023. They instantly add cosiness to your space, and they create a soft focus for your choice of furnishings.
With this warm and welcoming plaster look mural, you can opt for a stand-out feature wall behind your fireplace, headboard or sofa – or you can add interest and intrigue to a large open-plan room by wallpapering multiple walls. Subtle and gentle, this works especially well with this year's soft pastel trend.
Cement plaster wallpaper
Mural in image: Cement Plaster
For that minimalist look, stick with plain cement plaster. This is the modern choice for homes and gives you an easy blank canvas for different interior design styles.
Our 'Cement Plaster' mural is simple enough to be used across an entire room (yep, even small spaces) so you don't just have to keep it to a feature wall. This wallpaper adds light to box rooms, lifts dull or drab office rooms, and gives tired bedrooms a new lease of life.
To add an organic element into the room, explore light wood elements, raw materials such as wicker, seagrass and rattan, as well as non-synthetic fabrics such as cotton, silk and wool.
Grungy plaster wallpaper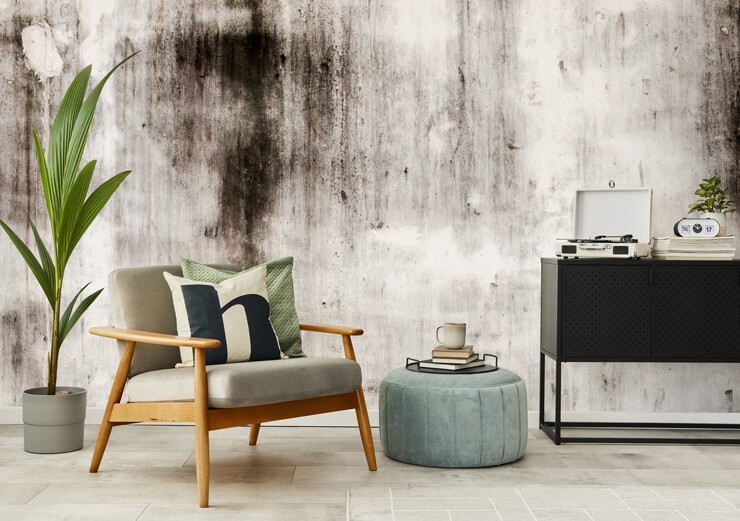 Mural in image: One Place Black
Dark, moody interiors are never easy to achieve, particularly if you have a small space and need to be ergonomic about your design. But dark wallpapers like this one give you a cheat code. While light and bright, it also has a dirty element to it. It's the ultimate wallpaper for city grunge…
We think it's a great option for a large apartment, an open kitchen and dining area where matte black faucets and fixtures are key, or for a home office that needs a touch of urban charm. Features such as metal floor lamps and metal table legs work best here, and pops of colour or shiny surfaces such as brass and gold can create a stylish contrast.
Whatever room of the house you choose for this mural, be sure to carefully curate different furnishings, as too much can upset the balance. Keep things simple and let the plaster do the talking.
Do you love the plaster effect wallpaper trend? Let us know if the comments below how you would style it for your home…
Looking for inspiration? Find your perfect image