Almost every house has a small room that they wished look bigger. Whether it's the box bedroom, being used as a study or just a small living space, there are plenty of tips and tricks that can help you to make the room appear and feel larger than it is.
Tuttavia, questo non deve necessariamente avere un prezzo elevato! Ci sono alcuni consigli di arredamento facili ed economici che aiuteranno una piccola stanza più grande.
In questo post, abbiamo compilato nove dei modi più semplici (e forse anche più economici) per imbrogliare la vostra casa in uno spazio più grande.
1. Teaming light colours with patterns
È una scienza perfetta che i colori chiari riflettono la luce e i motivi attirano l'attenzione. Dipingete le pareti con colori chiari e brillanti per far apparire il soffitto più alto e usate i motivi negli accessori per aggiungere personalità e far sentire la stanza più grande.
2. Le strisce possono fare miracoli!
La stessa regola vale per gli interni come nella moda. Le strisce sottili danno l'impressione di allungarsi, le strisce verticali fanno apparire una stanza più alta e le strisce orizzontali fanno apparire una stanza più larga. Considerate di applicare striped wallpaper to not only create an illusion of more space but to create a simplistic feature wall.
3. Hang wall accessories higher
Questo suggerimento di arredamento è una soluzione super veloce per far sembrare più grande una piccola stanza! Mettete le tende da parete un paio di centimetri più in alto di quanto vi aspettereste di vederle. Questo creerà l'illusione che le pareti siano sempre leggermente più alte di quanto non siano in realtà 
4. Use repeat patterns
Believe it or not, we're going to suggest totally opposite to painting walls and floors with a basic, light colour. Repeat patterns are another great illusion of making something look bigger than it actually is. If you're going to create a feature wall, consider using it to make the room look larger by choosing a patterned wallpaper.
Mural in image: Riflessione Nouveau
5. Inquadrare la finestra
Moving on from your walls and floors, consider styling to frame your window. When trying to make a room look larger, patterned curtains can be a bad idea for two reasons. They can draw attention to the size of a small window making the room appear smaller than it actually is – YIKES!
The second reason is that causing a break in the pattern of the wall can also make the wall look smaller. We don't want to draw attention to the window, just accentuate it. To combat this, choose curtains that are a colour similar to your wall, or skip them altogether and use an alternative light blocking method like blinds. Shutters, in particular, are totally on-trend!
6. Use dramatic wall murals to add depth and detail
Murals are a great way to make a wall appear larger and make it appear as if there is more 'going on' in a space than there really is. The best types of murals to use in this instance are 3D wall murals perché sono ottimi per creare profondità.
Take this Into The Distance mural. Non solo amiamo il fatto che sia un carta da parati in bianco e nero senza tempoma è semplicemente ipnotico. Non possiamo fare a meno di sentirci attratti!
7. I grandi specchi riflettono molta più bellezza
Ok, questo potrebbe essere il suggerimento più ovvio, ma è per questo che non potevamo perdercelo. Un grande specchio è un modo facile (ed economico) per creare l'illusione di una stanza più grande. Appenderlo alla parete rifletterà la stanza e la sua luce facendolo apparire immediatamente più grande 
8. Spazi separati a pianta aperta con tappeti
Open plan spaces are a great way of opening up small rooms. However, to ensure you don't lose two rooms by making it into one room, use rugs to create separate areas in the room. Creating separate areas in the room will give the appearance of more space and functionality.
9. Vedere attraverso il vetro
Questo può essere un po' complicato se si hanno bambini piccoli. L'arredamento delle piccole stanze, come i tavolini da caffè e i tavolini possono sembrare ingombranti e ingombranti. I mobili in vetro non sono solo contemporanei, ma la loro trasparenza farà sì che occupino meno spazio, a patto che non siano eccessivamente stilizzati.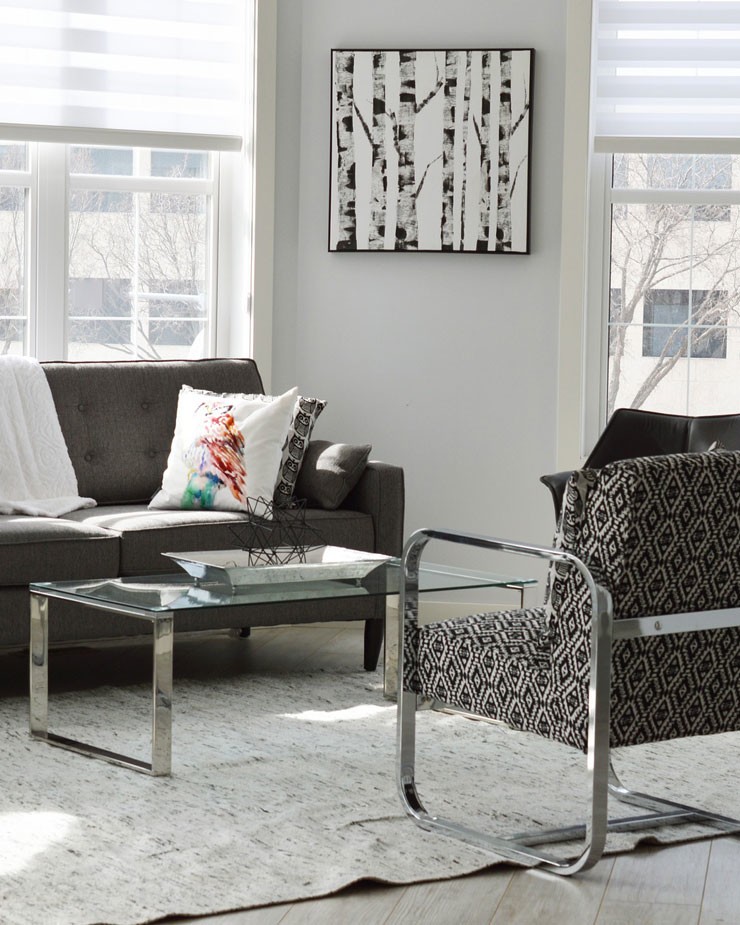 We hope we've inspired you into making your small room look bigger! We'd love to hear your cheap and easy décor tips for extending your room in the comments box below. Alternatively, if you liked this blog post, you might want to read our post sullo styling di una mappa murale.