The time of year during which we spend the most time at home is approaching fast. As the nights draw in, we find ourselves sheltering indoors and inviting family around for the festive season, and so it makes sense that we focus more on our home decor. It can often feel like achieving the styled looks seen in photographs in home decor magazines isn't possible, and whilst choosing colours and finding the perfect place to put everything can take a little figuring out, creating a beautiful home that you will not only be proud of but will enjoy spending time in, is possible - we promise!  
Date un'occhiata a queste fotografie, inviate dai clienti di Wallsauce delle loro bellissime case in stile per trovare l'ispirazione per realizzare una casa adatta ad un film natalizio.
Beautiful Birch Forest scene  
Questa bella carta da parati in legno di betulla accompagnerà molti tipi di arredamento per creare lo sfondo perfetto per la stagione delle feste e non solo. Le foreste sono molto versatili e la maggior parte delle carte da parati forestali sono adatte a qualsiasi ambiente della casa. Concentrandosi sulla ridecorazione per il periodo natalizio, sono particolarmente belle nei salotti, nelle sale da pranzo e nelle camere da letto degli ospiti. I colori in bianco e nero di questo particolare disegno di carta da parati per la foresta rendono l'arredamento della casa di buon gusto e di grande impatto.
Wallpaper featured: Birch Tree Extended Range  (In black and white).
Immagine: Oasis Flower Shop, Canada
Colour Infusion
This stunning home decor combination of blue shades and monochrome featuring a wallpaper mural from our Collezione di carta da parati di New York is cool and contemporary but still homely and enjoyable, making it the ultimate inspiration for Winter redecorating. New York or other famous cities and city skylines are great choices for transforming a room ready for the arrival of the upcoming season (and the guests it brings). Just like forests, New York is a style that will fit in with existing decor to update your home without the need to refurbish your entire decoration. Choosing black and white styles will allow you to work with festive or homely colours that are either already present in your home, or that you would like to add in the future.    
Wallpaper featured: Muro St
Image: Sent in by customer, Bridget
Beautiful Guest Bedrooms
Elegant and vintage decor is perfect for a guest bedroom. We love the creativity behind this decor look, as the wall creates a feature from a piece of furniture, making the most of the space available.  
Wallpaper featured: Carica il tuo (Vedi simili qui)
Image: Wallview, Australia
Sala da pranzo Glamour 
Per quanto molti di noi possano fare del loro meglio per non farlo, la cena è una parte importante della stagione invernale. Le cene di famiglia, le feste festive e i pasti caldi sono il cuore dei prossimi mesi. Questa sala da pranzo glamour, con un grande murale a parete con effetto vintage abbinato ai toni del verde, è una meravigliosa ispirazione per l'arredamento della nostra sala da pranzo.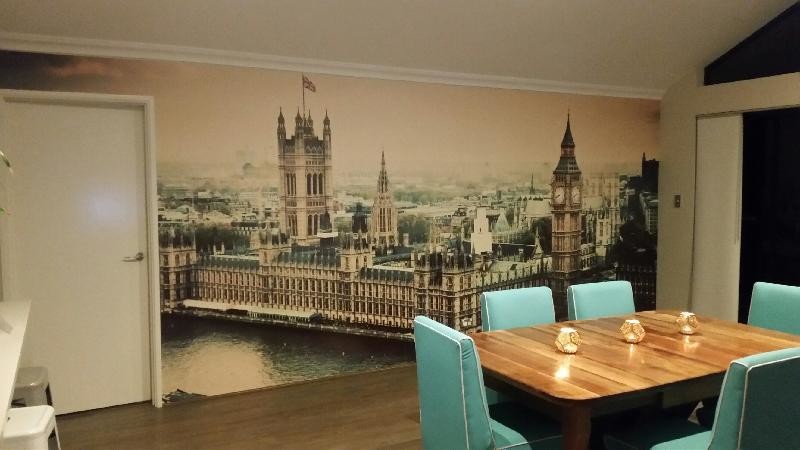 Murale in primo piano Effetto Vintage di Londra
Immagine: Inviato da un cliente, Angela 
Un grande ingresso
How could your guests not become instantly excited for their stay with you by a beautiful, grand entrance? This stunning photograph sent in by one of our customers shows you that achieving that home decor look you have seen in a magazine is possible. A running theme in this post, monochrome, helps to make creating a classic and timeless look easier and will make any bits of colour pop that little bit more. If you have the option, choose a wall that is adjacent to the front door to have that 'welcome home' feeling to greet you instantly.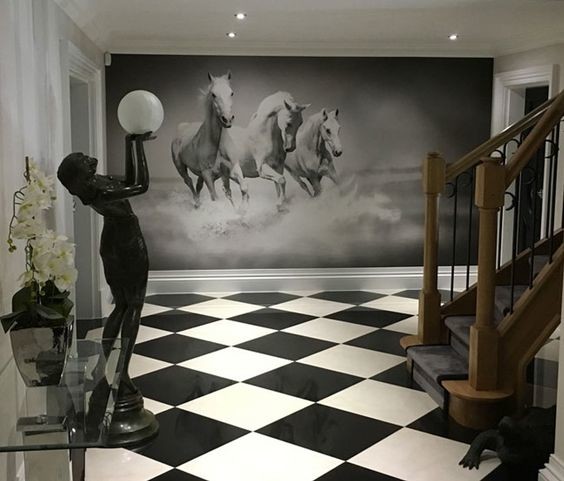 Murale in primo piano Cavalli Bianco e Nero (Capovolto)
Immagine: Inviato da un cliente, Simon
Moderno e Vintage
La combinazione di due stili è un ottimo modo per creare un look fresco per l'arredamento esistente o per creare qualcosa di veramente unico. L'interior designer Kelli Ellis ha mescolato questo loft industriale a vista con una carta da parati effetto vintage per creare un look finale mozzafiato.
Murale in primo piano Altoparlanti musicali monocromatici da parete
Image: Interior Designer, Kelli Ellis
Più ispirazione per l'arredamento della casa dai clienti di Wallsauce
Inspired Spaces
Mural featured: Nucleo di corrosione
Immagine: Inviato da un cliente, Ellen
Winter Wonderland
Murale in primo piano Foresta innevata
Image: Sent in by customer; Suzanne
Cosy Dining
Mural featured: Mappa del mondo vecchio stile
Immagine: Inviato da un cliente, Lynda
Graffiti Feature Wall
Mural featured: Essere ciò che vuoi essere
Image: Shared by customer on Feefo
Peaceful Bedrooms
Mural featured: Beautiful Textured Brick
Image: Sent in by customer, Bessie
Un enorme grazie a tutti i clienti per aver condiviso le loro fotografie. Se avete un #WallsauceMakeover da condividere, vi preghiamo di taggarci su Facebook, Twitter o Instagram per avere la possibilità di essere presenti la prossima volta