At Wallsauce.com, we are very proud of the number of talented designers who have exclusively chosen us to sell their work as custom-made wall murals!
Over the years, we have had the honour of collating wallpaper designs that you won't find anywhere else! From watercolour florals by Carol Robinson and luxurious geodes by Lara Skinner to Patrick Brook's children's illustrations and Twisted Pixels' bold geometric patterns, our exclusive designer wallpaper range is so wide and varied, you're sure to find a style to suit you and your home.
Want to take a peep at our exclusive wallpapers? Take a look below to see what treasures we have in store for you and how these designs look in different types of rooms: whether for your home office, bedroom or lounge!
1. Godetevi la bellezza della natura attraverso l'arte di Carol Robinson
Murale in foto Oro trasparente
We begin with one of our most popular designers, Carol Robinson. Native to Salt Lake City, Utah, Carol currently lives in Alberta, Canada, and loves the small town life. Her art is created with a range of different media mixed with digital art.
Murale in foto Garden Sage
Basata principalmente su fiori ad acquerello, la vasta gamma di carta da parati floreale di Carol Robinson è, non sorprende, una gamma molto amata dai nostri clienti. Queste delicate carte da parati floreali sono apprezzate in tutta la casa, poiché uniscono l'amore per l'arte e la natura in un unico prodotto. Come l'intera collezione, questi disegni di carta da parati non si trovano da nessun'altra parte. Per vedere tutti i suoi disegni, vedere La collezione di carte da parati di Carol.
2. Scatenatevi con Jan Patrik Krasny: disegni di carta da parati che non troverete da nessun'altra parte
Murale in foto Leopardo nella giungla
Pieni di colore e di squisita illustrazione, siamo così orgogliosi di dire che La carta da parati di Jan Patrik Krasny è un'esclusiva di Wallsauce.com! Perfetto per la cameretta di un bambino, la stanza dei giochi, la nursery di un bambino o una scuola, le sue bellissime carte da parati con animali non sono solo meravigliose ma anche educative. Scegliete tra unicorni magici, giungle esotiche, dinosauri realistici, cavalli bellissimi e molto altro ancora!
Mural in photo: Hadrosaurus Sauropod
With one of Jan's dinosaur wallpapers on the wall, test your child to name every dinosaur they can see! Because of the wild theme of these children's wallpapers, bring the jungle into the rest of the room's décor: hang vines from the ceiling, have leaf-patterned curtains or even a blue rug that you can pretend is a lagoon!
3. Sentire l'emozione della gara con Darren Heath
Mural in photo: Lewis Hamilton Australia 2015
Completamente diverso da quello che vi abbiamo mostrato finora è il nostro ampio Gamma di fotografie di Darren Heath Formula 1. Wallpaper designs that you won't find anywhere else, Darren Heath's F1 wallpapers bring you so close to the track, you can almost smell the burn of the tyres! A well-known F1 photographer, Heath has had amazing clients such as McLaren, Ferrari, Ford, Jaguar, BMW and the FIA.
Mural in photo: Ferrari F1
Ideal for all F1 fans, these Formula 1 wallpapers are great for a teen or a bachelor/bachelorette's bedroom, a cool city apartment or even a man cave. With high quality imagery full of colour, these race car wallpapers will bring the race track to you every single day. What more could a F1 fan ask for?
4. Enjoy colour and pattern with Twisted Pixels
Mural in photo: Carta da parati del campeggio
Pixel ritorti" range of geometric and abstract wallpapers are completely unique: wallpaper designs you won't find anywhere else! From retro shapes, abstract mountain views and 3D effect floating cubes, you won't be able to find a wallpaper more inimitable!
Mural in photo: Cubi silenziosi
Abbiamo visto i nostri clienti installare i disegni di carta da parati Twisted Pixels in tutti i tipi di spazi! Dalle sale d'attesa per uffici alla moda alla nursery per bambini, il bello dei suoi disegni è la loro versatilità. L'artista digitale di Manchester, nel Regno Unito, Marc Bingham sa come impressionare chi vuole una carta da parati di design unica e sorprendente! Trova tutti i disegni nella sezione Twisted Pixels collection.
5. Step into Unicorn Land with Mimi Jobe
Murale in foto Io e il mio Unicorno
If you have a child who adores all things unicorn-related, then our Mimi Jobe designer wallpapers are just what you need. Completely exclusive to Wallsauce.com, Mimi Jobe's wallpaper collection will transform your child's bedroom or play room. The vintage feel of these beautiful unicorn wallpapers will also add an old-world charm into the space.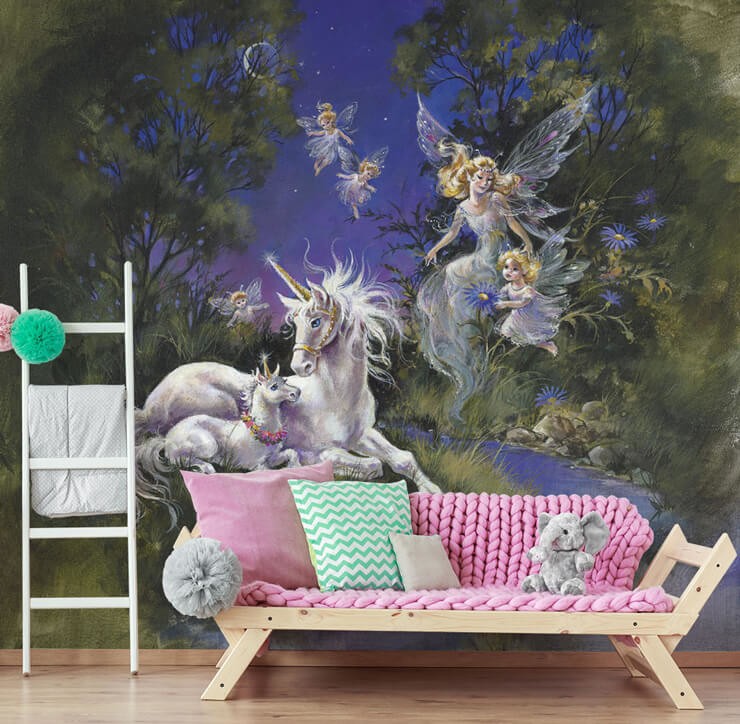 Mural in photo: Paese delle fate
Rich in pastel tones of blue, pink and purple, these gorgeous princess wallpapers look beautiful with a range of décor in similar tones. Choose pink scatter cushions, pastel-blue painted walls and white duvet covers!
6. Assapora le esplosioni di colore con Anne Farrall Doyle
Murale in foto Terra rossa
The beauty of our exclusive Anne Farrall Doyle wallpaper range is the exciting array of colour and movement in her paintings. These multi-coloured abstract paintings can create any image in the mind. Can you see a cascading watercolour, a sun-drenched hillside or the splash of a wave?
Murale in foto Intangable wallpaper
Ideal for any room, these abstract painting wallpapers are ideally paired with furniture in subtle colours such as natural woods or whites. This allows Anne Farrall Doyle's vibrant designs to always be the star of the show and give the eye a focal point in the room.
7. Partite per un'avventura con Clare Wilson
Mural in photo: Pirates wallpaper
Another one of our favourite children's wallpaper designs you won't find anywhere else will be found in our Clare Wilson range! With vibrant colours, interesting texture effects and charming children's characters, it isn't surprising that Clare's children's wallpapers sono i preferiti dei nostri clienti più giovani!
Mural in photo: Arctic Puzzle
Per 12 anni, Clare è stata una designer senior per una rinomata azienda di biglietti d'auguri e questa esperienza si riflette nei suoi intriganti progetti a misura di bambino. Molti scelgono di utilizzare queste bellissime carte da parati per animali, fattorie e pirati nelle camerette dei loro bambini per aggiungere un elemento di fantasia e di avventura!
8. Create a retro home with a Nicola Evans' wallpaper
Murale in foto Murale sfocato
Always a popular choice amongst our customers, Nicola Evans' exclusive wallpapers to Wallsauce are growing ever more on-trend. The use of earthy tonescome i giallo senape, i toni neutri, le tonalità neutre, le alzavole e le tonalità della terracotta sono tutti caldi, caldi, caldi, caldi nel mondo dell'interior design! E lo stile retrò delle sue carte da parati di design è favoloso se abbinato a mobili di metà secolo: oggetti dalle linee dritte e spigolose e realizzati con legno verniciato.
Murale in foto Carta da parati Avenues
Ideali per tutti i tipi di stanze e spazi, questi design sono stati una scelta popolare in salotti, camere da letto, uffici e altro ancora! L'abbondanza di effetto texture in Nicola Evans' abstract wallpapers si abbinano meravigliosamente con una camera in stile minimalista. Questo permette al murale retrò di essere sempre il punto focale principale della stanza.
9. Viaggi in terre esotiche con un disegno di carta da parati Di Brookes
Murale in foto Tropical Flamingo
Feel the heat of The Tropics all year round with a beautiful Carta da parati Di Brookes murale! Solo per essere trovati su Wallsauce.com, le carte da parati tropicali Di Brookes sono femminili, classiche e decorative, e sono quindi ottime pareti per una serie di stanze. Perché non creare un'atmosfera esotica nel vostro ufficio di casa e abbinare una delle sue carte da parati della giungla con una serie di piante verdi a foglia?
Mural in photo: Pavone tropicale
As well as this gorgeous Tropical Peacock wallpaper, Di Brookes' designs consist of palm leaf, floral patterns and colourful toucans hiding amongst tropical foliage!
10. Entra in un mondo di fantasia con Patrick Brooks
Murale in foto Tiny Saurus and Ladybird
Come tutti i nostri designer, anche noi amiamo, amiamo, amiamo, amiamo I bellissimi sfondi di Patrick Brooks! Perfetto per la cameretta di un bambino o per la cameretta di un bambino piccolo, i suoi splendidi disegni sono pieni di meraviglia e immaginazione.
Murale in foto Bagno dei draghi
Based in Yorkshire in the UK, Patrick Brooks' art is created with a mix of media. He uses Photoshop to scan textures of paint, canvas, pastel and other media to create these magical and dreamlike works of art. Patrick Brooks is also a writer and enjoys creating a narrative for the characters in his designs. What do you think the dragons are saying to each other whilst they take a bath in the scorching lava?
11. Creare una casa di tendenza con il design della carta da parati Lara Skinner
Mural in photo: Rock Pool Beach
Again, some of our most popular exclusive wallpapers are from our Lara Skinner range. In her work, you will find layers upon layers of texture with, at times, hints of florals to create jaw-dropping marble and geode effect wallpapers!
Mural in photo: Gold Dust Grey Marble
Extremely popular in the home, these marble wallpapers are commonly used in the bedroom or lounge, creating statement walls that make any home Ig-worthy! And the beauty of these exquisite geode wallpapers is that each holds a beautiful selection of colour to inspire the rest of your room's décor. Simply pick out the tones and find scatter cushions, a blanket or rug in the same shades.
Have you enjoyed our gorgeous selection of wallpaper designs you won't find anywhere else? Leave a comment below and tell us which is your fav!