The clock is ticking and it won't be long until we're waving goodbye to 2019 and welcoming Tendenze della carta da parati per il nuovo anno 2020 into our homes. It's been a fantastic year in interior design. Our customers have truly embraced creativity when it's come down to installing their wallpaper from Wallsauce. We've seen sophisticated 3D wallpaper dining rooms and pink jungle feature walls. Not forgetting to mention personalised photo galleries and eye-tricking Mediterranean coast staircases. We've honestly seen everything this year!
Volete un po' di ispirazione per la carta da parati? Volete essere testimoni di quanto sono belli i nostri sfondi nelle case reali? Bene, continuate a leggere mentre vi raccontiamo tutto sui nostri migliori sfondi per i clienti nel 2019.
3D wallpaper to open up the room and give that stylish minimalistic vibe
Adoriamo assolutamente il modo in cui la nostra cliente, Anne, ha arredato la sua sala da pranzo intorno a questo ipnotizzante carta da parati 3D Corridor. Questo murale bianco e minimalista emana un elemento futuristico. Questo è completamente completato dalla scelta di Anne per il tavolo da pranzo e le sedie. Le gambe metalliche e le sedie e il tavolo bianchi e croccanti sono ultra-moderni ed eleganti.
The beauty of this white room is that you can experiment by introducing a new colour whenever it pleases you. Here, Anne has added subtle yellow pieces into the room. See the adorable flamingo cushion and luscious flowers. Anne can easily change the addition of colour by simply exchanging a few ornaments. All she needs to do is swop the current yellow features with, for example, blue flowers and a blue cushion. Then she'll have completely altered the vibe of the room – simples!
Questo maestoso Carta da parati Palazzo di Venaria  from our extended range is another great example of a stylish 3D wall feature. You feel as though you're actually looking up at the ornate ceiling in this beautiful Italian palace.
Installed by customer, David, this Turin palace mural speaks of sophistication and class. More impressively, 3D wallpaper gives the illusion of more space and seems to create a whole new dimension. This is particularly handy for opening up a small room. Box rooms or small bathrooms can sometimes feel claustrophobic, but with a 3D wallpaper, you can make any space appear much bigger than it is in reality.
Gallerie fotografiche personalizzate per mostrare i vostri ricordi più belli
We really did mean it when we said our customers have been especially creative this year! Take a look at this amazing photo gallery wallpaper created by Neil. He personally arranged all these photo frames and filled each one with a treasured memory. It's such a great way to celebrate your family and your lives together. What a beautiful feature wall to look back on and remember your best times.
Perché non provare il nostro strumento per caricare il vostro strumento e provare a trasformare le vostre foto o le vostre opere d'arte in una carta da parati? Or, if you love this look but wouldn't know where to start on designing your own, we can create something like this for you at an additional cost. So start searching for your favourite photographs! It won't be long until you can look back on your memories by literally looking at the wall.  
Look close enough and you might spot a famous Australian face in one of the frames…
Top customer wallpaper hits that trick the eye!
When we were sent these customer photographs, we really were absolutely stunned at how amazing this carta da parati rilassante per la spiaggia looks! Sally cleverly installed this Mediterranean beach wallpaper up her stairs. She layered it in such a way that you feel like you're climbing inside a cave. Once you reach the top, you can admire the beautiful ocean view. We would never have thought to install a coastal wallpaper in this way. Sally has done an amazing job. She must feel like she's taking a trip to her favourite holiday destination whenever she climbs the stairs!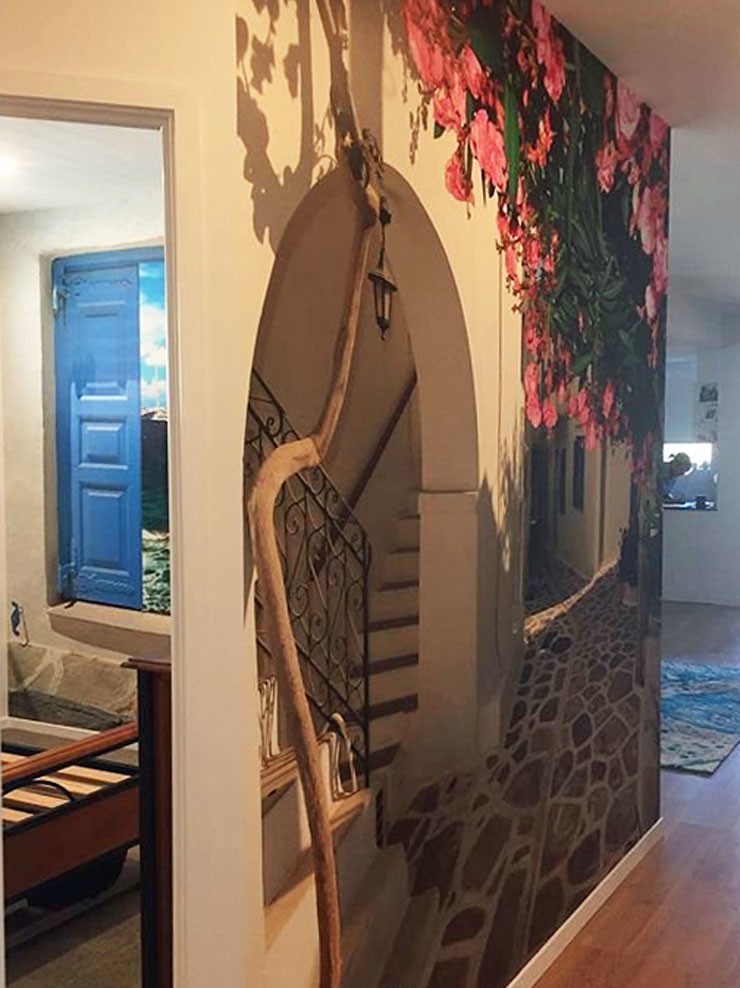 Take a look at this gorgeous home where you feel like you've stepped into rural and romantic Greece. These beautiful greek wallpapers were sent to us by the lovely installers at Wow Wallpaper Hangings. The pink-flowered archway wallpaper is so tricking to the eye. At first glance, you might even try to walk under the flowered arch and go up the stairs! The customer wanted to recreate her wonderful holiday on a Greek island. She certainly won't forget it with these beautiful murals installed in her home.
The blue shutters mural in the room next door is equally as mesmerising. You're really tempted to swing the other shutter open and stick your head out to admire the beach views!
Vi piacciono questi bellissimi murales mediterranei ma non siete sicuri di quale tipo di arredamento scegliere? Il sito lo stile mediterreo è fatto di colori romantici that use light and soft tones. Choose natural woods, wrought iron and pattern tiled floors.
Quindi, proprio come questi clienti, perché non trovare un carta da parati da viaggio avventurosa per creare un'accattivante parete caratteristica nella vostra casa?
Date un'occhiata alla straordinaria carta da parati di Deborah. Non solo questo Camino rustico in carta da parati per la cabina di legno dalla nostra gamma estesa davvero accogliente, ma è anche estremamente difficile dire quali parti del muro sono tappezzate e quali sono reali..
Carta da parati in foglia di palma per creare una tana tropicale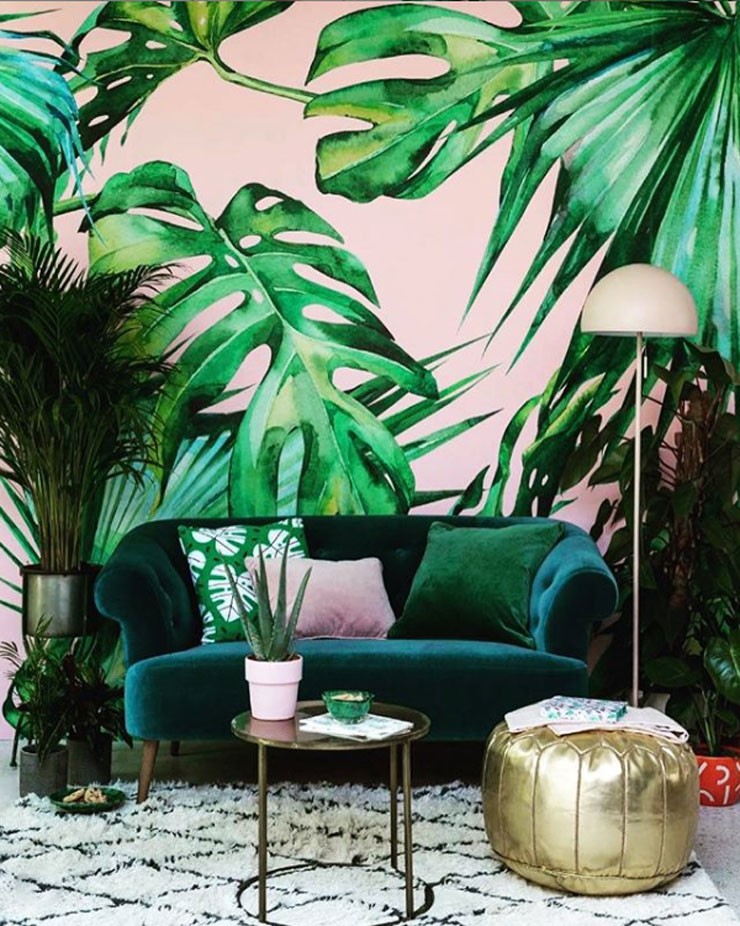 Non possiamo esprimere quanto sono cresciuti gli sfondi tropicali nel 2019. La nostra carta da parati estremamente carta da parati popolare Giungla Rosa has been a massive hit and will continue to be so as we move into 2020.
Interior designer, Emma Fishman, has done a wonderful job at planning the entire room around this gorgeous leafy feature wall. She's really embraced the green tones in the palm leaves: a deep forest green settee and emerald green cushions, ornaments and fresh plants. She's also brought out the dusty-pink shades with the stylish lamp, plant pot and velvet cushion.
Uno dei nostri clienti, Neil, ha mostrato un altro ottimo modo per installare la stessa bella stampa tropicale. L'installazione di una suggestiva carta da parati sulle vostre alcove è davvero efficace. Distrugge la stanza e fa sembrare l'intera lunghezza della parete molto più lunga.
L'aggiunta di piante tropicali nel camino e nel poster della moda è la ciliegina sulla torta - la stanza dei sogni di una vera fashionista.
Se la carta da parati Pink Jungle è troppo luminosa per voi, questo è più maturo Murale della palma a foglie di banana tropicale è una grande alternativa. Trasuda raffinatezza e celebra davvero l'ultra-popolare atmosfera tropicale. Questa splendida stanza, creata dall'azienda di interior design Living at Number One, è assolutamente sbalorditiva.
Adopting deep, forest green wall paint completely brings out the colours of the leaves. The tropical plants make the room really fresh and add to the jungle feel of the room. We love the added gold décor such as the ornamental rabbit, lampshade and plant pot as well as the blue cushions and grey faux fur throws. They break up the green décor and make the room appear lighter. Sometimes using too much of one colour in a room can be overwhelming and you can get a little bored after a while!
Un modo economico per realizzare un muro di mattoni aperto
Il modo più economico, semplice e meno disordinato per ottenere il perfetto muro di mattoni aperto è quello di acquistare una carta da parati effetto mattone! Questa carta da parati rustica Old Brick Wall è un bellissimo mattone, non è vero? Nella sua cucina, il cliente Pixie, ha creato l'intruglio perfetto di un'atmosfera da casetta francese con un fresco interno di un vecchio magazzino. Non si riesce proprio a capire la differenza tra il mattone vero e questa carta da parati. Il tuo naso dovrebbe essere premuto contro il muro per capirlo!
I ripiani galleggianti sovrapposti al murale a effetto mattone sono un'aggiunta fantastica. Che bel modo di esporre i vostri piatti preferiti tramandati dalla nonna! Sono anche utili per tenere la vostra radio lontana dagli spruzzi d'acqua e potreste anche tenere le vostre spezie lassù in modo che siano facili da afferrare a metà cottura!
Top customer wallpaper hits that are just marble-lous
L'interior designer Melanieenvy ha utilizzato questa decadente carta da parati Marble Floral New Master in un bar alla moda. Per nostra fortuna, le carte da parati stampate in marmo continueranno ad essere enormi con interior design trends in 2020.
Non ne abbiamo mai abbastanza dell'arredamento Art Deco che ha usato. Sono un perfetto abbinamento di colori con i toni di questo murale: rosa polveroso, viola e blu, sgabelli e cabine. Ha persino trovato un cervo dorato e delle luci scintillanti del tè per far risaltare l'effetto oro sulla carta da parati - assolutamente splendido!
The longer you look at this bar, the more you see! Notice how she has cleverly used antiqued glass mirrors to reflect the luxurious marble-effect wallpaper. In definitiva, questo ha anche fatto apparire la stanza molto più grande di quanto non sia in realtà!
Se vi piacciono di più i marmi naturali e il semplice look Scandi, adorerete questa stanza che è stata disegnata dalla nostra cliente, Sophia. Ha aggiunto questo calming White Marble wallpaper su un muro che mancava di ispirazione.
Adoriamo il modo in cui ha aggiunto elementi naturali alla stanza. Mobili e scaffali in legno naturale, ma anche cestini, cuscini e piante verdi fresche. Senza dimenticare la sua collezione di ornamenti personali e fotografie che sono stati amorevolmente collocati sullo scaffale.
Ci piace come questo cliente abbia usato la stessa carta da parati in marmo. Ha ottenuto la perfetta combinazione di marmo con il look industriale molto trendy. Le lampade a sospensione e gli scaffali sono un'aggiunta fantastica a questa cucina ultramoderna.
Pensiamo che la stratificazione di questa rilassante carta da parati in marmo sul bancone della colazione e sulla parete di fondo sia davvero ingegnosa. Apre la stanza in modo fantastico. Questo è molto più interessante delle pareti bianche e vuote!
Our zen Carta da parati effetto marmo blu makes a fantastic feature wall behind this customer's bedhead. Matti added a quilted navy-blue bedhead and a soft grey divan to reflect the tones in this calming marble wallpaper.
Brie ecstatic with a black & white feature wall
We couldn't end our blog on top customer wallpaper hits in 2019 without mentioning this customer. He was really pleased with his black and white Cheese Stacked wallpaper dalla nostra categoria alimentare. Può sembrare un po' banale, ma pensiamo che questo murale al formaggio sia solo una grattugia! Ha raggiunto una tale caratteristica del muro di gouda.
You can make any of our wallpapers black and white by simply ticking the Black & White box next to the image of your desired mural.
Vi siete divertiti a sfogliare alcuni dei nostri migliori sfondi per i clienti? Ci è sicuramente piaciuto guardare indietro nel corso dell'anno e ricordare l'incredibile creatività e il talento dei nostri clienti. Se volete dirci quanto siete stati creativi con uno dei nostri sfondi quest'anno, lasciateci un messaggio nella sezione commenti qui sotto.