Spotted jaguar, stripy zebra, wild furry cats or the majestic feathers of an African eagle… these are the patterns, prints and textures that help you conjure up images of being on safari. From capturing the most magical moments of your travels to awakening your inner animal, our safari collezione di carta da parati per animali è una cosa che non si è mai vista prima.
We're excited to introduce a brand new trend for 2019/2020 – safari print wallpaper is taking over the design world. This interior design is diverse, glamorous and requires courage. You'll see this interior concept intercepting every room in the house. Create wild and feral vibes whilst also paying tribute to the most remarkable creatures of nature. From the plains of Africa to the jungles of Sri Lanka, we're celebrating all things animalistic and four-legged.
If you want to hit the refresh button on dull, tired interiors, create a safari wall mural with our fun safari wallpapers! Not convinced? Here are some stunning ideas to twist your arm…
Make a statement with a bold jaguar print wallpaper
Get your claws into this striking Jaguar Print wallpaper. It's the perfect backdrop for a house full of greenery. Whether you opt for real or faux, plants are a match made in heaven for the colours in this mural. Great plant species to invest in are the fiddle-leaf fig, the swiss cheese plant, komodo papaya leaf vines and the staghorn fern. These plants all hail from the tropical jungle rainforest, where the jaguar spends its time.
As the third-largest of the big cats (after the tiger and the lion), jaguars are a big statement if you choose to have its print in your home. But don't forget to tone it down with some neutral tones if you want to keep your interiors looking chic and sophisticated.
Jaguar facts: I gatti giaguaro si trovano solo nelle Americhe e, sebbene il suo mantello sia molto simile a quello del leopardo (che si trova in Africa e in Asia), è molto più grande e ha meno macchie.
Accogliente con la pelliccia di gatto selvatico nel tuo soggiorno
Cercate la carta da parati perfetta per il safari nella stagione autunno/inverno? Tenete a bada il gelo con questa adorabile e sontuosa carta da parati in pelliccia di gatto selvatico della nostra nuova gamma. Urla "lusso" non appena si entra e aggiunge una bella texture a qualsiasi stanza poco luminosa. Armonizzandosi bene con i grigi dai toni freddi, è un modo veloce per trasformare un noioso schema di colori in qualcosa di speciale.
Build up interesting layers with cushions, throws and rugs. Crank up the log fire and put your feet up. This gorgeous safari wall mural is all about inspiring cosy comfort.
Fatti di gatti selvatici: Il gatto selvatico può essere utilizzato per descrivere due specie: il gatto selvatico africano e il gatto selvatico europeo. Entrambi hanno una pelliccia favolosa e sono creature della notte.
Canale sofisticato zebra con il colore marrone
Se amate la stampa animale, ma vi preoccupate di essere troppo 'fuori', questo stripey Brown Zebra Print wallpaper is kind of made for you. Sure, this safari animal wallpaper is bold. There's no denying that it's a showstopper. But the use of brown instead of black and white monochrome just adds a lovely grown-up touch. It softens it up for interior concepts that strive for sophistication.
Besides, warm pinks and browns are a big colour trend to know for 2020. So there's no better time to incorporate this warming hue into your bedroom or living room.
Fatti di zebra: A zebra's fur looks like a giant bar code and you can even scan it (sort of). Scientists track zebras by their unique prints. They are able to identify herds or individuals with their own scanning mechanisms.
Scegliete una carta da parati per il safari al tramonto per creare l'atmosfera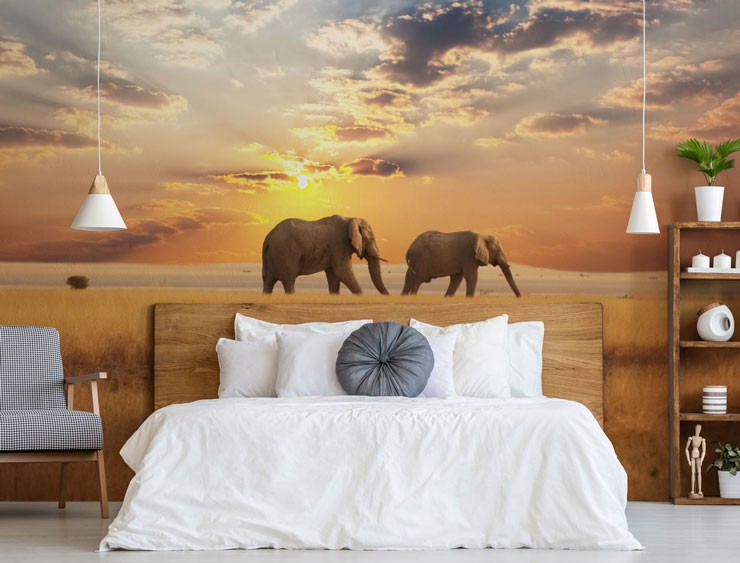 Create un ambiente rilassante e rilassante nella vostra casa con questo splendido murale "Elephants At Dusk". Crea la scena per le buone vibrazioni e il buon umore. Apre il vostro spazio con l'illusione delle pianure africane nel momento più magico della giornata.
Se volete la bellezza e il romanticismo della carta da parati al tramonto con il tocco safari, questa carta da parati fa tic tac in tutte le scatole. Trasformare uno spazio abitativo comune e rendere la stanza più invitante. Oppure, trasformate la vostra camera da letto principale in un ispirato omaggio di viaggio.
Fatti di elefante: Amichevoli elefanti giganti sono i più grandi (e uno dei più dolci) mammiferi terrestri del mondo. Gli elefanti maschi africani possono raggiungere i 3 metri di altezza e pesare fino a 7.500 kg!
Get wild with a tiger print feature wall
Si tratta di un favoloso safari stampa carta da parati per chi vuole creare un impatto immediato. È uno di quegli sfondi "wow" che possono far parlare la gente o dividere la folla. Ma se non vi piace rifuggire da tendenze rischiose, questa carta da parati accattivante Tiger Print è a vostra disposizione.
Non abbiate paura di sperimentare questo look come l'ascesa di sfondi in grassetto stanno seriamente lasciando il segno per il 2020. Più forte, più sfacciato e sfacciato è, meglio è. Cosa c'è di più potente della tigre feroce e predatrice?
I fatti della tigre: La bella tigre è la più grande di tutte le specie di gatti. Le tigri adulte sono note per essere solitarie nei loro vari habitat, tra cui foreste pluviali, praterie, savane e persino paludi di mangrovie.
Design a stunning safari wallpaper nursery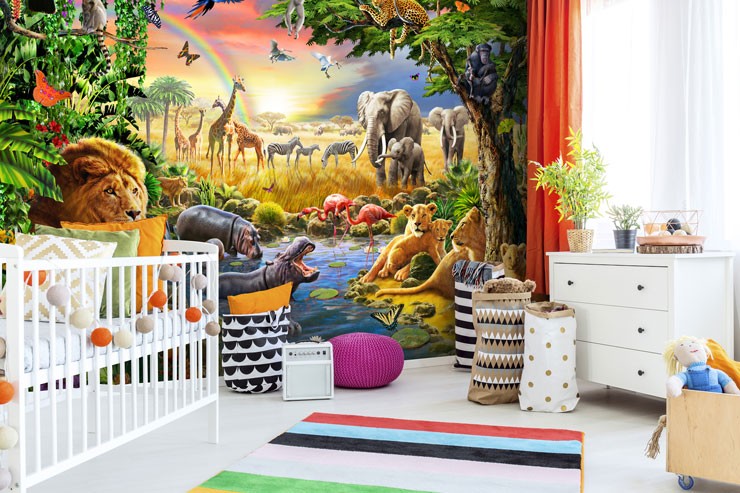 Create per il vostro piccolo un asilo nido di carta da parati giocoso, emozionante e stimolante per il safari. Date loro un ambiente unico per crescere, giocare e imparare. Questo spectacular Waterhole wall mural fa risaltare il divertimento nell'educazione e può essere utilizzato per bambini di tutte le età. Non solo è perfetto per una stanza per l'asilo, ma è anche ideale per le camerette dei bambini, le sale giochi, le aule di musica e le stanze per i compiti/studio.
Trasporta i tuoi bambini in un mondo lontano, dove possono vagare con i loro animali da safari preferiti e dare libero sfogo alla loro immaginazione. Scopri di più sul nostro wonderful animal wallpapers progettato per le piccole persone.
Do you love our safari wall mural trend as much as we do? Tell us about your favourites below or share your ideas on how you've transformed your home using animal prints and safari wallpapers.