A Wallsauce.com, sappiamo come "salare" qualsiasi muro con una carta da parati caratteristica. Da anni scopriamo le tendenze più calde per la vostra camera da letto, il vostro salotto e persino l'ufficio del vostro lavoro. Quindi, se siete alla ricerca di un'ispirazione per un murales di carta da parati, vi abbiamo trovato una soluzione.
Feature wallpaper is handy for any room that is in need of a bit of pizzazz! After all, there's only so much you can achieve with a pot of paint and brush. Instead, wallpaper feature walls completely alter the look of a room in so little time. With a huge choice of feature wallpapers to choose from, you can transport yourself anywhere. From tranquil lake views and enchanted unicorn lands. Or maybe you just want to relish in colourful, abstract patterns or romantic bold florals!
In questo blog, vi mostriamo solo la punta dell'iceberg della nostra collezione di murales di carta da parati per far scorrere i vostri succhi di interior design!
Quale tipo di carta da parati è più adatto al vostro soggiorno?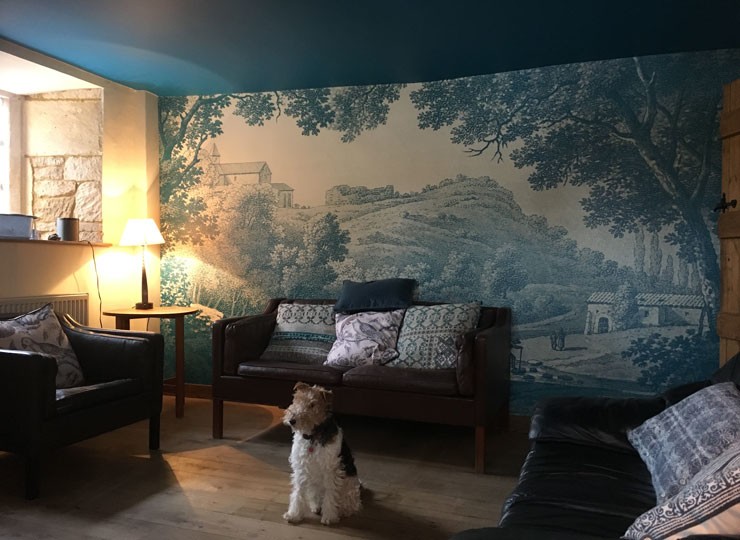 Murale in foto L'immagine del cliente
Scegliete qualcosa che stia bene con i vostri mobili attuali! Ci piace molto questa carta da parati antica presa da un'immagine che un cliente ha caricato da solo. Sembra proprio a casa con le sedute in pelle dei nostri clienti e il pavimento in legno - una vera e propria casa di campagna accogliente.
We absolutely adore the mix of white and blue painted walls that frame this vintage landscape wallpaper. The statement ceiling plays off the feature wall and brings out that beautiful shade of blue. Not only this, but it boosts the cosiness level of the space, making this living room the perfetto angolo accogliente.
Per rendere davvero la caratteristica parete POP, il proprietario ha aggiunto anche tocchi di cuscini a dispersione bianchi e blu - un modo così economico ma efficace per far fluire le tonalità del murale della parete nel resto della stanza.
E guarda quel cane - così adorabile!
How to choose your bedroom feature wall
Murale in foto Gothic Bouquet
All feature walls need to be embraced for what they are – "features". If you want to make a statement, there's really no point going for something so minimalist that you don't even notice it's there.
Il trucco è scegliere un grande e audace schema di colori. Circondarlo con un decoro che dia un delicato cenno al disegno del murale senza distogliere l'attenzione da esso. Ad esempio, questa carta da parati Gothic Bouquets. Che splendido buio floral wall mural!  Place this floral wallpaper behind your headboard and have dusty pink duvet covers and maroon scatter cushions. DO NOT have dusty pink duvet covers, curtains, a rug, dressing table all in the same colour. No, no... Simple touches will mirror the design – not overpower it.
Il bagno è caratterizzato da una carta da parati afosa ed esotica!
Murale in foto Tiger in a Tropical Storm
Moving from the bedroom to the bathroom. Yes – your bathroom will also absolutely boss a feature wallpaper.
Spesso il bagno viene dimenticato e il più avventuroso che ci sembra di ottenere è dipingere le pareti di bianco e aggiungere un tappetino da bagno grigio. Sbadiglio. Chi dice che questo è l'unico modo per decorare un bagno?
This Tiger in a Tropical Storm design is a great carta da parati d'arte classica. A print of one of Henri Rousseau's best works of art, the celebration of pattern, colour and texture looks amazing in this quirkily shaped bathroom.  
When buying a bathroom wall mural, we recommend choosing our premium wallpaper. It contains anti-mould properties for those most vulnerable spaces. Just make sure that your bathroom is well ventilated and water won't come into direct contact.
Children's feature wallpaper mural that will ignite the imagination
Mural in photo: Unicorn Bridge
Yes. Even our little ones would LOVE a feature wallpaper – especially when it comes in the form of a unicorn magical land! But don't worry. We don't only offer unicorn wall murals.
Choose from roarsome dinosaurs, colourful safaris, football pitches and more. The list is endless in our collection of children's feature wallpaper murals. This Unicorn Bridge wall mural works wonderfully in this child's bedroom!
By placing the mural behind their bed, it acts as an extension of their headboard. Not only this, this unicorn landscape really opens up the room as it brings the eye forward – ideal for any box room bedrooms!
Devo tappezzare la mia sala da pranzo con carta da parati?
Murale in foto Seamless Diamond Geometric
A big, resounding yes! Definitely wallpaper your dining room if it's lacking personality. This is something we can certainly say isn't lacking in this customer's dining room. What a fantastic statement wallpaper! When choosing a geometric, it's never about blending in. Let those geometrics stand out.
Le pareti bianche circostanti fanno eco alle sezioni bianche di questo murale geometrico Diamonds Geometric. Senza dimenticare di menzionare la sedia da pranzo in pelle marrone stile anni '70 e la panca rivestita di pelliccia, che aggiunge davvero la ciliegina sulla torta!
When it comes to the dining room, we can often opt for food and drink wallpaper. Of course, they look fantastic for the room where you eat, but that's not your only choice. Be creative with geometric art wall murals, maps, marble and more.
Customers coming back for more = feature wallpaper for workspaces
Murale in foto Re Pappagallo
Con tanta concorrenza, è fondamentale fare un'impressione duratura sui vostri clienti nel vostro ristorante o nel vostro ristorante commercial business.
Of course, the food and drink do the talking, but the interior of your venue also makes an important lasting impression. After all, similar to having an interview, it's within the first five minutes that a customer will make a solid judgement about your restaurant. Therefore, seeing a fantastic statement wallpaper as soon as they walk through the door will have them hooked from the very start.
Adoriamo il nostro designer Andrea Haase e quando si vede questa carta da parati Parrot King, è facile capire perché. Un connubio di stile, colore e talento artistico trasuda attraverso i suoi disegni, che li rendono ideali per i murales di carta da parati, sia in casa che in ufficio.
Ispira il tuo team ogni giorno con murales di carta da parati per l'ufficio
Mural in photo: Lago Moraine
Quando si possiede un'azienda, mantenere il morale e la motivazione del personale è la priorità numero uno per il successo. Avendo una parete di carta da parati ispiratrice, darete vita al lato creativo dei vostri dipendenti!
Consigliamo paesaggi tranquilli come la carta da parati del Lago Morraine nel Parco Nazionale di Banff per uno spazio ufficio. Così come portare l'esterno all'internoLe scene di lago, le foreste o le spiagge sono ottime per il benessere mentale - un fattore estremamente importante sul posto di lavoro. Non lasciate che diventino troppo stressati. Create invece un ambiente rilassante che lasci più spazio alla produttività e a risultati immensi.
Ci auguriamo che siate stati ispirati da questa piccola selezione di splendidi murales di carta da parati. Se avete domande, lasciate un commento qui sotto!