You don't need to be part of the Hell's Angels biker gang, a tattoo parlour owner or be celebrating The Day of the Dead to enjoy a fabulous skull wallpaper. Great for trendy teens as well as adults, skulls can be enjoyed by all.
Often skulls are seen as a symbol of death but actually they can be perceived in a completely different way. Did you know that many see skulls as a good luck charm for warding away death and others see them as a celebration of life? But there are also those of us who just love the aesthetic beauty of skull designs!
Qualunque cosa vi abbia attirato in questa pagina, siamo sicuri di avere una carta da parati cranica adatta alla vostra casa o al vostro lavoro.
Carta da parati con teschio nero per la camera da letto del tuo adolescente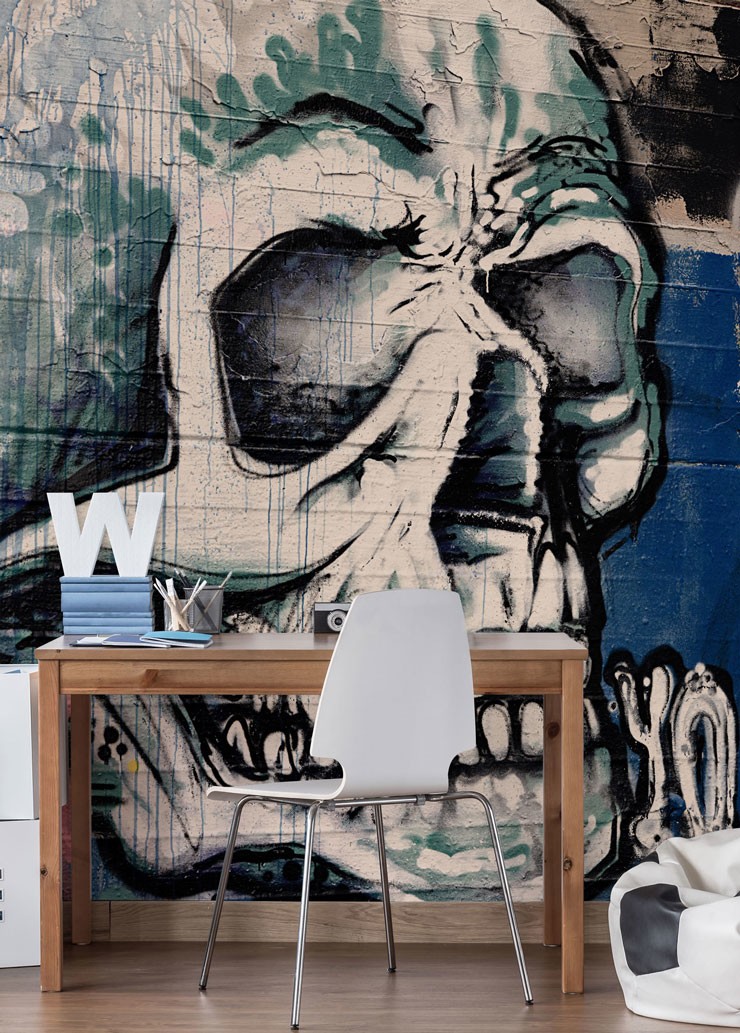 Mural in photo: Graffiti – Skull Face
Surprise your cool teen with a skull-themed bedroom: especially if they are into rock, hip hop or graffiti! Give them an epic space where they can sit back and chill with friends, somewhere they will want to study as well as a place to relax on their own.
Questa epica carta da parati con teschio nero è la perfetta teenager graffiti feature wall. Bring out the blues and whites in your choice of bedding and furniture. We'd also recommend painting the surrounding walls white so that this wicked skull wallpaper is always the main focal point of your teen's room.
Carta da parati per tatuaggi per scuotere il tuo mondo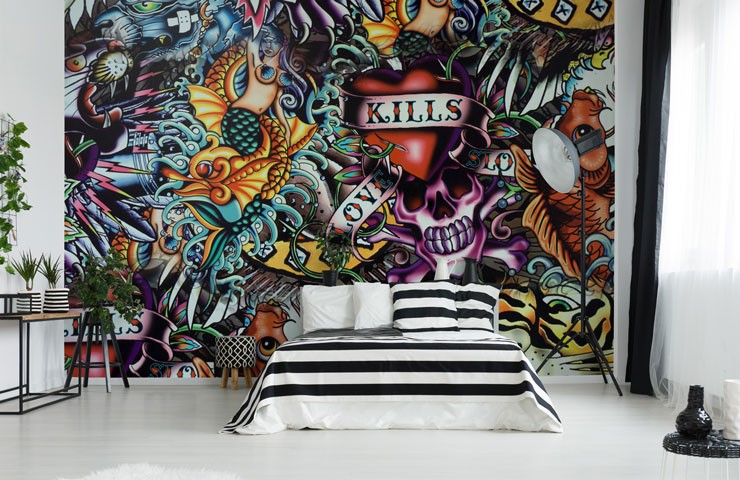 Murale in foto Carta da parati epica
Another great option for teens, this finely detailed Epic wallpaper would be a rocking choice for anyone who is passionate about tattoo art. Just imagine an entire wall filled with this amount of colour, shading and detail! Not only great for the home, but this fantastic skull wallpaper would look ideal in a tattoo parlour, music store or a trendy bar that hosts live gigs: it would make a great carta da parati di musica rock.
When it comes to decorating a room with an amazing graffiti wallpaper, it's important to make the rest of the room as subtle as possible like in the bedroom above. By sticking to black and white, this fantastic tattoo wallpaper can really come to life!
Muri gotici da morire!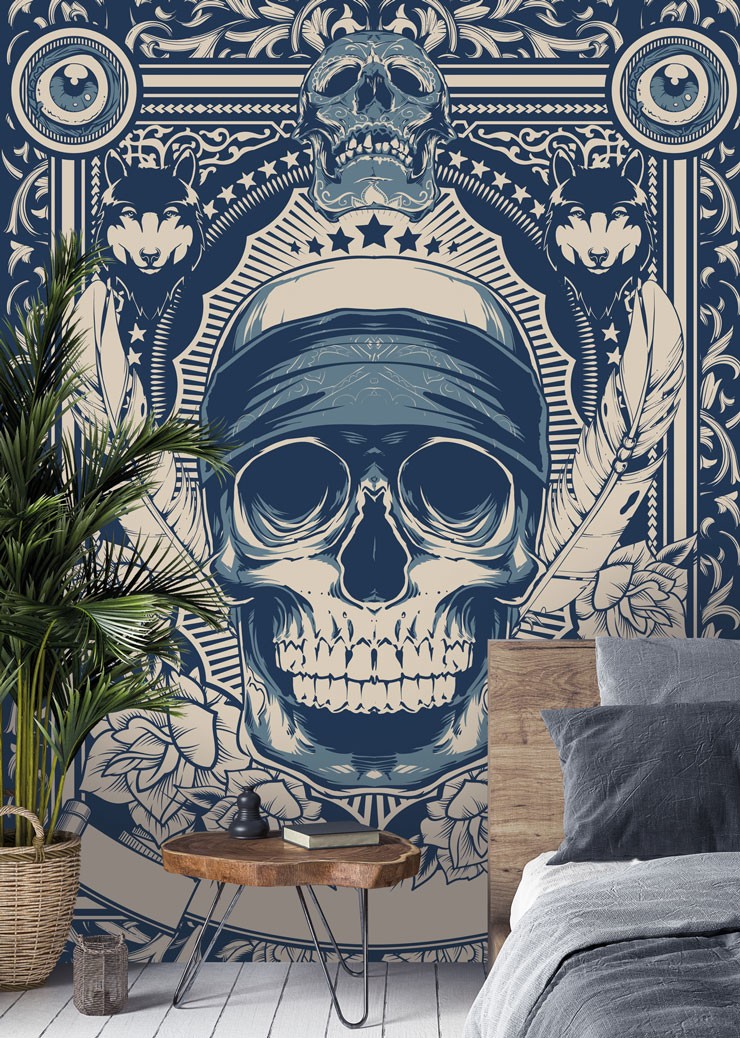 Mural in photo: Il pacchetto
Pensiamo che questa carta da parati blu e bianca The Pack sia assolutamente da urlo e sarebbe epica sia per la casa di un motociclista che per qualcuno che semplicemente ama mantenere una casa di tendenza. Collocata in questa camera da letto serena e tranquilla, questa parete murale con teschio intricata e dettagliata porta un elemento completamente nuovo nella stanza. Non è solo un motivo di teschio: è un'opera d'arte.
As mentioned earlier, some may be put off by the idea that skulls represent death. But did you know why motorcyclists wear skull t-shirts, helmets and patches? Most i motociclisti usano i simboli del cranio per allontanare la morte! Credono anche che i teschi rappresentino la non discriminazione: che siamo tutti uguali e uniti.
Dimenticate i noiosi uffici casalinghi: spruzzate un po' di arte grumosa sulle pareti
Mural in photo: Pixel ritorti Montaggio
Now that we're working from home more than ever, we need to boss our home office décor. Don't settle for boring, plain old walls. Opt for colour, pattern and character such as this mesmerising Twisted Pixels Montage wall mural. Designed by the amazing Twisted PixelsQuesta splendida carta da parati con il teschio darà certamente vita al vostro ufficio.
Il teschio floreale presenta pareti per festeggiare la vida!
Mural in photo: Skull Hearts and Flowers
Inspired by the Mexican festival The Day of the Dead, this beautiful Skull Hearts and Flowers wall mural will add a wealth of colour and culture into your home!
Molti messicani festeggiano in questo giorno per ricordare i loro antenati defunti. Spesso scrivono i nomi dei loro cari sul cranio e a volte mettono fuori il cibo preferito dei loro antenati per farli gustare in questo giorno speciale! Lo sapevate che i teschi di zucchero sono tradizionalmente realizzati con zucchero granulato e decorati con glassa colorata?
We love this gorgeous skull wallpaper and think that it would look fabulous in most hip living spaces, such as this pink and green master bedroom.
Vi è piaciuta la nostra collezione di disegni di carta da parati per teschi? Fateci sapere qual è il vostro preferito lasciando un commento qui sotto!