Nell'agosto dello scorso anno, siamo stati entusiasti di annunciare che la talentuosa Julia Fonnereau è stata la vincitrice del nostro concorso di carta da parati di design 2020. E ora il suo bellissimo disegno Dynasty Fishes and Dishes, e molti altri, stanno apparendo sulle pareti di tutto il mondo.
Nell'ultimo concorso, non potevamo credere al talento dei designer che hanno partecipato. Per questo motivo, abbiamo dovuto presentare su Wallsauce anche il lavoro di altri due designer! Grazie a Nici Gabriel e Rebecca Johnstone! Per vedere tutti i lavori di queste talentuose signore, date un'occhiata alla nostra favolosa collezione di carta da parati di design.
Quindi, visto il successo dei nostri concorsi passati, non potevamo resistere ad averne un altro - e nemmeno un anno dopo l'ultimo! Ci piace sempre vedere nuovi talenti freschi, in modo che i nostri clienti abbiano la possibilità di scegliere tra i design per pareti più unici che ci siano! Ancora una volta, abbiamo collaborato con il favoloso team di Make It In Design che ispira gli aspiranti designer a "Imparare, crescere, prosperare". E questo fantastico gruppo di persone ha creato una splendida gamma di opere d'arte da un gran numero di designer. Ci è piaciuto molto guardare la selezione e, credeteci, non è stato facile ridurre i nostri 9 preferiti! Ma abbiamo bisogno del tuo aiuto! Chi pensi che dovrebbe vincere The Next Designer Wallpaper Collection 2021?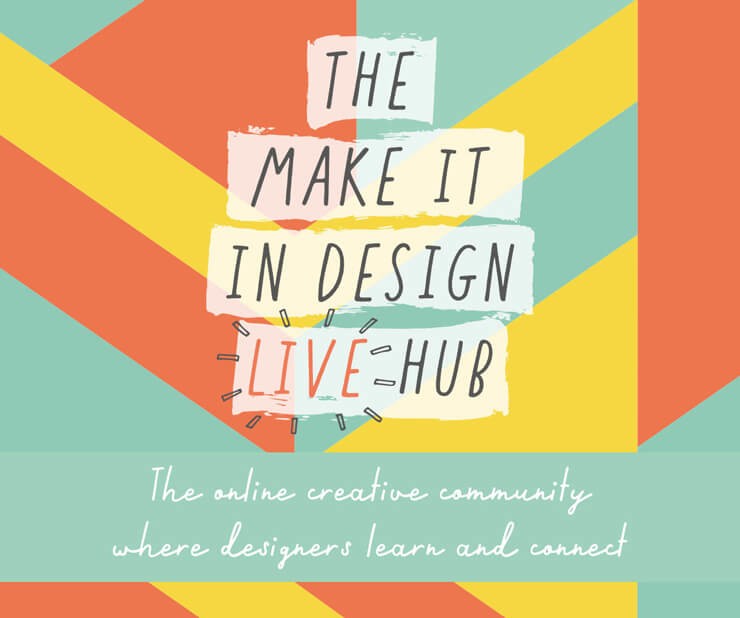 Il riassunto: Le cose stanno migliorando
Tutti conosciamo gli effetti che gli ultimi 12 mesi hanno avuto sulle nostre vite, quindi abbiamo voluto promuovere una gamma positiva di design che hanno una visione ottimistica del futuro! Con l'aumento delle persone che lavorano da casa, abbiamo chiesto specificamente dei design che creassero un'atmosfera positiva in un ufficio domestico.
Ecco alcuni dei dettagli che abbiamo chiesto:
Due disegni murali per un ufficio domestico o uno spazio di lavoro
Creare disegni di posizionamento e non ripetere schemi
Essere preparati a fornire quattro disegni aggiuntivi in caso di successo
Concentrarsi su questi temi: pace, colore, positività, affermazione, motivazionale, calma, tranquillità, edificante.
Il tuo voto per la prossima collezione di carta da parati di design
Puoi aiutarci a trovare il nostro prossimo top designer su Wallsauce.com? Se è così, dai un'occhiata alle proposte qui sotto e ad alcuni dettagli sull'artista stesso! È stato così difficile restringere il campo, ma siamo sicuri di aver trovato alcuni design che ti piaceranno.
Scorrere verso il basso per visualizzare le voci in lista e votare commentando con il loro nome in fondo al post del blog.
Sally Franks
Principalmente una graphic designer freelance, Sally Franks è appassionata nel mescolare colori brillanti e tenui, e forme semplici e piatte. Ispirata dai viaggi, dalla natura, dalla musica e dall'arte, il suo lavoro si sviluppa in parte attraverso l'osservazione e l'intuizione. Tutti i suoi lavori hanno radici in qualcosa di reale e tangibile, ma vengono semplificati e resi astratti. Una forma divertente e gioiosa, lei descrive il suo lavoro come "giocoso" e "infantile". Mentre si stava qualificando come Arts and Wellbeing Practitioner, ha sviluppato questa tecnica e ora insegna ai suoi studenti a lasciare andare la perfezione e a creare liberamente - come farebbe un bambino.
Sally Franks spiega di più sui suoi murales di line art di tendenza: "Entrambi i murales sono stati ispirati da fotografie che ho scattato durante i miei viaggi, mentre vagavo per le strade per ammirare i panorami e i suoni. I colori sono stati presi direttamente dalle fotografie e la composizione e le forme sono state ispirate da esse. Mi piace pensarli come pezzi multisensoriali, dove ciò che si vede, si sente, si annusa o si sente sono tutti mescolati insieme e riversati sulla tela. Ho creato questi pezzi in Adobe Fresco con una miscela di pennelli vettoriali e vivi. Mi piace la sensazione pittorica dei pennelli ad acquerello, ma tutti gli elementi potrebbero essere ricreati come vettori per una migliore scalatura e qualità di stampa".
Amy Onuchi
Avendo lavorato nel design dei costumi per oltre un decennio, Amy Onuchi era desiderosa di passare a nuove imprese creative. E da quando ha scoperto il surface pattern design, non si è più voltata indietro! Con la sua passione per i colori e i motivi audaci, Amy si concentra su una vasta gamma di tecniche di studio tra cui stampati, disegnati a mano, cuciti, dipinti e collage! Con tutte queste straordinarie abilità mescolate a metodi digitali, ha prodotto alcuni design giocosi che sono bilanciati con raffinati motivi disegnati a mano.
Sul tema della creazione di un ambiente di lavoro positivo, Amy ha detto: "L'idea dietro a questi disegni era un'esplosione di gioia per lavare via qualsiasi tristezza del lunedì. Geometrie dai colori vivaci stratificate con fiori vibranti e ghirigori felici per aumentare la positività nella casa facendo sentire le persone sollevate e pronte ad affrontare la giornata".
https://amyonuchi.com/abstract/
Edie Bryan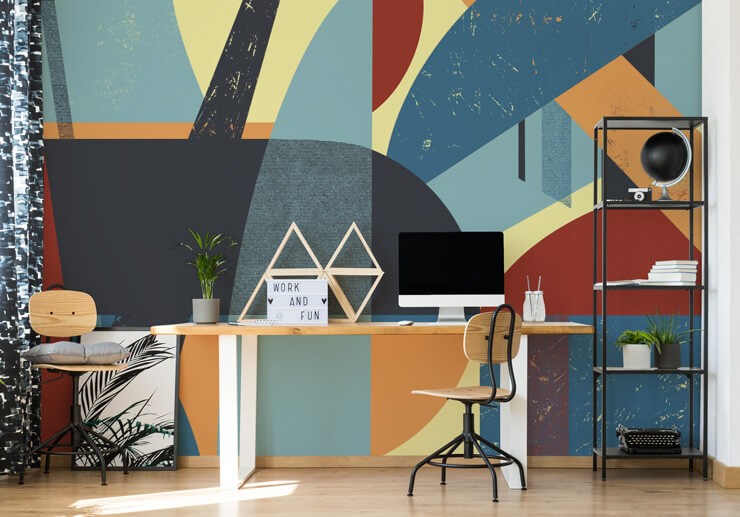 Con sede nel nord del Galles, i disegni di Edie Bryan si adattano perfettamente al brief: sono colorati, audaci, edificanti e si ispirano alla bellezza della natura. I temi principali che segue nel suo lavoro sono una profonda connessione con la natura e il benessere.
Edie spiega cosa l'ha ispirata nel creare questi bellissimi disegni: "Mentre mi adattavo a lavorare da casa nell'ultimo anno, ho notato che era sempre più difficile distinguere tra il mio ambiente domestico e quello di lavoro. Un cambio di scenario aiuta sempre a cambiare il mio umore e ad aumentare la mia energia. Questo mi ha ispirato a creare una collezione di murales che aiutasse a combattere la fatica e a concentrare le menti stanche e distratte.
Volevo catturare la sensazione di essere in un posto nuovo ed eccitante. Notando tutte le differenze intorno a te, il paesaggio, l'architettura, le viste e gli odori. I miei disegni sono audaci, astratti geometrici che utilizzano palette di colori sorprendenti, scelti per sollevare, energizzare e ispirare".
Julia Clayden
Designer e illustratrice freelance con la passione per i motivi, Julia Clayden è conosciuta come "The Pattern Lady". Dopo essersi laureata con un BA (Hons) Degree in Fashion and Textile Design alla St Martin's School of Art, il suo amore per il design grafico dei motivi è emerso solo più tardi (quando Internet è stato finalmente inventato)! Dopo aver imparato le gioie di tutte le cose 'Mac' mentre lavorava come Graphic Designer, ora si diverte ad usare Illustrator per disegnare una vasta gamma di prodotti come decorazioni per la casa, tessuti, arte murale, biglietti d'auguri e cancelleria. Il suo lavoro si ispira al vintage, all'arte popolare e allo stile scandinavo, così come al design moderno della metà del secolo scorso. È appassionata di palette di colori e non si stanca mai di raggiungere la perfetta combinazione di colori e motivi per trasformare completamente una superficie in una di bellezza e gioia.
Julia ha detto: "Sono stata ispirata a partecipare al concorso Wallsauce perché penso che nel tempo presente tutti noi vogliamo e abbiamo bisogno di credere che "Le cose stanno migliorando" finalmente, e che l'arte murale può giocare un ruolo enorme in questa convinzione fornendo una spinta di positività nel nostro posto di lavoro a casa. Ho voluto usare una tavolozza luminosa con uno sfondo scuro per rendere il design davvero pop in netto contrasto. Questi disegni sono destinati a portare una boccata d'aria fresca con uno zing! Oh, e in più, amo anche i pavoni e la loro eleganza, e la maggior parte degli uccelli se sono onesta, perché mi portano calma".
Zinia Redo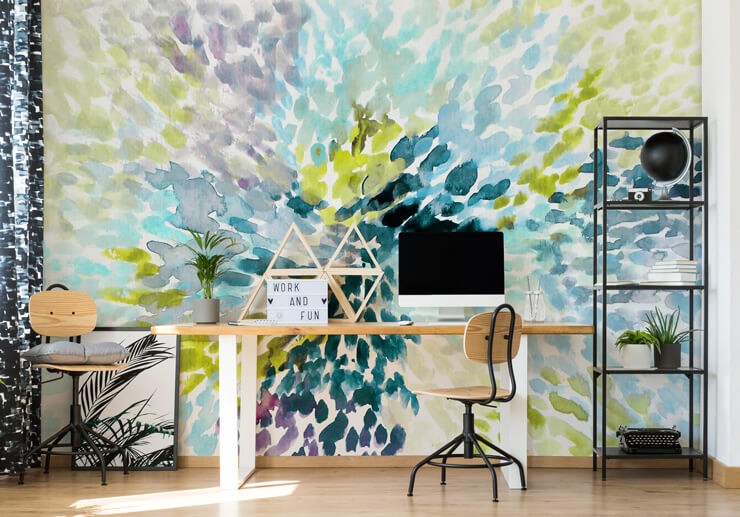 Con sede in Grecia, la Surface Designer Zinia Redo è una grande appassionata di colori e di indovinelli, quindi la risoluzione creativa dei problemi è sempre stata una seconda natura per lei, da quando riesce a ricordare. Il suo lavoro consiste in tutti i tipi di media, dai disegni vettoriali digitali agli acquerelli sciolti. E poiché ha sempre creduto in Babbo Natale e nel raggiungimento dell'impossibile, c'è un aspetto innocente, sognante e fiabesco in tutti i suoi disegni.
Zinia ci dà maggiori informazioni sui suoi splendidi disegni ad acquerello: "I disegni di questa collezione sono ispirati alla bellezza e alla serenità della natura. Concentrandosi sul colore e sulla forma, i disegni di questa collezione cercano di innescare gli stessi sentimenti di calma e di quiete che proviamo quando siamo fuori a goderci un bellissimo scenario naturale. L'uso dell'acquerello sta creando forme morbide ma inaspettate che ricordano la versione sfocata che si vede quando si strizzano gli occhi mentre si guarda un tramonto, aprendo gli occhi dentro l'acqua, o volteggiando in un campo d'erba".
Justinah Kay
Nata in Polonia, Justinah Kay ha vissuto da allora in diversi paesi e si considera una cittadina del mondo, il che è evidente in questi bei disegni astratti. Il suo lavoro colorato è ispirato dalla bellezza della natura, dalle tendenze attuali e, soprattutto, dai viaggi. Dipinge accuratamente a mano le sue opere con acquerelli e combina questo con il suo talento per l'arte digitale. È una donna divertente che è nota per la sua passione per l'arte e il design, la sua ossessione per il tè chai e il suo amore per i barboncini giocattolo!
Justinah spiega il retroscena dei suoi meravigliosi disegni murali per l'ufficio a casa: "Gli amanti dei viaggi conoscono la lotta in mezzo al blocco e questi murales sono stati creati appositamente per loro. Parigi, Londra, Mosca, Barcellona e alcune altre città con i loro caratteristici punti di riferimento sono qui per ricordare loro i luoghi che vale la pena visitare/rivedere una volta che ci sarà permesso di viaggiare di nuovo".
Rita Patel
Artista di Mixed Media e Surface Pattern Designer, Rita Patel è ispirata da metodi, modelli e materiali. È una costruttrice in cui i materiali con cui lavora diventano l'arte. Il suo processo creativo deriva dalla sua esperienza personale della bellezza, la sua stretta connessione con la creatività e il benessere. Rita si è dedicata completamente al suo lavoro quando si è trasferita nel Michigan, negli Stati Uniti, 14 anni fa, per avere più tempo e uno spazio di studio più grande. Si sforza di far sì che il suo lavoro sia in luoghi dove le persone sono invitate, attraverso la bellezza, a sperimentare la positività. Il suo lavoro pone la domanda: "E se potessimo trasformare il mondo sperimentando la bellezza?
Rita ha detto: "Ho scelto di usare il colore e la forma per evocare uno stato d'animo comprensivo di speranza, tranquillità, pace ed espansività. La pandemia ha imposto un sentimento limitante per molti di noi e il senso di sentirsi chiusi non è speranzoso o stimolante. Essere nella natura ha il potere di guarire e quando siamo dentro, anche i paesaggi astratti possono evocare un senso di spazio e possibilità. Speravo di creare immagini stratificate, ondulate e semplici che ricordassero alle persone i luoghi e le esperienze nella natura che li liberano dalla complessità quotidiana. La qualità rilassante di questi murales ha lo scopo di dare una tregua di un certo spazio mentale che porta ad uno stato calmo e creativo. Spero di condividere la collezione completa esplorando diversi paesaggi (montagne e mari con alba e tramonto)".
Sarah Fowlis
Surface Pattern Designer che vive nel Regno Unito, Sarah Fowlis è originaria del Sud Africa, dove ha studiato design tessile prima di viaggiare. Ha sempre amato le cose colorate e la natura, il che si può vedere nei suoi disegni luminosi e allegri. Il suo obiettivo è quello di rallegrare le giornate delle persone con il suo lavoro!
Sarah ci ha raccontato la motivazione dietro i suoi disegni al concorso: "L'ispirazione dietro questi disegni sarebbe il mio giardino, dato che ho passato molto più tempo in esso in quest'ultimo anno. Ho usato una tavolozza di colori vivaci e positivi, e se non si può sempre avere un vaso di fiori in casa, perché non averli sul muro ogni giorno?
Michelle Freer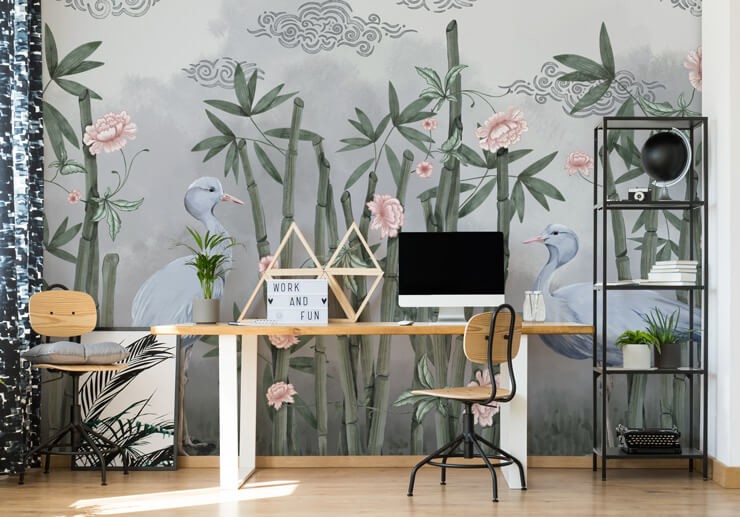 Designer e illustratrice australiana, Michelle Freer ora vive e lavora nel Regno Unito. Iniziando la sua carriera nel design grafico, nell'illustrazione e nella pratica del design multidisciplinare, si è ora spostata nel mondo del design di pattern di superficie. È specializzata in carte da parati botaniche che ha intricatamente disegnato e dipinto a mano. Appassionata creatrice di disegni unici, artistici e illustrativi, il lavoro di Michelle celebra soprattutto la natura e la nostra connessione con essa.
Michelle spiega il background di questi due splendidi disegni: "Amo creare disegni botanici e uno è basato sul mio amore per la flora nativa australiana. Il disegno include fiori di banksia e grevillea disegnati a mano, con rosa corallo brillante contro i toni morbidi e tenui del fogliame argentato e dei baccelli di semi. Per creare una scena in stile cima all'albero, ho incluso alcuni cacatua rosa crestati che nidificano. Speravo di creare un design che fosse positivo ed edificante, ma anche abbastanza calmo per uno spazio di lavoro domestico.
L'altro disegno è stato ispirato da un recente viaggio in un santuario della natura, dove la mia immaginazione è stata catturata da un incontro con un'incantevole gru blu. Ho subito voluto disegnarla in questo nebbioso habitat di bambù. Con questo disegno, ho voluto creare un murale in stile cineseria, con una tranquilla e calmante scena acquerellata di bambù, e ho anche incluso alcuni elementi floreali e nuvolosi orientali stilizzati".
Quale artista vorresti vedere aggiunto alla nostra splendida collezione di designer su Wallsauce? Facci sapere entro domenica 18 aprile 2021 alle 23.59 GMT lasciando un commento con il nome del tuo designer preferito qui sotto.
Per favore, solo un voto per persona verrà contato e potrebbero volerci circa 24 ore prima che il tuo commento venga visualizzato - non preoccuparti, l'avremo ricevuto! Non dimenticare di spuntare la casella e di iscriverti alla nostra newsletter per essere il primo a sapere del vincitore!