Wow. You're finally at University (freedom/whoop)! Now you can make your own rules: you're in charge of your own schedule and you're about to make some lifelong friends (and learn some new stuff too)!
C'è solo un problema.
Your new hangover pad (sorry for the stereotype) just doesn't feel like home. There's a bit of a stench left by the last owner, the curtains look like they've travelled in a time machine from 1985 and there are more than a few worryingly mysterious dents in the walls. Do not fear. Instead, sit back, relax and read our top 5 University bedroom ideas to make your new pad feel more like home.
1. Idee per la camera da letto dell'università per non perdere il divano di mamma e papà!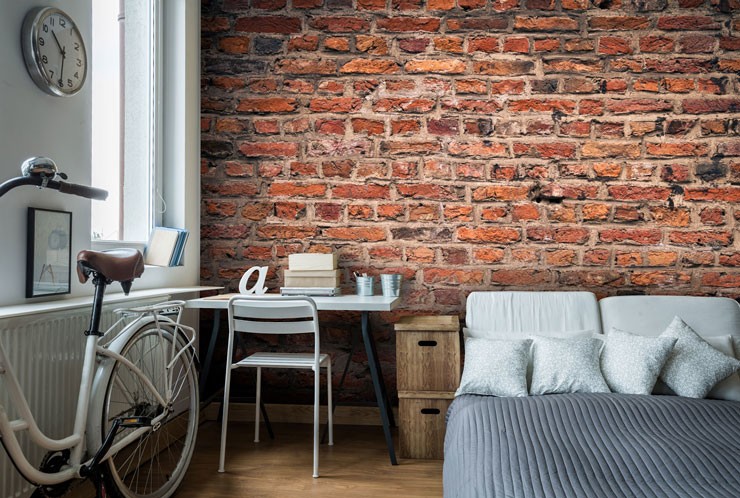 Mural in photo: Muro di mattoni
Avete già avuto il dibattito dialettale sul divano/settee, sulla cena/tea o sulla paninoteca/bap? Beh, non importa da quale parte del mondo tu venga, è quasi garantito che la casa dei tuoi genitori abbia un divano morbido e imbottito di cuscini per guardare la TV. Purtroppo, il vostro dormitorio del college ha solo una sedia da ufficio costruita con l'unico scopo di farvi male al collo mentre studiate.
Whilst you're away from your natural environment, little things like being able to wind down in comfort are equally as important to your success at Uni: la felicità vi aiuterà a studiare meglio.
Una delle nostre migliori idee per la camera da letto dell'università è quella di raddoppiare il letto come divano (divano) e scendere al negozio locale per impacchettare un sacco di cuscini a buon mercato e una pelliccia da mettere sul letto.
2. Uni room hacks to bring some nature into your room!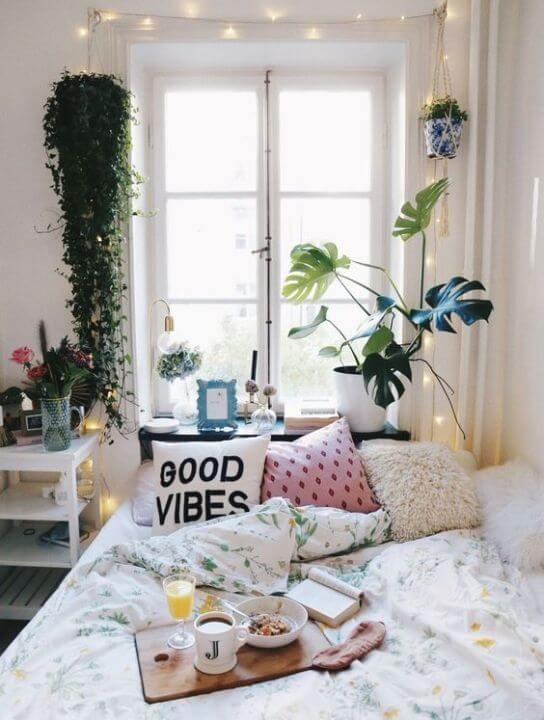 Image source via Pinterest: Society19.com
La presenza di uno Starbucks in ogni altra strada rende davvero emozionante l'esperienza universitaria. Ma per quelli di noi che non sono abituati alla vita di città, potrebbe essere necessario qualche tocco di campagna per ricordarci la nostra casa.
One Uni room hack is to think about colour. Believe it or not, every single colour that we see has an effect on our mood. This means that the colours we choose to have in our homes are an important decision. If you're a tad homesick, staring at four lumpy, not-quite-white walls is just no good. So if you're craving nature, choose the colour green which symbolises balance and growth.
Murale in foto Birch Forest Sunlight
These University bedroom ideas will help to add more nature into your dorm: embellish the room with green ornaments, furnishings, desk accessories and fresh, leafy plants. All will ensure you wake up with a touch of the countryside every morning! You could even buy a nature scene wallpaper mural to really portare l'esterno all'interno!
3. Storage is king when it comes to University bedroom ideas!
È un problema da primo mondo: hai troppe cose e nessun posto dove metterle. Ci sono solo tante volte che si può sopportare di inciampare nelle scarpe da corsa che si usano una volta.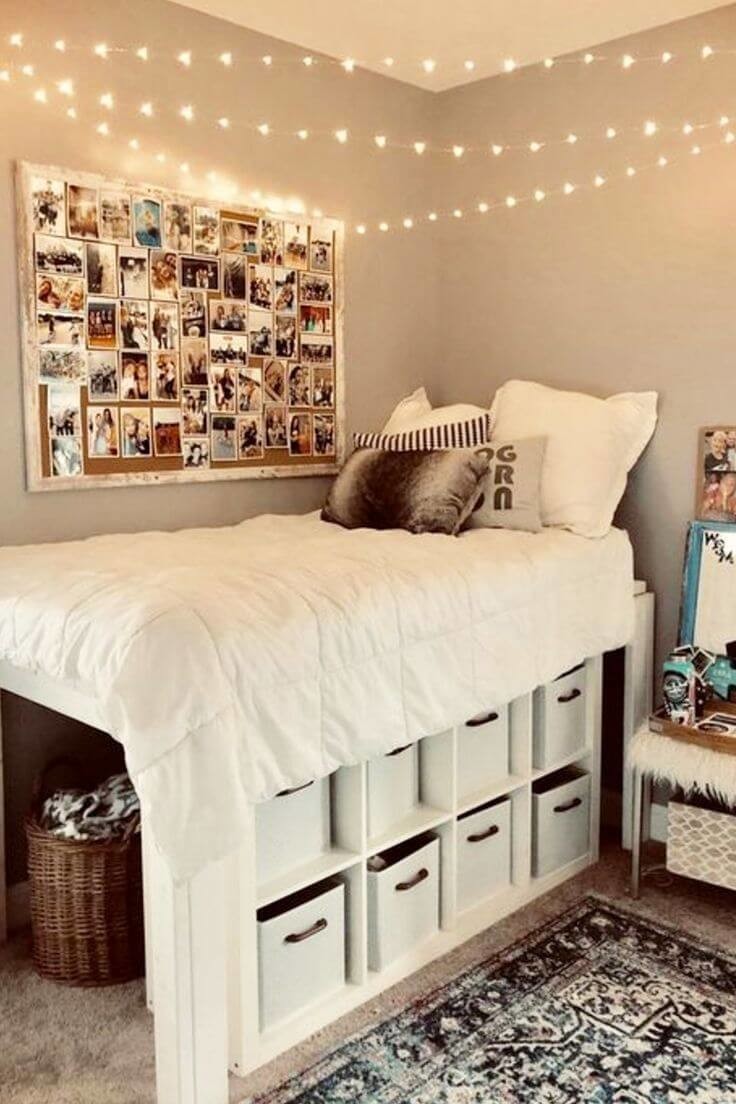 Image source via Pinterest: Involvery.com
Hook-over-the-door storage tidies are your new best friend. Purchase one for your University bedroom door and one for your bathroom door (if you're lucky enough to have an ensuite to yourself). This will give you some additional handy space to store your possessions (and to save your sanity). Or why not try and get yourself a raised bed or bunk bed where you can store your desk and possessions underneath?
Having more storage space will also encourage you to keep your desk tidy because, after fresher's week, there's going to be plenty of work to do!
4. Colourful Uni halls décor to avoid boring, white walls!
Murale in foto Tie Dye Ripples
Your parent's place might not be perfect, but you loved the shaggy rug, the pot ornaments and even their patterned wallpaper. To jazz up your boring Uni hall décor, choose large posters, wall stickers or a fabulous wall mural!
La bellezza di un murale autoadesivo peel and stick è che trasformano completamente una stanza e fanno apparire qualsiasi spazio molto più grande! Gli splendidi murales a parete sono facili da applicare e non rovinano il muro quando li rimuovi (scordatevi di perdere il vostro deposito)!
Murale in foto Purple and Blue Watercolour
Beautiful wallpaper murals also come in a variety of designs to suit every student's style: choose from football stadiums, rock bands, delicate florals and artistic abstracts. There's a huge mix of sfondi di tendenza per ogni studente. Sfortunatamente, un murale non può sistemare quella macchia di Pot Noodle sul tappeto, anche se..
5. L'essenziale della camera Uni per aiutarvi a dormire nella vostra nuova dimora...zzzzzzz.
There are many reasons why students struggle to get a good night's sleep in their halls of residence. Noise, late nights or just being somewhere unfamiliar can interrupt our sleeping patterns. Something as simple as taking the time out to ensure that we are relaxed before we go to bed can be the key when attempting to get in some zzzs.
Prima di andare a letto, fate una doccia o un bagno rilassante (se siete fortunati), mettetevi comodi nella vostra marmellata e riscaldate una tazza di cioccolata calda. Dato che le regole delle vostre sale probabilmente non ammettono candele, perché non provare a lavare regolarmente le lenzuola con acqua di rose, lavanda o profumo di gelsomino? Potreste anche aggiungere delle luci fiabesche o una lampada al sale dell'Himalaya per dare alla vostra stanza un'atmosfera calma e rilassata. Quindi ricordate, gli elementi essenziali della stanza Uni per una buona notte di sonno sono pigiami accoglienti, copripiumini profumati, luci fiabesche calmanti o una lampada e, soprattutto, un po' di cioccolata calda di buona qualità!
Hai trovato una necessità della camera da letto dell'università che non vedi l'ora di condividere? Parlatecene nella sezione commenti qui sotto.