Il look da giungla indoor e le carte da parati a foglia di banana sono le caratteristiche principali di quest'anno. Non solo questo concetto di home design è vivace e di tendenza, ma per chi non ha accesso al giardino è un ottimo modo per sfuggire al cemento. Per il vero intenditore della giungla, si tratta di scoprire il bellissimo fogliame dei tropici. Le palme ondeggianti evocano ricordi della spiaggia, le piante di Monstera ipnotizzanti portano un tocco di esotico, e le foglie di banana ci trasportano nelle oscure profondità della foresta pluviale dove crescono così verdeggianti.
Se c'è una tendenza botanica da desiderare, deve essere la banana leaf trend. Una delle più belle e simboliche stampe a foglia nel design d'interni. Per anni nella cultura indù e buddista, queste foglie sono state usate come materiale di decorazione in festival ed eventi, e sono ancora oggi usate per avvolgere e servire il cibo in molti paesi. Ora, l'umile foglia di banana si fa strada nei nostri salotti. Mescolata con palme, felci e fiori tropicali, ci sono così tanti modi per creare un paradiso tropicale in casa.
Here are some of our favourite tropical leafy murals to inspire you…
1) Bold and beautiful banana leaf wallpaper
Murale in immagine Tropical Banana Leaf Palm Tree
A statement wall mural that breathes botanical life onto any wall space. This Carta da parati Tropical Banana Leaf Palm Tree è impenetrabile dal punto di vista del design. Le foglie voluminose sono disposte su uno sfondo blu scuro, aggiungendo un'aria di raffinatezza a qualcosa che altrimenti sarebbe una novità. Il salotto della marina è one of the hottest home trendsQuesto splendido murale sarà molto ricercato. Parete verde brillante della giungla
2) Bright green jungle feature wall
Mural in image: Modello a foglia esotica
This Carta da parati a foglia esotica celebra la flora tropicale di ogni tipo, tra cui le palme di Areca, le felci, la Monstera e la bella foglia di Aralia. Con uno sfondo bianco, questo murale ha un aspetto leggero e arioso, e può illuminare uno spazio buio. Create un'interessante parete caratteristica nella camera da letto, o aggiungete un tocco di verde a una zona giorno aperta. Finiture in legno naturale e materiali organici come il vimini e il rattan per il boho chic.
3) Banane in fiore e fiori psichedelici
Murale in foto Bloomin Banana
Il fiore di banana è il fiore violaceo profondo che cresce alla fine di ogni grappolo di frutta che si trova sull'albero di banana. Se state cercando un'alternativa più colorata alla foglia di banana, questo Murale di fiori di banana rosa è l'ideale. Nonostante il suo aspetto fiorito, il fiore di banana è in realtà utilizzato nella cucina tradizionale indiana e ha una consistenza carnosa e scagliosa, che lo rende un fantastico sostituto del pesce.
Perfetto per gli appassionati di carta da parati floreale che cercano qualcosa di diverso - o forse anche un po' psichedelico.
4) Bamboo chic for a minimalist home
Murale in foto Palme verdi
Non tutti jungle wallpapers have to be loud and flamboyant. Botanical prints can be soft and calming and can create a relaxing space for rooms where you might want to rest and wind down.
Questo beautiful Green Palms mural è un esempio di come la stampa fogliare terapeutica e minimalista possa essere e aggiungerà luce a qualsiasi stanza della vostra casa. Un tocco di bambù completerà i temi del design dell'Asia orientale, trasportandovi in Oriente.
5) Stampe fogliari scure e misteriose
Carta da parati in immagine Giungla Fogliacea
If the thought of tropical hues like 'flamingo pink' makes you run for the hills, opt for a dark design like this Leafy Jungle wallpaper. It features a mix of Areca and Monstera, a contrasting brace of leaves to add depth, dimension and mood to your interiors. The striking melange of blue, green and black combines aquatic with the more sinister – a colour palette with attitude.
6) Palme ondeggianti per la fuga urbana
Carta da parati in foto Palme da acquerello
Scenic wall murals such as forest wallpapers or beach wallpapers are becoming increasingly popular in interior design. Not only do they bring a sense of calm to your home, but they can help to maximise modest spaces through the clever depth of field. But if you don't like photorealism, stick with something arty. This Watercolour Palms wallpaper sets the scene just perfectly.
7) Tiger in the wild wallpaper design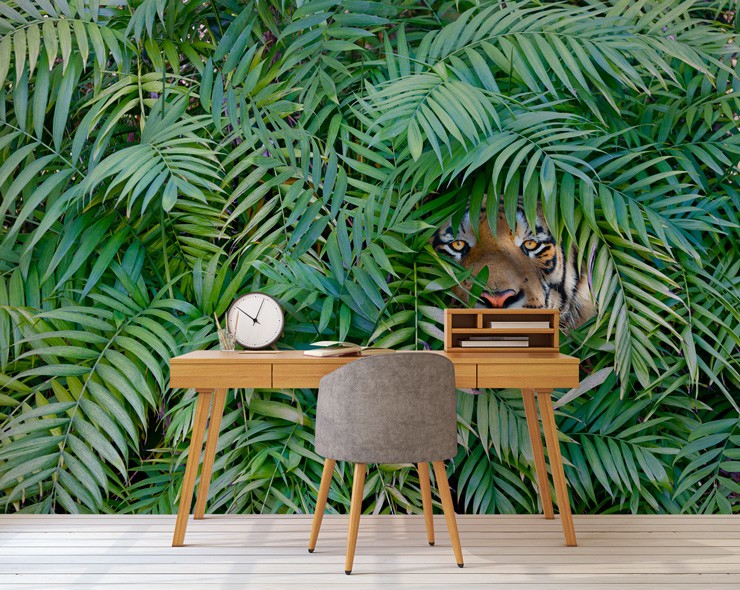 Murale in immagine La tigre nasconde e cerca
Ci si può divertire molto con animal wallpaper designs and they make stimulating wall features for a kid's bedroom. But we think this Tiger Hide and Seek Wallpaper looks just as great for a grown-up space, including living and kitchen areas, home studies or an office. Lose yourself for a moment and escape to the depths of a forest far, far away.
8) Carta da parati rosa perfetta per Instagram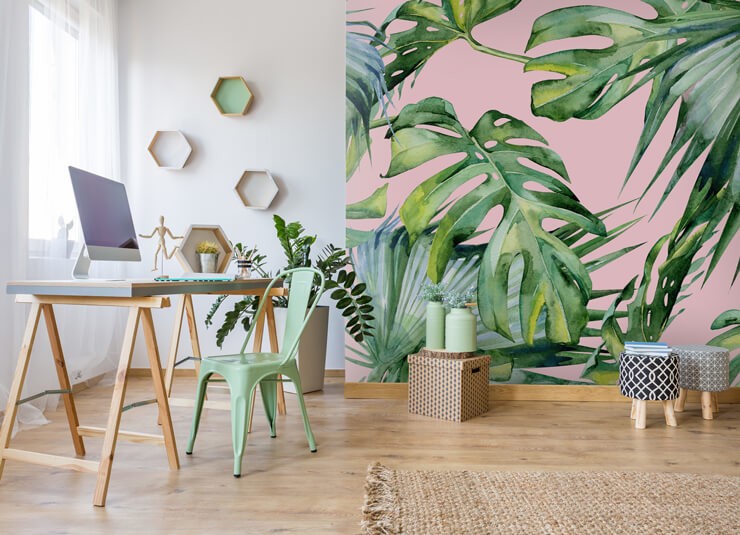 Wallpaper in photo: Giungla Rosa
Give your tropical home the pink treatment with this fabulously feminine Pink Jungle wallpaper. Un grande design per una camera da letto o un ufficio di tendenza. Stile con legni chiari e grigio scandinavo per mantenerlo semplice e chic, o sperimentare con finiture in metallo dorato per un look lussuoso. Qualunque sia la vostra scelta, la carta da parati è totalmente Instaworthy.
9) Palms, banana leaves and pink flamingos
Carta da parati in foto Fenicotteri di palma blu
Not all palm and banana leaf wallpapers have to be green. This one is all about electric blue and pink. A bright, bold and dominant design that only works in an uncluttered space. The Blue Palm Flamingos wall mural demands attention, so keep your décor clean and your colour choices simple.
Qui c'è un bel mix di fiori, foglie di palma e foglie di banana, ma il fenicottero è al centro della scena. Assicuratevi di dare un'occhiata all'altro splendidi sfondi per fenicotteri if you love tropical interiors.
10) Wallpaper to inspire your imagination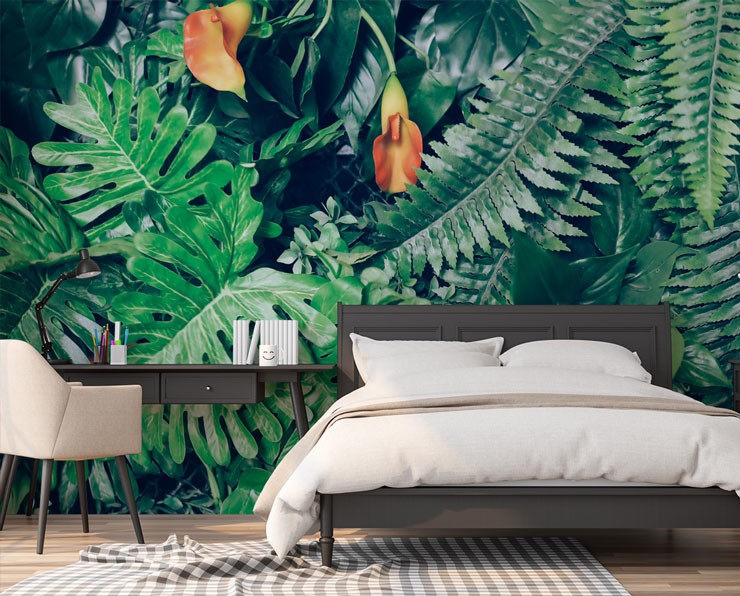 Murale in camera Exotic Jungle
The Exotic Jungle wallpaper is escapism at its best. Add this feature to any room in the home, shut the door behind you and you'll be transported to an entirely different world. The rich vegetation adds depth, making it suitable for even the smallest of spaces, and the layers of foliage will make you feel like you're lost in paradise.
Like many of our murales della natura, this one is designed to soothe the soul – so save it for your favourite room for relaxing in.
11) Contrasting parrots for a statement wall
Mural in image: King of Parrots
This King of Parrots mural is not for the fainthearted. Combining a dark setting with the blue-green hues of foliage and a bright pop of pink, this palm leaf wallpaper is a serious design statement. Ideal for a teenager's bedroom, an office redesign, for adding colour to a stark dining area, or for sprucing up a master bedroom.
12) Ricreare i tropici in autunno
Murale in camera da letto Foglie Tropicali
Green not your colour? Then get the jungle vibe with warmer, autumnal hues with this Tropical Leaves wallpaper. It is one of the many bright, colourful and artistic mural designs from our designer wallpaper collection, and has been created by the designer chiamato Di Brookes.
13) Rompere le regole con il blu e il verde
Murale in immagine Palme blu e verdi
They say that blue and green should never be seen. But who knew rule-breaking could look so elegant? The Blue and Green Palms mural è semplice ma elegante, e allo stesso tempo cattura l'attenzione attraverso un'intensa narrazione cromatica. Un design che funziona negli spazi aperti, dove le pareti nude urlano di essere decorate!
Do you love our collection of palm leaf and banana leaf wall murals? Let us know your favourite one in the comments below!