10% DE RABAIS
VOTRE COMMANDE MURALE
CLIQUEZ ICI
Papiers peints de créateurs
Si vous êtes à la recherche d'un papier peint unique pour votre mur d'accent, ne cherchez pas plus loin. Notre collection de peintures murales mettant en vedette des œuvres d'artistes, d'illustrateurs, de patrons et de talentueux photographes artistiques inspirants constituera une superbe toile de fond pour n'importe quel espace. Des couleurs vives de l'art graphique de Shandra Smith aux tons subtils et feutrés de SpaceFrog Designs, il y en a pour tous les goûts dans notre collection de papiers peints de créateurs.
Peintures murales sur mesure
Imprimé pour s'adapter à votre mur
Garantie de qualité à 100 %
Une marque de confiance
Livraison Rapide et Gratuite*
A partir de 125€ d'achat
Paiements 100% Sécurisés
Payez en toute confiance
SpaceFrog Designs
Lovell Johns
Lara Skinner
Elisabeth Fredriksson
Anne Farrall Doyle
Laura Marshall
Nouveau Prints
GCC Artworks
Shandra Smith
Annette Schmucker
Nicola Evans
Rita Patel
Studio Arterie
Sally Franks
Danielle Nelisse
Katy Smeets
Mike Labriola
Own your wall with a contemporary feature wall and bring your home to life! Relax in the flowing and hypnotic shapes of Kathy Shimmield's artwork, create a raw and modern feature wall with one of Elisabeth Fredriksson's designs or surround yourself in dreamy and colourful cityscapes with the help of Annette Schmucker.
VIEW FULL COLLECTION
Carol Robinson
Uta Naumann
Sir Edward
Burcu Korkmazyurek
We Paint Houses
Marina Stupakova
Andrea Haase
James Wiens
William Morris
Kelly Kratzing
Katy Clemmans
Rosana Laiz Garcia
Di Brookes
Tashi Tsering
Michelle Freer
Nici Gabriel
Feel floral and fragrant with one of our beautiful designer botanical wallpapers. Traipse through an exotic jungle with one of our Sir Edward designs or make a big impact on the wall with our popular Carol Robinson floral watercolours. Adore Andrea Haase's vintage illustrations of wildlife or transport yourself to the Orient with Tashi Tsering's intricately painted chinoiserie designs.
VIEW FULL COLLECTION
Philip Straub
Danny Flynn
Twisted Pixels Illustration
Adrian Chesterman
Farida Zaman
Severine Pineaux
Leonid Afremov
Ryan Fowler
Michael Mullan
Cityview Maps by Russ North
Do you appreciate the high level of talent needed to create beautiful illustrations? We certainly do. And that's why we have curated a stunning range for you to enjoy. Be amazed at Adrian Chesterman's artwork where he brings nature and fantasy scenes to life. Enter a colourful and abstract world through Leonid Afremov's artistic designs or step into a fairyland with one of Turine Tran's dreamy and whimsical illustrations.
VIEW FULL COLLECTION
Adrian Chesterman
Howard Robinson
Kikki Belle
Philip Straub
Laura Marshall
Colin Thompson
Jerry LoFaro
Farida Zaman
Dubravka Kolanovic
Gabriela Larios
Jan Patrik Krasny
Patrick Brooks
Mimi Jobe
Amanda Hall
Make your child's year by installing one of our fabulous children's art wall murals in their bedroom, nursery or playroom! Step into Mimi Jobe's world of unicorns and princesses, meet a fairy or friendly troll in one of Philip Straub's fantasy lands or get up close to a baby t-rex in one of Jerry Lofaro's jaw-dropping designs!
VIEW FULL COLLECTION
Rock Roll
Transport for London
Twisted Pixels
Tenyo Marchev
Nicola Evans
Studio Arterie
Marco Cavazzana
Suzanne Singleton
Simon Fetscher
Guillem H. Pongiluppi
Yani Mengoni
Marc Pasternack
Enjoy one of Simon Fetscher's sci-fi, snowy landscapes, Colin Thompson's eclectic fantasy worlds or one of Howard Robinson's adorable selfie animals. Or why not transport yourself into a new dimension, rock on alongside your favourite album cover or create an artistic feature wall with one of our graphic and digital designs?
VIEW FULL COLLECTION
1X Photography
Assaf Frank
Martin Sean
Design Pics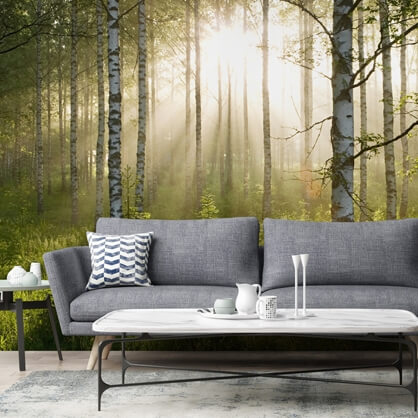 Image Source
Nick Jackson
Anthony Bryant
Darren Heath
McKlein Classic Motorsport
Phil McMenemy
Darren Harbar
Ollie Taylor
We certainly have a wide range of stunning photography that will transport you across the world! Feel the buzz of the streets of New York with our amazing shots by Assaf Frank or hear the silence of the empty Lockdown streets of London by Nick Jackson. Appreciate how Darren Harbar captures the graceful beauty of fighter planes in flight or be dazzled by the street lights in Anthony Bryant's beautiful cityscapes.
VIEW FULL COLLECTION
Gabriela Larios
The Wallsauce Collection
Valentina Harper
Tashi Tsering
Julia Fonnereau
Nici Gabriel
Rebecca Johnstone
Brighten any room with a surface pattern wallpaper and completely transform the feel of any room! Be hypnotised by Valentina Harper's colourful illustrations, feel swooned by Uta Naumann's romantic florals or relish the vibrant colours in Nici Gabriel's Art Nouveau patterns.
VIEW FULL COLLECTION
Trevor Mitchell
Kevin Walsh
Steve Crisp
Nigel Chilvers
Garry Walton
Dominic Davison
Eduard
HR Vintage
Step back in time and reminisce about the good old days with one of our heart-warming bygone era wall murals. Feel like you're a child again as you window shop at your favourite toy store with a wonderful Garry Walton façade! Why not jet across the sky in a World War 2 Spitfire in one of Nigel Chilver's nostalgic designs? Or bop and jive next to the jukebox in a '50s American diner in one of Steve Crisp's amazing creations.
VIEW FULL COLLECTION
Trouvez votre image parfaite
10% DE RABAIS
VOTRE COMMANDE MURALE
Inscrivez-vous ci-dessous et nous vous enverrons un code directement dans votre boîte de réception, ainsi que les tendances intérieures et l'inspiration murale.
Non, merci