Earlier this month, the amazing people at Pinterest emailed us saying that you Pinners are lovin' yellow wallpaper right now. Who can blame you? Yellow is such a cheerful colour, why not create a statement wall with such a wonderful colour?
Amongst sunflower field pictures and sunsets, we have an array of yellow wallpapers that can help you achieve this top interior trend. Whether your home style is pretty florals or abstract patterns, we're sure to have a design for you.
In this post, we'll be saving you the hassle of searching for your perfect wallpaper and introduce you to our five must-have yellow wallpapers.  
1. Sunflower field pictures
Mural in photo: Les amis du tournesol
Nous ne pouvions pas écrire un billet de blog sur le papier peint jaune et ne pas parler de papier peint tournesol!  
Voici un fait pour vous, saviez-vous qu'il existe environ 70 espèces de tournesols ? Ouaip ! L'espèce la plus commune qui vous est probablement la plus familière, à vous et à moi, est connue sous le nom de "Helianthus Annuus". Ces fleurs spectaculaires sont parfaites pour créer une image de marque. Elles se présentent sous la forme de magnifiques fleurons rayés jaune vif qui se dressent sur une tige solide. Tout comme le tournesol, yellow is the colour of youthfulness! 
Dans notre collection de onze papiers peints de champs de tournesols faits sur mesure, vous découvrirez cette saisissante peinture murale de tournesols capturée par la photographie.
2. Yellow tree wallpaper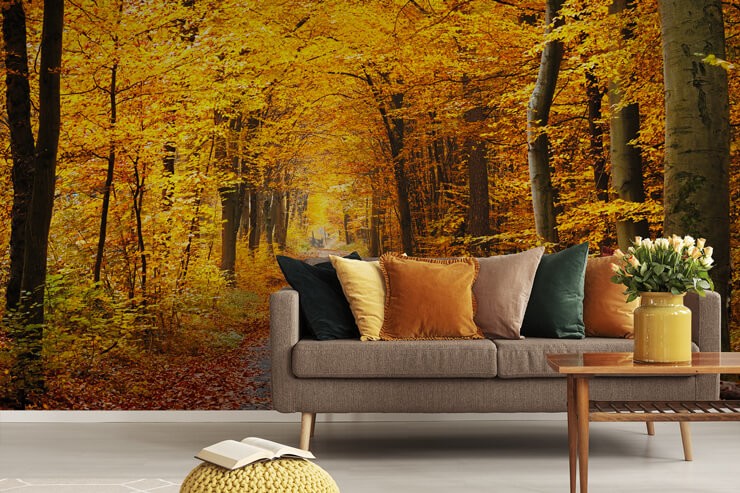 Mural in photo:  Autumn Forest with Yellow Leaves
Il faut que ce soit un fait que les papiers peints des arbres peuvent fonctionner dans n'importe quelle pièce ! C'est un moyen facile de remplir un mur terne et ennuyeux avec un nouveau design. Dans notre une vaste gamme de fonds d'écran pour les arbresVous découvrirez ce papier peint d'arbre jaune qui attire l'attention.
A favourite asset of this wallpaper is that it features three clear colours. The off-white and brown tones balance the vibrant yellow making this a crisp design that will also be very simple to style!
3. Going for something different
Murale en photo  Grey and Mustard Watercolour
Jusqu'à présent, nous vous avons montré des motifs très naturels et pittoresques, mais nos fonds d'écran jaunes ne s'arrêtent pas là ! Jetez un coup d'œil à ce fond d'écran abstrait.
Ce papier peint d'un jaune éclatant n'est pas fait pour les faibles, mais il apportera non seulement de la couleur à votre espace, mais aussi une sensation de texture. Tiré de notre watercolour collection, similar designs are available in alternative colour schemes.
4. Designer yellow wallpaper that will WOW
Mural in photo:  Ananas Jungle Noir
Designer wallpaper is an all-time favourite. This beautiful yellow tropical wallpaper by Andrea Haase is stunning and stylish and will look great in a grown-up living room, bedroom or dressing room!
5. Vintage yellow wallpaper
Murale en photo  Vieux pré à fleurs jaunes
Pendant que nous parlons de floral wallpaper, our next introduction is this beautiful Vintage Yellow Flower Meadow wallpaper.
With a filter-style look, it's more mellow than a sunflower mural so is great for creating a more calming living space. Team this yellow wallpaper with soft furnishings to give your room a cosy feel.
Nous espérons vous avoir inspiré à adopter cette tendance intérieure ! N'oubliez pas que tous nos papiers peints jaunes sont disponibles pour être imprimés sur un removable wallpaper – great for rented homes!
Si vous souhaitez partager vos conseils pour ajouter une touche de jaune à votre décor, n'hésitez pas à nous faire part de vos commentaires ci-dessous. Vous pouvez également consulter notre collection complète de fonds d'écran jaunes.