Top 10 Forest and Tree Murals
Posted by Andrew Gerraty
29/07/2015
What will you find in the woods today?
Forests are really quite enchanting places. Whether you're watching wild animals roam around, on the look out for magical creatures, or just soaking up the beautiful natural vibes, there's nothing quite as special as a walk amongst the trees.
So bring some of that enchanting feel into your home, with some of these fantastic forest themed murals. Read on for some great ideas on how to style tree wallpaper to add a hint of woodland flair in every room.
To view all our Woodland & Forest wall murals, click here. 
1. Look up!
You never know what you'll discover until you stop and take a second to see things as they really are. And our Zen inspired bamboo forest is a perfect reminder of that. Take a moment to look up into the sky-grazing bamboo shoots as the sun bursts through. With an incredible graphic pattern and a vibrant green colour, this is a juicy pop of colour, perfect for enlivening any space.
2. Nursery inspiration
Tree wallpapers make a wonderfully calm and soothing backdrop for playrooms and nurseries too – with lots of lovely imagery to nurture big imaginations!  This touching mother and fawn mural is the perfect reminder of the special bond between parents and their little ones.
3. Play with light
If you've ever watched the play of light rippling through the leaves of a tree, you probably know what a hypnotic and captivating experience it can be to see. And this striking contemporary forest mural captures it brilliantly. Deep dramatic shadows and a burst of sunlight just beyond blend modern style with nature in a great balance.
4. Magical woodlands
Step into the evocative bluebell forest with this beautiful tree wallpaper image – with a rich blanket of bluebell flowers carpeting the woodland floor! An elegant way of adding colour and depth to a room – this mural works amazingly as a full wall sized piece.
5. Experience the classics
The woods have always been a popular subject for artists through the ages – and this evocative work from the 19th century master, Renoir, makes for a truly impressive wall mural. Capturing his portrait of Jules Le Coeur walking amongst the forest of Fontainebleau, this makes a wonderful gift for art lovers – and a really uique way of showcasing art in your home.
6. Reflect and be inspired
The hustle and bustle of daily life can be tough on our systems – sometimes you just need to step away and have a chance to reflect. Which is why we love having this soothing and serene portrait of reflecting trees in our own workspaces. Perfect for a home work space or to give your office a contemporary feel, this adds a subtle but striking impact.
7. Go graphic
More a fan of contemporary art? Then this refreshingly minimalist shot of bamboo trees might be the perfect addition for your space. Capturing the vibrant, raw beauty of bamboo stalks, you don't need to add anything else to show off this amazing burst of colour, and clean, simple lines.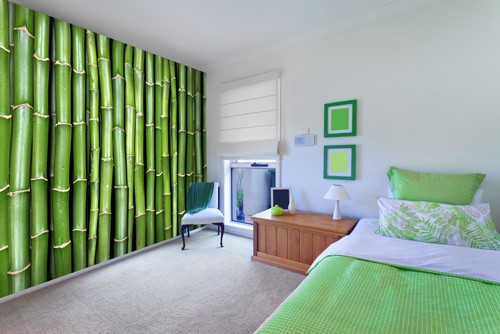 8. Dream spaces
Lose yourself in a daydream with this drifting, serene glimpse of a foggy woodland. It's the perfectly lyrical image, with just a hint of cool blue colour and a cloud of light, adding a soft and tactile feel to your walls.
9. Modern minimalism
A great complement to a stylish, minimalist space, this spare and delicate artwork of an Australian pain tree adds a touch of nature to your space, with the lightest of touches. Pair it with a neutral toned room to show it off to best effect.
10. Quirky colour
If you fancy something a little more creative and playful, then you might just fall in love with these wonderfully whimsical birdcages, hanging off a tree branch. With a tiny pop of colour against the white skies, this is cute and contemporary in equal measures.
More information!
Get more details on the process and pricing of murals with our online enquiry form or speak to one of our friendly team seven days a week on 01772 284110.
To return to wallsauce.com homepage, click here
Leave a Reply