Living Room Wallpaper Murals - 10 Ideas
Posted by Nazma noor
25/03/2015
Transform the look of your living room with a stunning, vibrant wallpaper mural that will bring a smart vibe to any area. You spend a lot of time in this part of your home and it is important that you have the décor that boosts and personalises this area.
You'll be amazed by the difference an impressive living room wallpaper mural can make. These easy to use products look great and solve the problem of adding a feature wall. So, let's take a look at 10 of the best wall murals for living rooms and get some inspiration to find the theme you want.
Take a walk in the woods
Enjoy the peace and quiet of the forest by bringing the outside to your interior with this wonderful mural. This panoramic of nature has an attractive mix of colour and a hidden trail sure to be appreciated by you and your guests.
Sophisticated natural bookcase mural
Wall murals are a simple way to establish a theme in your living room and this natural bookcase option brings a fresh, designer feel. Perfect for adding a premium, inspirational look to a space, see what a difference this can make.
DC Comics montage wall mural
If you're a comic or super hero fan then this montage is perfect for bringing a theme into your living room. Enjoy this stunning feature wall and all of your guests will be able to search for their favourite cover.
Chrysanthemums
Our fine art wall mural collection is filled with fabulous custom-made options that are sure to take your living to the next level. This Japanese School piece is sure to catch the eye of everyone who enters the room and adds an artistic touch to your feature wall.
Stunning view across the loch wall mural
Bring fine-art photography to your front room with a stunning wall mural from a picture by Phil McMenemy. This self-taught photographer has a passion for light, and this piece from 'Across the Loch June' brings out the emotion of nature to add a special effect to any space.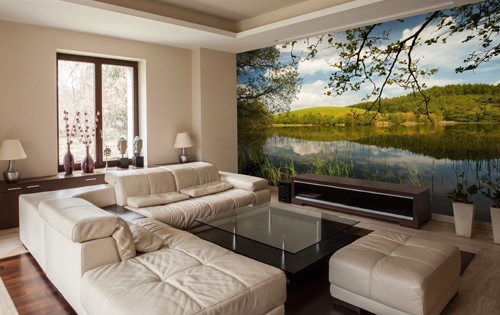 Embrace city living with this Paris at night wall mural
Get the look of Paris in your living area and get a view you love everyday. Cityscapes are a real talking point to any room and this view of the Eiffel Tower in the evening will add a new, fashionable aspect to your smart room.
Bring your walls to life with pattern murals
Enjoy a hint of modern art to your living room with this brightly coloured addition that is sure to bring a fresh focal point to your space. Brighten up the area with this awesome pattern.
Map wall murals
Mix admirable art with a vintage design with this old map. Whether you love geography or all things travel, you can head around the world at your leisure with this historic option.
Let your walls sing with a musical mural
Add a touch of sophistication to your lounge with this jazz band and dancers feature that is sure to bring the right vibe. This abstract mural is stylish and sure to get attention, as the cool image becomes a focal point in your room.
Add a breath of fresh air with a country wall mural
Enhance your living room with a hint of nature and something that looks like it's straight from NatGeo or the Discovery Channel. This special image from Villager Jim will make your space seem bigger and bring a charming tranquillity for all to enjoy.
More information!
Want to find out more information? Simply fill in our online enquiry form or call 01772 284110 and speak to one of our experts today.
Leave a Reply