10 Wall Murals for Children's Bedrooms
Posted by Nazma Noor
13/03/2015
When it comes to children's bedrooms – it's more than just a place to sleep in. It's a space to play, imagine, dream and create. And, of course, have the odd doze once they're all worn out!
Whether it's a nursery, their first "proper" bedroom, or a teenager's hideaway den, you can really have lots of fun and inject a ton of personality into children's rooms. And one of our favourite ways to do this is by using wall murals.
Original, unique and able to transform any room from a fantasy forest to a stunning sci-fi cityscape, murals are a fantastically creative alternative to paint or wallpaper, and look a lot more impressive than tacked-up posters!
So without further ado, here are 10 mural ideas for children's rooms to get you inspired…
Pirates at Sea Wall Mural
Perfect for any swashbuckling child who loves to play pirates! This will add a fun nautical theme to your room, complete with a pirate ship, the beaming sun, the waves of the sea and even a few sharks too!
Take a trip to space with this Mural!
Head into outer space with this awe-inspiring image from our children's space and rocket wallpaper collection! Featuring beautiful, colourful artwork of each planet and their individual orbits, as well as lots of glittering stars, asteroids and more, this mural is ideal for budding space lovers.
Ice Castle Wall Mural fit for a Fairytale Princess
For anyone who loves the snow! Get whisked away in this surreal wintery ice palace, complete with cute polar bears! This wall mural would make a great feature wall for any "Frozen" themed bedrooms and we think your little ones will feel like fairytale princesses and princes with this to wake up to every morning!
Cartoon Map of the World Mural
Calling all budding explorers, this funky cartoon take on the world map doesn't just show you where everything is – it also gives you a sneak peek into the iconic sights and sounds from different places around the world! From the Eiffel Tower to Big Ben, this is a fun way to plan future trips, or simply learn more about the world.
Jungle Animals Wall Murals
For animal lovers both young and old, this jungle-themed wall mural features friendly cartoon animals for your child to learn about and grow up with. From giraffes, elephants, gorillas and lions, the mural also has animals your child might see out and about, like rabbits and squirrels.
Comic Book and Superhero Wall Murals
Our selection of officially licensed comic-book and Superhero murals is guaranteed to impress even the most discerning young comic fan, with a selection of your favourite characters – including Batman and Robin, Superman and the Justice League! These add a brilliant dose of brightness and excitement to liven up a bedroom and your child will love having their favourite superhero watching over them.
Pencil Crayon Wall Mural To Bring Out Creativity
Bring out the creative side in your child with this coloured pencils wall mural. A great way to showcase a mixture of colours, if your child loves to draw and paint, this mural will be cherished by them! This mural would also look great in a playroom or in your study.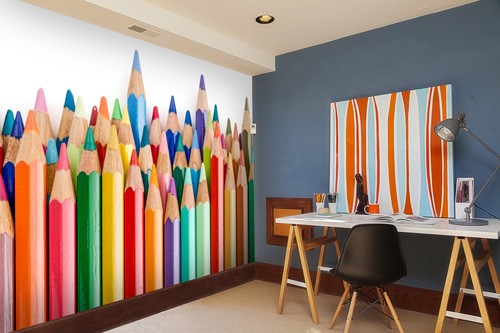 Simple and Minimalist Hot Air Balloons Mural
Fancy something colourful, but not too overpowering? We really love charming and minimalist wall mural of hot air balloons soaring through the sky, with fluffy white clouds and the occasional bird! There's a very serene and calming feel to this mural so it would be great for your nursery.
London Inspired Patterned Wall Mural
London is certainly an exciting and inspiring place to visit – no matter how young or old you are! Our collection of London-themed murals capture all the buzz and energy of the city – from the iconic 'Mind the Gap' message to Big Ben and the Union Jack. Choose from a variety of styles – from quirky pop art-styled murals to fun and funky cartoon maps of your favourite sights in the city!
Under The Sea Wall Mural
Brighten up your child's bedroom with an under sea view of colourful corals and fascinating tropical fish. This is just one of the sea life wall murals available at Wallsauce and we love how it transports you to a whole new world.
Click here to see more of our sea life wall murals and wallpaper designs.
More Information! 
For more details and prices via our range of childrens wallpaper murals or contact us today using our online enquiry form or call our team on Tel 01772 284110
Leave a Reply