Bookshelves are a staple in most homes. Whether they hold an extensive collection of books for us bibliophiles or are an extra space to showcase a variety of ornaments, these seven beautiful ways to style your bookshelves will have you dreaming big!
We all love the idea of snuggling up on a cold and rainy night with a good book and a thick blanket or sitting out in a beautiful park during summer, feeling the warmth on our skin as we sink into our new romantic novel – but what do we do once the sun begins to set? Or it's time to retire to bed? Do we leave our books on the floor? Or place them in a drawer? Heavens no!
Our books belong in their very own space, displayed proudly and ready for you to pick up where you left off the night before. Books are beautiful and should be out in the open for everyone to admire, as there is no warmer feeling than being surrounded by books, old or new.
1. Organisation doesn't need to be bland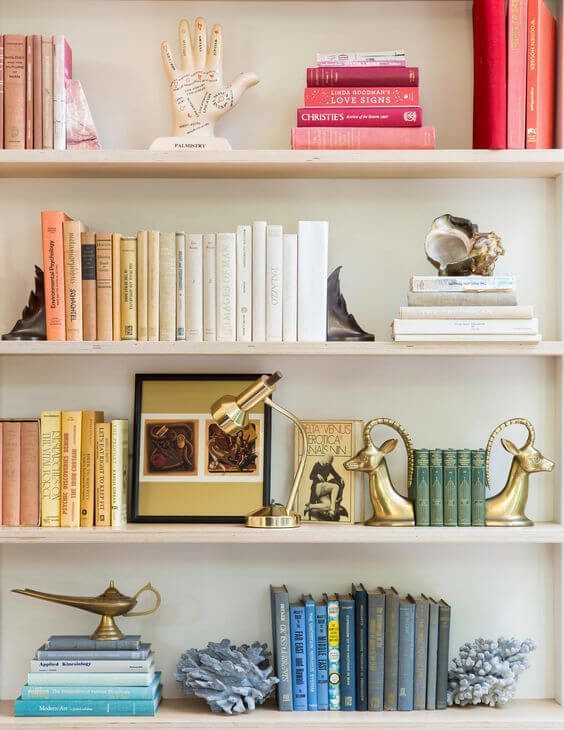 Image source: organisedprettyhome.com via Pinterest
It doesn't matter if you are a neat freak or an organisation junkie; you can still arrange your books in a way that doesn't look bland. If you want to style your bookshelves but keep things looking tidy, a fantastic way to achieve this is to colour-coordinate your books. Grouping your books by colour will keep your shelves looking organised, despite your books' varying sizes.
Incorporate ornaments to fill awkward spaces as you space your books out – this will help your bookshelves look fuller instead of lacking in literary numbers. Not only will your colour-organised books create an aesthetically pleasing display, but your bookshelves will also rapidly become the focal point of your room!
2. Trust a haphazard layout
A haphazard style can look delightfully messy when executed correctly! It's typical to have your books stand upright, but arranging them in varying portrait and landscape orientations, angles and even back to front will give your bookshelves plenty of personality. This is a perfect look to try if your book collection is lacking, as it is a creative way to use space.
Suppose your bookcase or bookshelves are in your home office. In that case, you could use any extra space to hold your files and folders, but to ensure your shelves don't become a dumping ground for boring office work, incorporate vibrant trailing greenery. According to happybrainscience.com, the mere act of observing nature can help to reduce stress and improve concentration, making indoor plants an excellent addition to any room. 
3. Style your bookshelves with relaxation in mind
Bookshelves can be styled with more than books. They are the perfect place to display pictures or ornaments and are also a great way to create a corner in your room where you can retire for a few hours. The simple placement of a chair can transform a corner into a beautiful reading nook or a little escape free from the distractions of the TV.
Enforcing a 'no mobile phone' rule will help keep this space sacred and for relaxation. To ramp up your relaxation vibes, include lots of potted greenery around your area, as looking at nature does wonders for our mental health.
4. Bring your literary worlds to life
Maybe you only have one shelf, or maybe you have a wall filled with bookcases; either way, a fantastic way to bring your bookshelves to life is to decorate them with themes taken from within the pages. This can be especially useful for those with a higher ratio of figurines to books! (Let's face it, Funko Pops are addictive)
This is also an excellent idea if you have a series of books you are reading; you can arrange them in reading order and keep them beside your bed or on your coffee table, depending on where you like to read!
Creating little worlds surrounding your books is perfect for creatives who want to do more than arrange their books by colour or size. This stunning gothic bookcase is more than a place to hold your books; it's a little haunted world, oozing mystery and dark decadence that will make even the bravest person shudder (with awe, hopefully!). 
A great idea for lovers of gothic thrillers or classic horror is to adorn your shelves with candles (carefully!) and figurines – you could even tie a series of books together with black lace or velvet for an extra bit of flair! Giving your bookcase or bookshelves a theme in keeping with the rest of your décor is a fantastic way to create a beautiful focal point in your home.
5. Use a colourful backdrop
Mural in photo: Pastel Terrazzo Shapes
A quick and easy way to style your bookshelves is with beautifully patterned wallpaper. A surface texture wall mural or colourful design is great for those who want to accentuate their bookshelves but can't find a bookcase wallpaper to match their décor. This way, you can find the perfect style of wallpaper to fit into your room, whether it is your bedroom, living room or home office.
The pastel terrazzo wallpaper above accentuates the neutral tone of the bookshelf. It will instantly draw your eye towards it, especially if you walk into a room and see this gorgeous wallpaper as a backdrop to beautifully set-out bookshelves. Patterned wallpaper is also a great way to make bare shelves look fuller and to create a beautiful focal point.
6. Give the illusion of a grand home library
Mural in photo: Natural Bookcase
There are many ways to style your bookshelves, but what about those rooms that don't have much space to contend with? It can be hard to fill a room with shelves or bookcases if you're already short on space – you also don't want to have too many items on display as this can overload our senses, especially in a small room, but fear not!
A fantastic way to incorporate a stunning library in your bedroom, spare room or home office is through the magic of a bookcase wallpaper. This style of wallpaper can transform your room into a beautiful old-fashioned study or fill your walls with rows of vibrant books, all without encroaching on your space.
7. Decorate your built-in bookshelves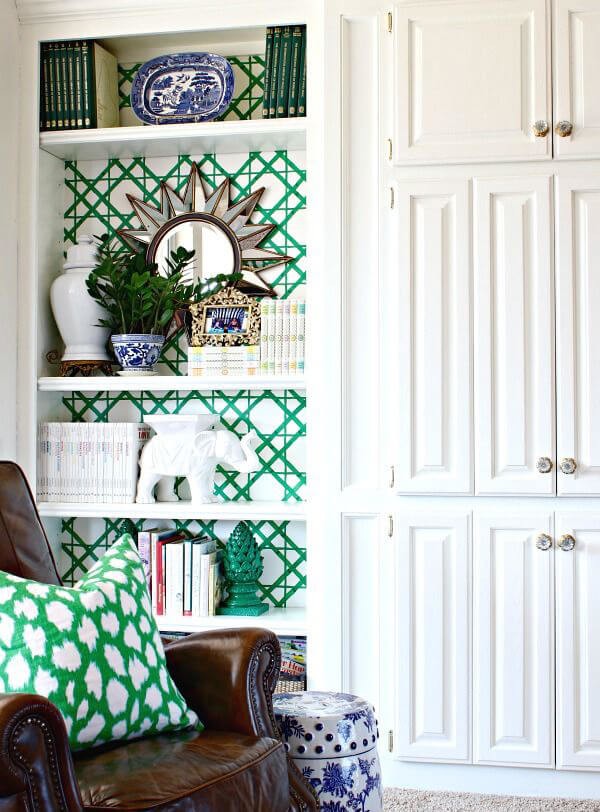 Image source: dimplesandtangles.com via Pinterest
Built-in bookshelves can be made to look stylish and beautiful – and the way to do this is to get hands-on! Attempting to apply wallpaper between your shelves could be an arduous task, whereas a paintbrush will make the process much easier!
Painting the wall space between your shelves will give you a free artistic license – you can paint geometric shapes and funky patterns, and for the serious artistic ones out there, you could paint themes from your books - such as landscapes or characters!
Which of these 7 beautiful ways to style your bookshelves are your favourite? It's no secret that ours is number four! Let us know in the comments below!