There's a lot of talk about how to make a small room feel more spacious and how to make our homes appear bigger. That goes hand in hand with human nature; the need for more of everything. But what happens when you've got too much of something… too much space?
Filling a large room can be much harder than working with a poky space in fact, and if you don't have a plan, the area you're working on could be at risk from being cold and vacuous. This problem is further amplified when your home has very tall ceilings – a blessing and a curse in the world of interiors!
If you want to know how to make a large room feel cosy, appealing and warm, here are some decorating tips to help you out.
Dare to try out darker colours
Mural in photo: Mandarin Ducks and Cranes
By using dark colours in your interior design, you can make an oversized space more manageable. Dark hues on your walls can make them appear smaller, closing them in and adding a feeling of warmth. You can use the power of colour psychology and colour symbolism to create the right atmosphere too.
For instance, black represents sophistication, power and elegance. Navy can provide an air of stability, integrity and masculinity. While dark forest greens are a symbol of wealth, good luck and a deep connection with nature.
Although dark colours seem scary at first, they're easy to work with once you know how. And clever lighting will help you design a cosy space without it being dingy. This dark and moody Mandarin Ducks and Cranes mural features beautiful oriental artwork in tonal hues to bring the wallpaper to life, creating cosiness and warmth with a unique feature.
Turn to dark moody florals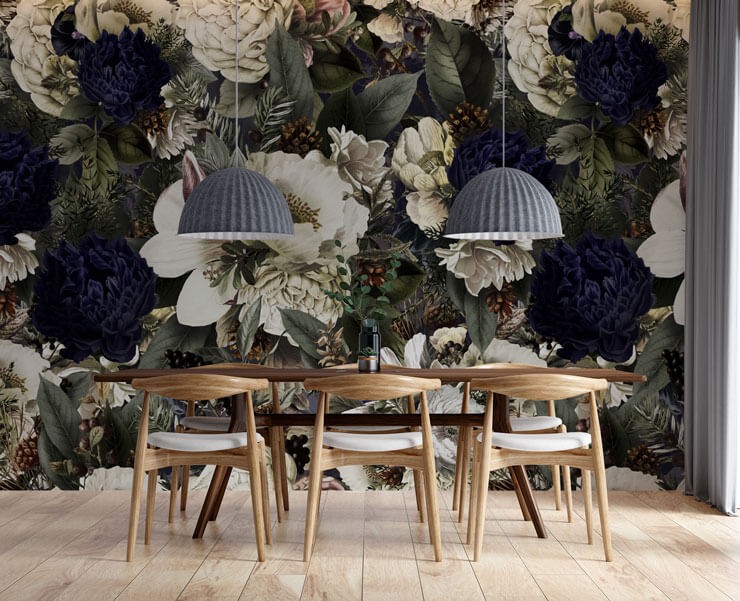 Mural in photo: Midnight Bouquet
If you're scared of going over to the dark side, but still like the idea of making a large room more manageable, dark and moody florals can be the perfect way to balance your interiors. Dark florals are incredibly romantic and have a gothic vibe that is both luxurious and edgy.
Botanicals and floral prints are intrinsically tied with nature too, which means you'll be able to maintain that important organic connection. With florals, it's hard for a space to ever feel flat because naturally, this visual feast is all about life, growth and movement.
A wall covering like this romantic Midnight Bouquet mural is a great way to introduce dark colours in a feminine way. Plus, don't forget you can amplify nature with nature – strategically placed plants and flower arrangements are perfect for filling vertical height in a room or open floor space. And in line with your organic theme, use accents of wood – this is great for making those large open-plan kitchens feel more inviting.
Treat bare walls with stylish art
Metal print in photo: From extended range
There are so many reasons to invest in wall art. Even when your space is tiny, art can completely elevate your interiors by adding colour and vibrancy and creating depth. But for an oversized room, it's even more important. Because nothing is more solemn than bare walls, right?
The best thing about art is the scope to get seasonal with your collections. Christmas can be a great time to update your wall art pieces. Our metal prints (currently only available in the UK) are a low-maintenance option for busy homes because they are waterproof and easy to clean. They also don't fade, meaning they'll last for many years to come.
Remember though – placement of wall art matters if you want to centralise focus. Tall ceilings are a dream, but if you're already struggling to fill a very large room, that extra headspace can be imposing. Hang your wall art a little lower to create the illusion of a shorter ceiling height. Low-hung art is one of the best tricks in learning how to make a large room feel cosy in any season!
Break up your wall space
Mural in photo: Indigo Garden 2
Another tip for dealing with tall ceilings or just excessive wall space is to break up your walls with two different mediums. Create a midway border, divide walls horizontally with wood panelling or brick, or combine different wallpaper styles.
Big eye-catching patterns like this navy and white Indigo Garden wallpaper by Carol Robinson pair up well with small tiles or other materials that have small lines and details. Big patterns also busy the eye, giving you an interesting focal point.
Create a cosy living scene
Mural in photo: In White
Talking of focal points, there's another way you can create impact and draw the eye to one area in the room. Scenic wall murals are fantastic for filling bare walls, while also getting people to focus their attention on a chosen spot.
Landscape murals – especially those featuring forests and trees – can be used to build escapism in your interior story. They're soothing and calming because they make you feel like you're surrounded by nature. But more importantly, they create an arresting feature that everyone wants to look at.
As a bedroom feature wall, a scenic mural can divide up different areas or 'zones', such as a sleeping zone or a reading zone etc. Things like wallpaper, rugs and antique dividers are perfect for helping you ramp up the illusion of separate, dedicated areas.
Create bold colour contrasts
Mural in photo: Green in the Jungle
Large rooms are blank canvasses for colour. To prevent your space from looking one dimensional, use the colour wheel to design contrasting looks. A bubblegum pink sofa against a lush green jungle wallpaper is definitely a style statement. Don't be too formal about your chosen colour palette though. While it's important to tie your whole story together, there's something about any overly coordinated room that can come across as stiff and contrived. Relax a little and dare to experiment!
Experimenting with colours and textures is especially important in large spaces, so play around with vibrant fabrics, textured rugs, eye-catching wall art or upholstered furniture. Not everything has to be matchy-matchy, but a shared narrative is key.
And while you're being bold with your interiors, don't forget to supersize proportions. If you want to know how to make a large room feel cosy, warm and full of intrigue, introduce extra-large lamps and oversized décor.
Do you have any tips on how to make a large room feel cosy? Share your thoughts in the comments below.