There's something rather radiant about cactuses (or "cacti" if you prefer Latin grammar). The interior design world can't seem to get enough of spiky succulents, and so many people enjoy having these desert plants in their homes.
So what is it about the cool cactus that everyone loves so much? Could it be the fact that they're prickly but also cute? Is it their unique sculptural forms and the way they add texture to any space? Or is it their ability to purify the air with very little maintenance or watering?
Whatever it is, Instagram proves their popularity – and the cactus wallpaper trend is the next big thing to watch. Here are some of our favourite cactus murals for a modern, organic and feng-shui-fabulous makeover!
Scandinavian cactus landscape wallpaper
Mural in photo: Patina Desert
This ultra-modern Patina Desert mural by SpaceFrog Designs takes Scandi landscape art to hotter climes with awe-inspiringly arid topography.
If you love minimalist features, this backdrop strikes the balance between simple and intricate. It tells the story of nature with humble shapes and outlines, while delivering the wild beauty of nature's colours in a non-complex way.
For the discerning homeowner's progression from minimalism to maximalism (or somewhere in between), this desert cactus wallpaper design makes for a smooth transition, creating a safe option in the midst of a concept change.
The earthy hues are a fantastic pairing with organic shades such as forest green or oceanic blue, and they also work well with bright pops of colour.
Mediterranean cactus door mural
Mural in photo: from our extended range
Instagram has gone crazy for 'doortraits' and we've all been guilty of photographing a pretty door on our travels. The human obsession with beautiful front doors is deep-rooted in psychology too.
Travel blogger and photographer Divyakshi Gupta once said: "Doors are veils to homes. Each have a distinct character, speaking volumes of the people living behind the door. It's fun to guess what could possibly be behind a door — an array of secrets, emotions, and mysteries. A home with laughter, heartaches, hopes, banter, and more."
So not only are doors intriguing and there to incite our curiosity, but they remind us of adventures in far-flung places. This Charming Weather Worn Doorway mural makes a great feature wall for anyone with an inquisitive nature…and a love of cactuses of course!
Plus, this wallpaper features one of 2021's hottest house plants, the Bunny Ear Cactus which is great for adding rounded shapes to your space, known for relaxing and calming the mind.
Cactus at sunset wallpaper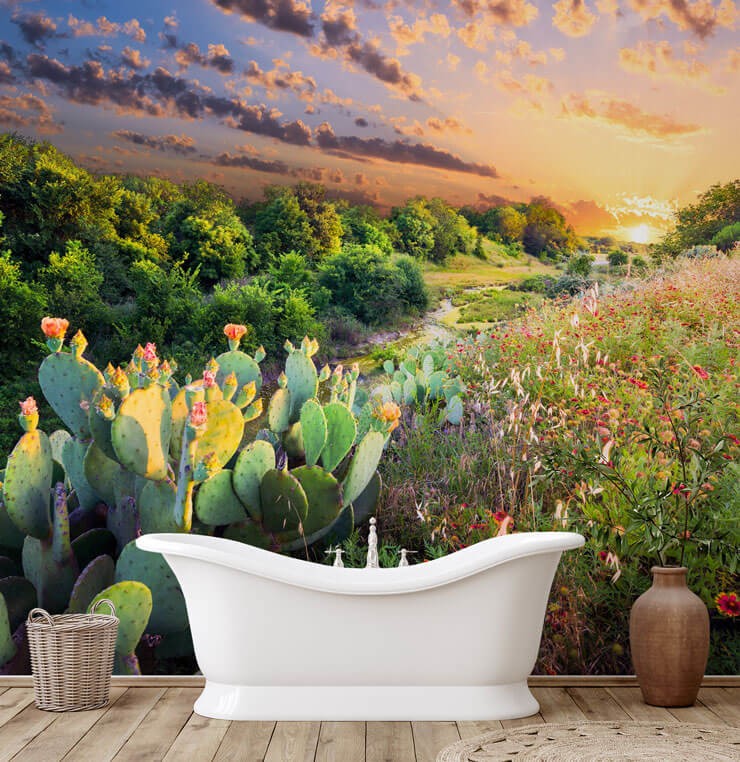 Mural in photo: Cactus and Wildflowers at Sunset
For true cactus obsessives, this spectacular photographic mural is a celebration of the plant's sculptural form. Each cactus is unique in this respect, producing its own one-of-a-kind silhouette – and that's why cactuses are such great plants to have in the home.
They add shape, curves and texture to any room. They look great on their own or planted in crowds. They mesh well with other succulents, or can be placed next to other plant species. Versatility is one of the cactus' best traits!
Or if you want show-stopping scenery, this minimalist Cactus and Wildflowers at Sunset wall mural will add warmth and depth, while bringing the space to life.
Illustrated succulent and cactus wallpaper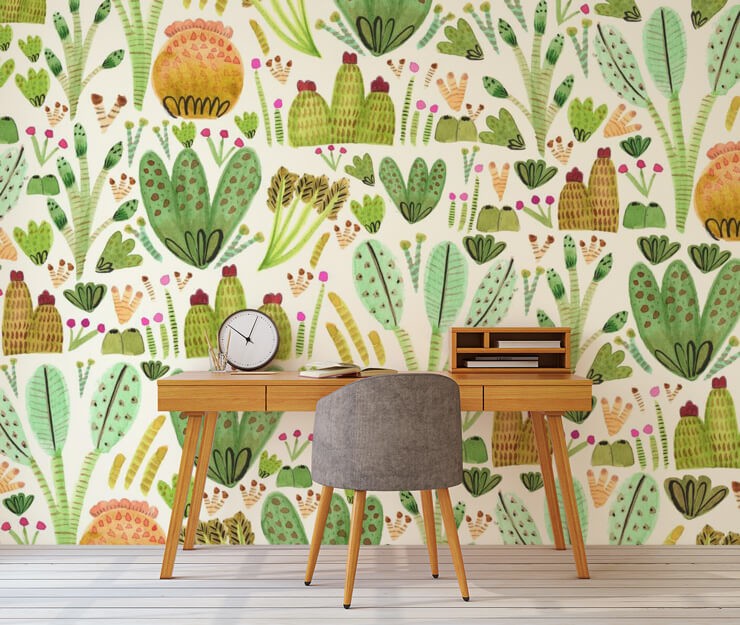 Mural in photo: Succulent Garden
This pretty illustrated wallpaper by the talented Gabriela Larios adopts the cactus trend with a dose of fun and creativity. The artist's works are inspired by her childhood years growing up in El Salvador, and they encapsulate the beauty of the natural world.
She dabbles in patterns featuring the animal kingdom as well as biophillic wallpaper design. What makes her designs stand out is the generous application of colour, providing a feast for the eyes and something that appeals to all ages.
In this on-trend Succulent Garden mural, a whole range of cactus, Senecio and Crassula succulent varieties are explored, with colour being at the heart of the story. So it's a fantastic wallpaper option for brightening up a dull space, especially a lacklustre bedroom or a home office where creativity is very much needed.
Tropical cactus and cockatoo wallpaper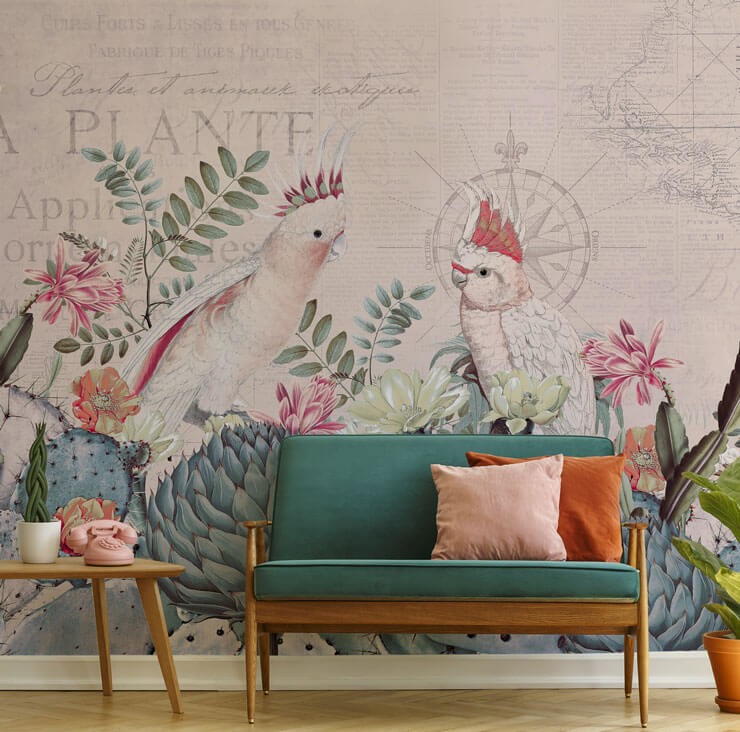 Mural in photo: Desert Cockatoos
Another wonderful illustration with cactus plants is Desert Cockatoos by Andrea Haase, an artist who is inspired by travel, all things vintage, and the organic world around us. Her wallpaper designs have a tropical vibe, adding warmth, excitement and colour to any room in the home.
However, this mural combines intricate detailing with muted hues to add a sophisticated edge. Perfect if you're scared of using too much colour at once. Transform a boring living room wall, adorn a creative workspace, or make your bedroom a vibrant celebration of nature.
There's a sense of a faraway paradise, so it's the ultimate escapism for anyone who thrives in hot countries and loves to travel.
Cactus and golden mountain mural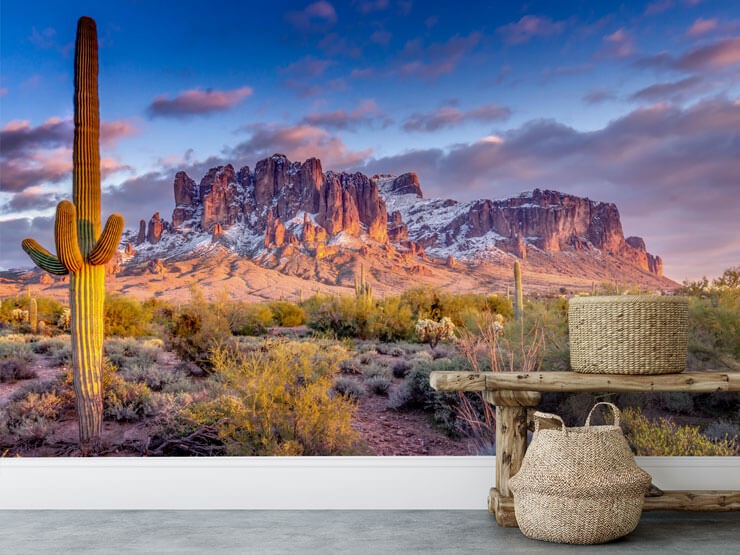 Mural in photo: from our extended range
Talk about setting the scene with a photo cactus wallpaper…and they do say that mountains are good for the soul. Whether you're climbing them, or simply looking at them from afar, a mountainscape can help to de-stress and calm you. And there's no better time to capture their grandeur than at golden hour, when the sun begins to set slowly in the sky.
Mountain murals can do so many things in the home too. They can completely alter the ambience, they add warmness or coolness to counter natural lighting, and they can even make your space appear larger with the power of illusion.
Cactus desert scene at night wallpaper
Mural in photo: Desert View
Right now, we're also loving dark walls and the navy wallpaper trend. But incorporating dark colours can be a scary prospect when interior design teaches us to embrace bright lighting as much as possible. This dark Desert View mural by Spacefrog Designs is a great way to balance light and dark, so you can dip your toes into dark interiors without overdosing.
With a beautiful moon to create a focal point, an interesting landscape to distract, and cactus silhouettes to build depth and dimension, this wallpaper can revive a dreary office, living or bedroom space in an instant.
Finish off the room with a few live cactuses or succulents, as this will make the mural pop with a burst of greenery.
Do you have a soft spot for spiky plants like we do? Tell us your favourite way to incorporate cactuses in interior design, and don't forget to check out our extended collection of gorgeous cactus wallpaper online!