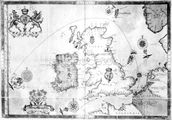 Map showing the route of the Armada fleet, engraved by Augustine Ryther, 1588 (engraving) (b/w photo)
Wall Murals - Adams, Robert - Map showing the route of the Armada fleet. Custom sized wallpaper murals with free US shipping. Wide choice of Bridgeman Art Library fine art options available.
More details
Availability: Made to measure
Delivery: 3 to 6 business days*
Product Type: Wall Mural
Product Code: 3/08179-1
4.8
Rated 4.8 from 872 reviews.
Adams, Robert , 1588, Supplied by The Bridgeman Art Library
Bridgeman Art Library Wall Murals
Our library contains 1000's of works of art including portraits, landscapes, illustrations and more, by world remowned artists. We have only featured a small selection of the entire Bridgeman Art Library collection on our website and can creaste a mural from almost any of their pieces. If you have anything in mind, not on our site, then please do get in touch. 
Ordering Is Easy
1.     Select the wall mural scene you like best
2.     Add your dimensions (remember to add 5cm/2" extra to width and height)
3.     Crop the image (if required) and click 'SET MURAL SIZE'
4.     Choose either ready pasted wallpaper or self-adhesive (more details on our installation page)
5.     Add to basket and checkout. 
Enquires
If you have any specific fine art or Bridgeman Art Library content related content in mind for your wallpaper mural then we'd love to hear from you. We have a wide library of assets from all the series that we can use. Simply call us Toll-free on 1-888-581-7892 or via our contact form. 
Delivery
Delivery within 3 to 6 business days to US mainland. 
Note: The watermark shown in the image will not appear on your wall mural when purchased.
Shipping
FREE US Mainland Shipping
Every wall mural we produce is unique and is printed on demand when we receive your order. Once your custom made wall mural has been printed, it is carefully packed and shipped to you.
All orders are normally shipped within 3 to 6 business days.
Free shipping is on all orders above $120. 
For orders less than $120 a shipping charge of $25 applies. 
More details on shipping can be found on the shipping options page.
Installation
Installing our wall murals is easy!
Wall murals are a great way to completely transform the look and feel of your room, quickly and easily. For ease, we recommend having 2 people to install the mural on your wall, so with the help of a friend over a couple of hours, transforming your room is simple. 
Materials: Our wall murals are very easy to install and come in a choice of 3 high quality materials. For more details on each material, just click the link.
Basic Tips for Installation
Make sure your wall is clean and smooth and you have removed any fixtures and fittings. 
A clean, matt surface is ideal (not glossy). 
Ideally paint your wall white or off-white colour, so you have no bright or bold colours behind your new wall mural
Do not install our murals over lining paper
Important - Leave your paint to dry for 2 to 3 weeks before installing your mural to allow any gasses within the paint to dissipate
Two people are best for the installation
Your mural panels are supplied in drops, like wallpaper. Check you've got them in the right order and they look right before you start. 
How to Install - Printed Instructions
With every wall mural order, you will receive a job sheet showing a picture of your wall mural with all the drops/panels displayed plus, a printed installation guide with instructions on how to install your mural. 
If you've misplaced your guide or wish to read the install instructions, click the relevant link below. 
Classic & Premium 'Paste the Wall' Wallpaper Mural
Peel & Stick (Self-Adhesive Fabric Wall Mural)
If you have any questions about installing your mural, please get in touch!
Reviews
$0.00 USD
Map showing the route of the Armada fleet, engraved by Augustine Ryther, 1588 (engraving) (b/w photo)
Wallpaper Mural
Murals are made to measure. Add
2"
extra for trimming.
Position the crop box to select the area of the image you want to keep then click 'Set Mural Size'.
Step 3
Select Wall Mural Material
?