Chelsea Football Club are one of the best teams in Europe and their fans are as loyal as any! A season ticket is an obvious gift, so they can be there at Stamford Bridge on every match day, but the chances are your Chelsea superfan probably already has one! So here are 5 other great Chelsea FC gifts specially chosen for these loyal fans.
Re-live Chelsea's Greatest Goals
The Chelsea Greatest Premier League Goals DVD allows Chelsea mad fans to relive all the most glorious goals since Mick Harford scored Chelsea's first Premier League goal in August 1992. It contains mind-blowing screamers, inch perfect free kicks and intricately worked team goals that will have any fan jumping for joy once again. Buy them this and let Gudjohnsen, Hasselbaink, Zola, Lampard, Drogba and many others thrill them all over again.
A personalised photo signed by a Chelsea legend
Didier Drogba is a legend at Stamford Bridge. He has won 3 Premier League titles, 4 FA Cups, 2 League Cups and 1 Champions League all in that famous blue shirt. That is why any fan would be honoured to receive the gift of a Drogba photo signed by the man himself.
Chelsea FC gifts for the home
A wall mural from Wallsauce can bring the atmosphere of Stamford Bridge right into a fan's living room. Choose from a wide selection of celebrating players, stadium wide shots and team photos, customise the mural to the exact size you want and have it delivered right the fan's door for free. Any fan of the mighty Blues will be instilled with passion every time they lay their eyes on the fantastically rendered wall mural of the Chelsea team in their home.
Chelsea FC Pyjamas
These Chelsea FC lounge pants and pyjama bottoms allow the fan to show their support even when dressing down. Covered in Chelsea badges and colours, these are perfect for those days when you're at home watching the Sunday lunchtime kick off from the comfort of your living room.
Official Chelsea FC Football
The official Chelsea FC football is a great gift for any fan who likes to play the game as well as watch. This size 5 atom leather football comes complete with Chelsea crests in the stitched panelling and is great for a kick about in the park or for training to help improve football skills.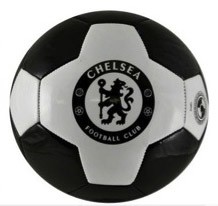 When you're mad about a football team, collecting merchandise is an on-going process. Teams like Chelsea are steeped in history and delight fans from different corners of the globe. These five gifts will take pride of place in any collection that a supporter has, or even become the focal point in a room. Chances are, next year there'll be another highlight reel to buy!
Still in need of some football-themed gift inspiration? Check out our other general guide on gifts for football fans.
Update: Please note that no longer have access to Chelsea FC images. Visit our football wall murals for more football gifts.