Black and white wallpaper will always be timeless! Dating back to post-war Art Deco, black and white décor is a classic combination that oozes charm and sophistication. Opt for this monochrome style to create grown-up rooms that will create lasting impressions and will never get outdated.
To help you achieve your timeless décor, we'll be talking you through some of our popular black and white wallpapers om je te laten zien hoe je het uiterlijk van je huis kunt bereiken. Of u nu uw woonkamer of tienerslaapkamer wilt bijwerken, wij hebben zeker monochroom behang voor u.
We'll also be offering our expert advice on how to style your white and black wallpaper, along with special insights into real customer homes so that you don't have to take our word for how fabulous Wallsauce.com's wallpapers look!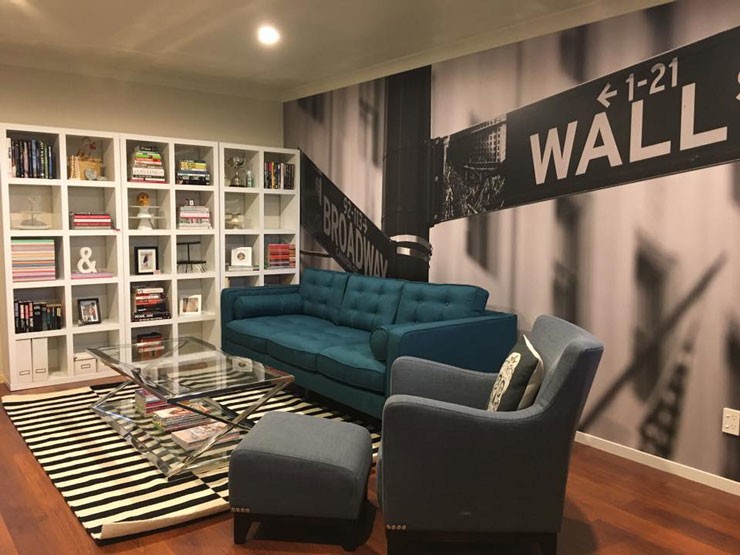 Wall Street' behang. Beleefdheidsbetuiging van onze klant, Bridget
Gedessineerd Zwart-wit behang
Leg een verklaring af met patterned black and white wallpaper anywhere in your home. This dimensional- effect wallpaper is a great alternative to standard striped wallpaper. It's sneaky grey tones makes it bang on trend and the triangular pattern gives it a retro look. The vertical stripes on this black, white and grey wallpaper are great for pattern clashing! Teaming it with patterned fabrics spark interest and colourful wall pictures and accessories distract the busy pattern consuming the whole wall.  
'Polygon' wall mural
Monochrome wallpaper can also de slaapkamer van je tiener te transformeren. This graffiti wallpaper featuring no colours gives off grown-up vibes with a fun element from the shapes and pattern. This is a great example of wallpaper that can grow with your teen and won't become childish.
'Abstract Doodles' wallpaper
Fotobehang in zwart-wit
Naast gedessineerd wit en zwart behang hebben we een rijke selectie van black and white photo wallpaper. Capturing amazing moments to interesting details and perspectives, these wallpapers can help you create ultimate feature walls around your home.
DC-3 over NYC' muurschildering
'In a Fog' wall mural by 1X Photography
Styling van uw Witte en Zwarte Behang thuis
Het is begrijpelijk dat een monochroom decor je kan afschrikken omdat je bang bent dat je kamer te donker of te licht, te groezelig of te koud wordt. Dus hier laten we u zien hoe u uw zwart-witte behang kunt stylen, zodat u de balans vindt en een huis creëert dat u nooit meer wilt verlaten.
Going all out monochrome is the definitive route to classic décor. This customer who kindly shared the photo with us shows us that surrounding light walls and ceiling perfectly frame their horse wallpaper. Also, take note on their spotlights and how they add that hint of contemporary style.
Door de vloer in kleur en patroon goed in balans te houden, blijft de aandacht op het behang gericht, terwijl de accessoires de ruimte huiselijk doen aanvoelen.
Paarden Zwart-wit' muurschildering. Afbeelding met dank aan klant Simon
Aan de andere kant, wees niet bang om accentkleuren in te bouwen als dat je stijl is. Bind uw monochrome behang vast met zwart-witte accessoires, plus een extra kleur.
'Cloud City' wallpaper mural
Don't forget that if any of our black and white wallpapers don't take your fancy, you can turn almost any coloured image to black and white by simply selecting the option when entering your measurements.
Laat ons gerust uw tips weten over het bereiken van een monochroom decor in het opmerkingenveld hieronder. We delen graag onze favorieten!