Christmas gives us all the chance to show our Mums just how much we appreciate them. The gift suggestions below will be suitable for all different kinds of Mums; from ladies who are all about beautiful decor to Mums who love to get cosy with the kids. Choose a wallpaper mural to make a special mark in her favourite room in the home. 
Cat Crazy Mums
Is your Mum crazy for cats? This adorable cat wallpaper is sure to put a smile on her face. Install in a bedroom or room used for relaxation for a really cosy feel!
Mural in picture: A Tough Day
Mums Who Love a Glass (or Two)...
Is your Mum known to enjoy a glass of wine or two (or three...)? This beautiful wallpaper creates the illusion of a wine cellar that reaches out into the distance. It is tasteful and will work perfectly to transform kitchens or dining rooms. A great idea for a Mum who loves to entertain. 
Mural in picture: Wine Cellar
Flowers for Mum
Give your mum some flowers with a twist, by gifting her a beautiful flower wallpaper mural for her favourite room in the home. Choose from a gorgeous range of floral wallpapers that will add a real impact to any room. 
Mural in picture: Bright Pink Roses
A Beautiful Alternative to Flowers
Are you looking for an alternative to a floral wallpaper that is still just as beautiful? Perhaps a cherry blossom tree mural from our collection of calm and tranquil wallpaper is the answer. Not only is this mural beautiful enough for a Mum, it will also extend the look of the room as the photography reaches back into the distance. 
Mural in picture: Cherry Blossom Trees
Bookworm Mums
If you always find your Mum studying or curled up with a novel, a bookcase effect wallpaper mural is the perfect choice. These murals are well suited to many different types of decor as they are availble in many different styles and designs, making it easy to find a style that your Mum will love. 
Mural in picture: Bookcase and Candles
Mums Who Deserve the World
Does your Mum love to travel? A map wallpaper is sophisticated, stylish and can add a lot of meaning to your chosen room. Available in many different styles, designs and views, it will be easy to find a map wallpaper to suit your Mum's taste!
Mural in picture: Ancient World Map
Precious Memories 
Imagine looking up at a photograph of your most precious memory every day. Upload a photo that your Mum loves and have it turned into a wall mural. 
Mural in picture: Upload Your Own Image
Working Mums
Does your Mum have a workspace at home? Brighten it up with something beautiful or motivational. The flowers below will infuse the room with blue; colour with lots of calming and positive benefits.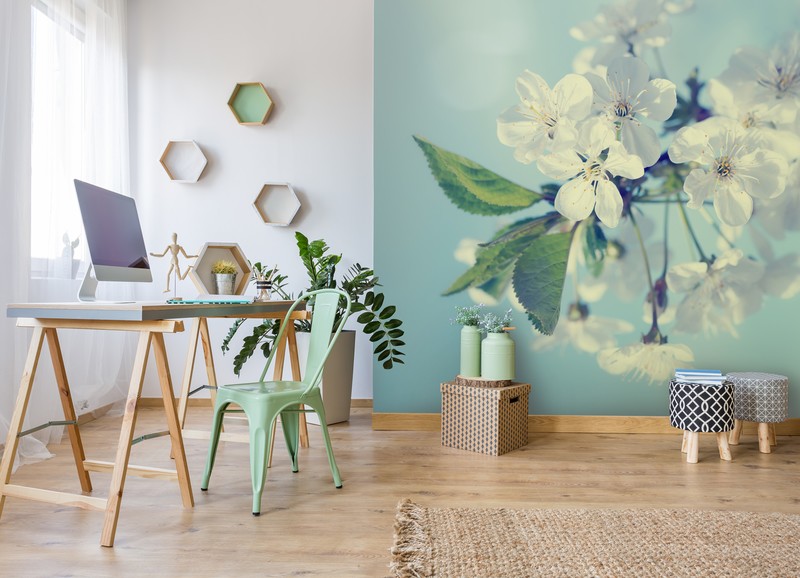 Mural in picture: Cherry Blossoms
If you give your Mum a wall mural as a surprise gift, we'd love to see a photo - or even better a reaction video like this one we shared on our YouTube channel.