The Man of Steel, known to some as Clark Kent and to others as Kal-el,  has been thrilling fans since 1938 and with a new film due out in May 2016, he shows no signs of relenting from his onslaught on criminality everywhere.
Ha guadagnato molti seguaci nel corso dei decenni, il che significa che la scelta della merce di Superman è davvero molto ampia. Fortunatamente per voi, abbiamo ristretto a 5 i nostri preferiti nella seguente lista di grandi regali per i fan di Superman.
Superman gifts for a super-man
Gemelli da polso in rodio Superman S-logo allow the wearer to remember that they must always be on the lookout for the wicked schemes of Lex Luther. Not to mention that the addition of a couple of Superman's famous symbols makes any shirt supercool, at least in the eyes of the wearer.
Antologia di film di Superman
Un fan apprezzerà sempre una raccolta dei film tutti insieme, per questo il Antologia cinematografica di Superman will always be received with smiles. It contains all the films from 1978-2006: 5 films filled with adventure, heroics and the dreaded kryptonite all updated into beautiful blu-ray quality. They come complete with special features and directors cuts which will have any fan glued to the screen for hours.
Un regalo di Superman per la casa
Un altro grande dono è un murale a muro. Wallsauce può fornirvi murales e decalcomanie da parete uniche e squisite che porteranno il mondo di Superman a casa di un fortunato fan. Sia che cerchiate Superman che lancia un carro armato, che combatte un cattivo o Clark Kent che rivela quella S iconica sotto la sua camicia, potete trovarla, con la possibilità di scegliere tra l'immagine del fumetto a fumetti o le scene del film. Possono essere personalizzati in base alle precise specifiche necessarie e saranno consegnati direttamente alla porta del ventilatore.
Regali di Superman per super animali domestici
I fan amanti dei cani e dei gatti saranno entusiasti di un Collare a tema Superman which creates for them a Superpup or a Supercat sidekick. Coming in the form of a stylish blue bandana this treat is the perfect accessory for any pet that goes above and beyond the call of duty.
Costruisci la tua metropoli con Superman LEGO
Nessuna lista di regali per supereroi sarebbe completa senza qualche LEGO Il set LEGO di Superman Metropolis Showdown is the perfect gift for the younger Superman fan as they can recreate the epic battle between Superman and General Zod from the latest Man of Steel film. Only the fan can decide what happens when the megalomaniac meets our hero.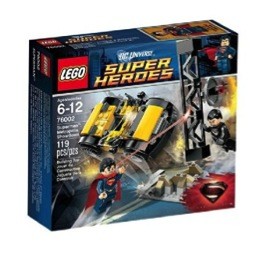 Those are 5 great gifts that are sure to put a smile on any fan's face. Cufflinks to accessorise their outfits, a film collection to blow their mind, a mural to make their wall epic, collars to make their pets super and a LEGO set sure to produce an exciting battle between good and evil.  
Aggiornamento: si prega di notare che i nostri murales di Superman non sono più disponibili. Vai al nostro murale fantasy e fantascientifico per prodotti simili.