The Man of Steel, known to some as Clark Kent and to others as Kal-el,  has been thrilling fans since 1938 and with a new film due out in May 2016, he shows no signs of relenting from his onslaught on criminality everywhere.
He has gained many followers over the decades which means that the choice of Superman merchandise is very wide indeed. Luckily for you, we've narrowed down 5 of our favourites in the following list of great gifts for Superman fans.
Superman gifts for a super-man
Boutons de manchette Superman S-logo rhodium permettre à celui qui le porte de se rappeler qu'il doit toujours être à l'affût des méchants stratagèmes de Lex Luther. Sans oublier que l'ajout de quelques symboles célèbres de Superman rend n'importe quelle chemise supercool, du moins aux yeux de celui qui la porte.
Anthologie du film Superman
Un fan appréciera toujours une collection de films tous ensemble, c'est pourquoi le Anthologie des films de Superman will always be received with smiles. It contains all the films from 1978-2006: 5 films filled with adventure, heroics and the dreaded kryptonite all updated into beautiful blu-ray quality. They come complete with special features and directors cuts which will have any fan glued to the screen for hours.
A Superman gift for the home
Another great gift is a wall mural. Wallsauce can provide you with unique and exquisite wall murals and wall decals that will bring the world of Superman to a lucky fan's home. Whether you are looking for Superman throwing a tank, fighting a villain or Clark Kent revealing that iconic S underneath his shirt you can find it, with a choice between the comic-book cartoon image or the movie scenes. They can be personalised to the exact specifications needed and will be delivered right to the fan's door.
Superman gifts for super pets
Les amateurs de chats et de chiens seront ravis par un Superman themed collar ce qui crée pour eux un acolyte de Superpup ou de Supercat. Sous la forme d'un élégant bandana bleu, cette friandise est l'accessoire parfait pour tout animal de compagnie qui va au-delà de l'appel du devoir.
Build your own Metropolis with Superman LEGO
No superhero gift list would be complete without some LEGO. La série LEGO de l'épreuve de force de Superman Metropolis is the perfect gift for the younger Superman fan as they can recreate the epic battle between Superman and General Zod from the latest Man of Steel film. Only the fan can decide what happens when the megalomaniac meets our hero.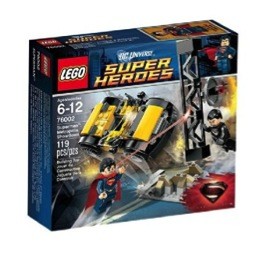 Ce sont cinq cadeaux qui ne manqueront pas de faire sourire n'importe quel fan. Des boutons de manchette pour accessoiriser leurs tenues, une collection de films pour les épater, une fresque murale pour rendre leur mur épique, des colliers pour rendre leurs animaux de compagnie superbes et un ensemble LEGO qui ne manquera pas de produire une bataille passionnante entre le bien et le mal 
Mise à jour : Veuillez noter que nos peintures murales de Superman ne sont plus disponibles. Rendez-vous sur notre murale de fantaisie et de science-fiction pour des produits similaires.