Wow. You're finally at university. Now you can make your own rules, you're in charge of your own schedule and you're about to make some lifelong friends. There's just one problem. Your new hangover pad (sorry for the stereotype) just isn't home. Here are a few university bedroom ideas to help you create the perfect university bedroom.
1. You don't have a sofa
Have you had the sofa/ settee, dinner/ tea, or bread bun/ bap debate yet? Well, no matter what part of the country you are from - it's almost guaranteed that your parent's house had a mushy, cushion filled sofa to watch TV on. Sadly, your university bedroom has only one office chair built solely for the purpose of hurting your neck whilst you study. Whilst you're away from your normal environment, the little things like being able to wind down in comfort are equally as important to your success at uni as study. Double your bed up as a sofa and head down to your local Wilkos (or check out their online store - we're eCommerce fans all the way here at Wallsauce) and bag yourself plenty of cheap cushions and a fur throw to put on your bed.
2. You're from the countryside
The presence of a Costa on every other street really does make the university experience feel exciting, but for those of us that aren't used to the city life we might need a few countryside touches to remind us of home.
Every single colour that we see has an affect on our mood, believe it or not. This means that the colours that we choose to have in our homes is an important decision. If you're a tad homesick, staring at four, plain, not-quite-white walls is just no good. The colour green symbolises balance and growth. Embellish your room with green ornaments, furnishings and desk accessories in order to wake up with a touch of the countryside every morning.
*If the idea of a green rug reminds you of a football field, try using lime green.
3. So many possessions, one wooden wardrobe
It's such a first world problem - you have too many things and nowhere to put them. There are only so many times you can trip over your once used running shoes though. Hook over the door storage tidies are your new best friend. Purchase one for your bedroom door and one for your bathroom door for some handy additional space to store your possessions in (and to save your sanity). Having more storage space will also encourage you to keep your desk tidy, because after fresher's week - there's plenty of work to do!
4. It's small and plain
Your parent's place might not be perfect, but you loved the shaggy rug and patterned wallpaper. Wall stickers and murals are the perfect way to transform your room. They're easy to apply and won't ruin the wall (and the return of your deposit) when you remove them. They can't fix that Pot Noodle stain on the carpet though.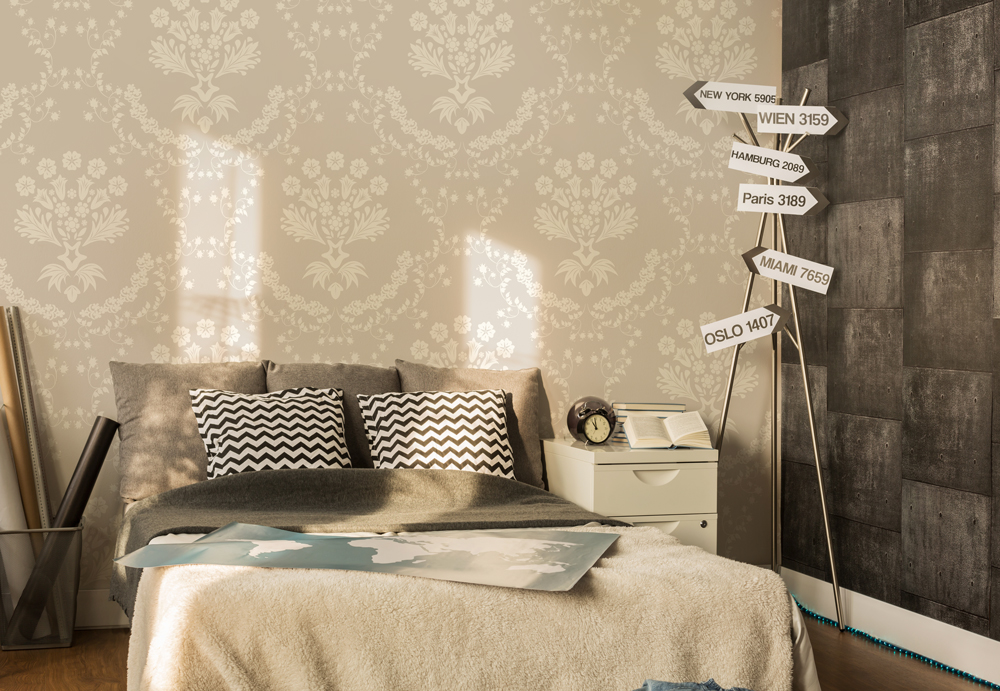 *Wall murals are also great for making a room look bigger, just go for a light or surface patterned mural.
(Mural 'Damask- Dark from Wallsauce, peel and stick material).
5. You can't sleep
There are many reasons why students can struggle to get a good night of sleep in their halls of residence. Noise, late nights or just being somewhere unfamiliar can interrupt our sleeping patterns. Something as simple as taking the time out to ensure that we are relaxed before we go to bed can be the key when attempting to get a good night of sleep. Since the rules of your halls probably don't allow for candles, try washing your bed sheets regularly with rosewater, lavender or jasmine linen scent.
Found a university bedroom necessity that you just can't wait to share? Tell us about it in the comments section below.