Using your imagery to create a stunning bespoke space with real impact is easy with Wallsauce. You can choose to do this in one of two ways. Either  upload your own     images or artwork files and follow the automated wall mural purchase process or contact us and send us the image and we'll help you achieve the look and finish you want.  
We'd love to help and our studio team are on hand to help you in whatever way suits you best.  
We can...
Create a wall mural using your existing imagery
Add compnay logos or make changes to your imagery to get the look you want
Completely design and create mural artwork for you or source an image that will work for your mural.
Bevlan Office Interiors did just that, and we helped them create murals for their 10,000 sq ft showroom.
Tesco decided that they wanted to give their environments a zing and set about on a project to really make dull spaces more inspiring. Using a range of imagery including photography with corporate messages theirr wall murals really do transform their spaces for the better!
Red Letter Days' London Office was in need of something different. To help create a wow factor in their reception area they contacted Wallsauce, sent us their images and we did the rest. They liked it so much that owners Theo Paphitis and Peter Jones (you may know them from BBC 2's Dragons Den) posed for this picture in front of their very own Red Letter Days Wall Mural.  
For those of you who watch BBC 1's 'The Apprentice' with Lord Alan Sugar you may remember the 2012 winner Ricky Martin. He went on to establish his company 'Hyper Recruitment Solutions', co-owned with Lord Sugar. They recently decided that they wanted the WOW factor for their offices and liked the mural we made so much they sent us these photo's upon completing the installation.  
Want to show off your technical and engineering prowess? Flowgroup decided to adorn a wall showing a schematic diagram of one of their systems in a real environment. The mural really helps to bring to life this companie's product or services!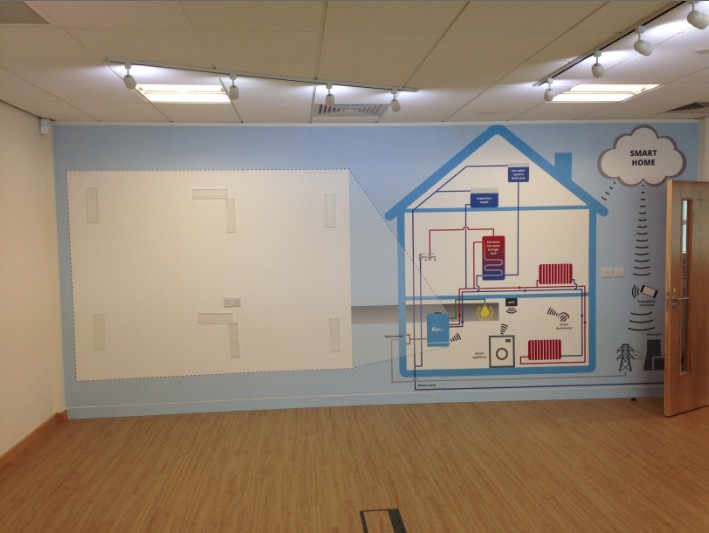 It is not just businesses that want to use their own imagery to create a unique and impactful space. Just check this out. One of our customers used a family photograph to turn an awkward wall space into something that is a real talking point!  
Now if you're thinking these look great, but you thinking it is may be much harder than it sounds, well honestly it isn't!!! The process is very simple!
He're how you do it...
1. Upload your image to on our website. Just go the this page to get started: Upload your own
2. Next click "choose file", browse your computer, select your image and click upload, Wallsauce.com will test the image quality to see if its good enough to create a large wall mural, the quality meter will tell you if the image is poor, good or excellent quality:
3. Now you can enter the dimensions of your wall, crop your image if required, and select your prefered material choice.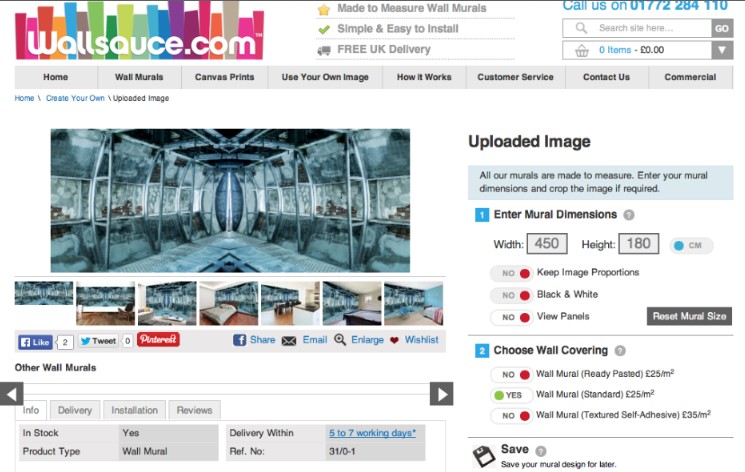 Now your ready to checkout, we do the rest. Your mural will arrive in panels custom made to fit your wall. Your own image made into a wall mural in 3 easy steps, just click here to see a How to Video of the purchase process if you need more help.
Alternatively, just give us a call and we will help you achieve the look you want!