The epic fantasy novel that turned into a phenomenal film series has left J. R. R. Tolkien comfortably in the charts as one of the greatest ever British writers. A story that started in 1937 brought the Middle-Earth to us and the adventures of Frodo and the gang have become beloved by fans across the world. More than 150 million of the hard copies have been sold while box office estimates that almost $3 billion was made from the movies. Know a Lord of the Rings hardcore fan? Here are five gifts to buy them:
One Ring To Rule Them All!
Get this One Ring set to bring the magic of this piece of jewellery to any super fan. Inspired by the films, you get the product and a display case to proudly exhibit wherever the fan feels appropriate. It is a stylish, stunning and well-produced piece that makes a wonderful gift. Available from The Hobbit Shop.
The Silmarillion
Lord of the Rings and The Hobbit got all the attention, and film production, but a majestic companion to the former is The Silmarillion. Published following the death of Tolkien by his son, this is widely regarded as his true life's work and comes complete with illustrations, maps and delves in to the history of Middle Earth. Available from all good book stores.
Sauron's Helm
Celebrate the victory over Sauron with this wonderful collector's item. Mementos from triumphs over foes are customary so your Lord of the Rings fan will love a quarter scale Helm to be put on display. It is an intricate piece that is accurate to the film and ready to make an impression. Available from Amazon.
Hobbit Feet Slippers
Looking for a quirky gift? This one is for you. Great for winter, and fully detailed, they are ready to help you on any journey! Comfortable and a talking point, they will go nicely in any Hobbit hole. Available from the WBshop.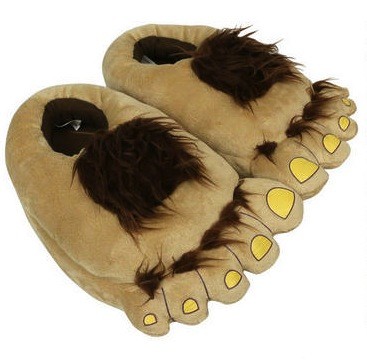 Wall Mural
Bring a unique feel to any room by creating your own mural. Perfect for anyone who loves Lord of the Rings are the fully licensed picture options from all the movies.  
With so many aspects of the novel and film series to choose from, finding a niche present for a true fan can be a tough ask. These five options bring a part of the epic story to any home and will make you top the gift list on any occasion. Whether they are a Tolkienite or a Lord of the Rings lover, a literature or screenplay fan, these will all take pride of place.
The web is, undoubtedly, filled with more goodies of the iconic tale. What are some of your recommended gifts?
Update: Please note that we no longer have access to the Lord of the Rings murals. Visit our fantasy and sci-fi wall murals for similar products.