DC Comics has brought us Batman, Superman, Wonder Woman, Green Lantern, the Flash, Aquaman and many more amazing superheroes. Then there's the villainous likes of Lex Luthor, the Joker, Sinestro and Black Manta who are all intent on the destruction of our heroes. It is an epic universe full of fighting and excitement which has drawn in so many fans over the years.
When it comes to buying gifts for DC Comics fans there is a massive choice, so to help you narrow it down here are 5 great gifts for them.
DC Universe Top Trumps Cards
Top Trumps cards are ever popular among comic book fans and the DC Universe edition is sure to do the trick for DC fans everywhere. 30 cards detail the back-story and strengths of all the major heroes and villains in the DC universe including the ingenious Batman and the Man of Steel himself. Fans will love doing battle with this special set of Top Trumps cards and this great little gift is budget friendly too!
DC Comics: A Visual History
An avid comic book fan will fall in love with the book DC Comics: A Visual History as soon as they lay their eyes on it. The fan will be able to dive into over 70 years of beautifully illustrated DC comic book history in which they will be able to follow the visual evolution of all their favourite characters. It includes the debuts of all the iconic DC characters, stories about the geniuses that created them and highlights the real life events that inspired them.
Justice League Unlimited Box Sets
Why would you watch one superhero when you could see them all being awesome together? This is why the Justice League Unlimited animated series is the perfect gift for any DC fan. In it they will see their favourite superheroes such as Superman, Batman, Wonder Woman and the Flash in an epic battle against all the super villains DC has to offer.
DC Comics Encyclopedia
The massive universe of DC Comics is bound to become confusing even to the most avid fan. This is why The DC Comics Encyclopedia is a fantastic gift. This go-to guide allows the fan to increase their level of immersion into DC stories as all the characters origins and story arcs are explained alongside beautiful illustration.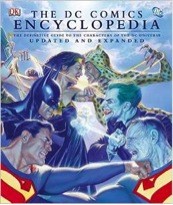 DC Comics Gifts for the Home
A great gift idea for the any DC Comics fan that already has all the books, box sets and playing cards! If you really want to put a bit of the DC Comics universe into  their life then you should get them a stunningly illustrated wall mural for their home.
You can choose from a wide selection of DC scenes which can then be personalised to the fan's specifications and delivered right to their door for free.
Murals of the Dark Knight watching over Gotham City, Superman facing off against his enemies, Bane looking out at you menacingly and 168 iconic DC Comic Covers to choose from, plus many other scenes can all be found in Wallsauce's range of DC Comics Murals.
These five gifts will keep any DC Comics fan entertained for hours. With so many superheroes to choose from, many will have a favourite, but each different comic holds a captivating beauty for enthusiasts. 
Update: Please note that Wallsauce.com no longer have access to DC Comic images. For similar murals, head to our fantasy and sci-fi mural collection.