For all cat lovers out there, we've highlighted 5 of our favourite cat wallpaper murals just for you. We've got big cats and small cats, so if you've a real affinity with our furry four-legged friends and they're a big part of your life, why not bring their positivity to a wall near you.
Use Your Own Image
If you've got a spectacular photo of your own cat and want to turn it into a full scale wall mural, you can do that too!
View all cat wallpaper mural options.  
White as Snow
Cats can be funny with snow, some love it and others simply avoid it. Perfectly camouflaged and looking very cute, this innocent looking kitten looks right at home in the white stuff!
Smiley Cats  
This fun wallpaper mural is makes a great backdrop for any children's bedroom, playroom or communal space, with happy smiling cats and flowers in soft pinks, yellows and blues.
Cute Kittens
From the old English word 'Kindelen', Kindle doesn't just mean 'to light or set on fire' but can also mean 'a litter of kittens'. We think this group of kittens is a really fun, cute image to use as a wall mural.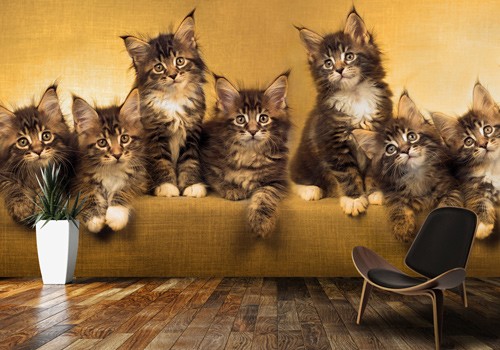 Tiger Lily
If you're a fan of big cats, a Tiger mural might be just the thing. Tiger Lily is our most popular Tiger mural by artist Jerry LaFaro and features a young tiger floating on a lily pad amidst a colourful and lush rainforest.
Black Cats in the Pink
With a cheeky looking black cat, pinks and whites, this mural is just the job for a cat loving, girls bedroom. Also available as a large repeat pattern, this wallpaper mural is custom made to any wall size.
More information!
Get more details on the process and pricing of murals with our  online enquiry form  or speak to one of our friendly team seven days a week on 01772 284110.